Cotton Industry UPSC
Disclaimer: Copyright infringement not intended.
Introduction
The word "cotton" has Arabic origins, derived from the Arabic word qutn or qutun. Cotton is arguably the world's most important nonfood crop. It supplies about 80 percent of the world's natural fibers and continues to be primary material in half the world's textiles despite competition from synthetic fibers. Cotton is ideal for making cloth because its fibers bond and interlock when spun into long strands that can be is easily dyed.
Cotton accounts for 40 percent of the fiber used today. About 20 million farmers in 80 countries produce 44 million metric tons of cotton a year. Cotton was rightly called white gold once.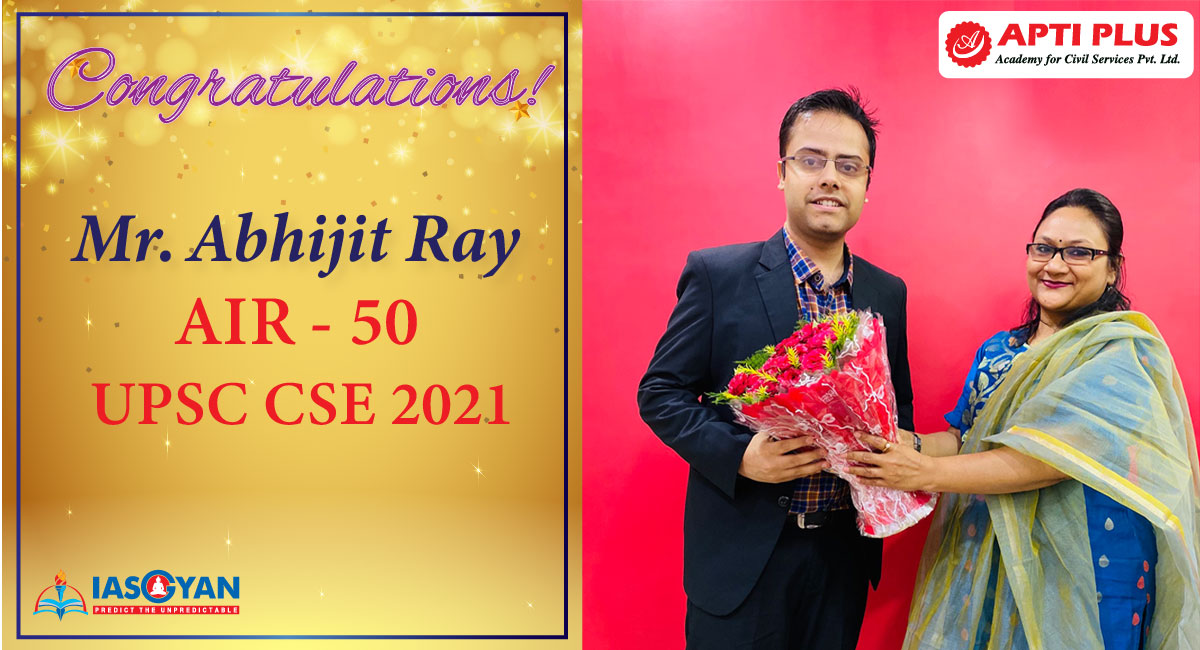 Early History
The oldest cotton textiles were found in graves and city ruins of civilizations from dry climates, where the fabrics did not decay completely.
America
The oldest cotton fabric has been found in Huaca Prieta in Peru, dated to about 6000 BCE.
Some of the oldest cotton bolls were discovered in a cave in Tehuacán Valley, Mexico, and were dated to approximately 5500 BCE.
Indian subcontinent
The latest archaeological discovery in Mehrgarh puts the dating of early cotton cultivation and the use of cotton to 5000 BCE. The Indus Valley civilization started cultivating cotton by 3000 BCE. Cotton was mentioned in Hindu hymns in 1500 BCE.
Herodotus, an ancient Greek historian, mentions Indian cotton in the 5th century BCE as "a wool exceeding in beauty and goodness that of sheep.", which suggests that the fiber was not yet known in Greece at the time.
When Alexander invaded India, his troops started wearing cotton clothes that were more comfortable than their previous woolen ones.
Strabo, another Greek historian, mentioned the vividness of Indian fabrics, and Arrian told of Indian–Arab trade of cotton fabrics in 130 CE.
Handheld roller cotton gins had been used in India since the 6th century, and were then introduced to other countries from there. Between the 12th and 14th centuries, dual-roller gins appeared in India and China.
Cotton Gin
A cotton gin—meaning "cotton engine"—is a machine that quickly and easily separates cotton fibers from their seeds, enabling much greater productivity than manual cotton separation. The fibers are then processed into various cotton goods such as calico, while any undamaged cotton is used largely for textiles like clothing. The separated seeds may be used to grow more cotton or to produce cottonseed oil.
Handheld roller gins had been used in the Indian subcontinent since at earliest AD 500 and then in other regions. A single-roller cotton gin came into use in India by the 5th century. The earliest evidence of the cotton gin is found in the fifth century, in the form of Buddhist paintings depicting a single-roller gin in the Ajanta Caves in western India. An improvement invented in India was the two-roller gin, known as the "churka", "charki", or "wooden-worm-worked roller".
India
India had been an exporter of fine cotton fabrics to other countries since the ancient times. Sources such as Marco Polo, who traveled India in the 13th century, Chinese travelers, who traveled Buddhist pilgrim centers earlier, Vasco Da Gama, who entered Calicut in 1498, and Tavernier, who visited India in the 17th century, have praised the superiority of Indian fabrics.
Archaeologists found recovered fragments of cotton textiles from as earliest as the Indus Valley Civilisation. The discoveries, speak Cotton was one of the most important products of the Indus Valley trade.
Do you know?
Marco Polo was a Venetian merchant, explorer, and writer who visited India in the 13th century. He marveled at the sight of the six-yard Indian cotton trees that produced the softest cotton balls. These cotton balls were transformed into the finest muslins. These Indian cotton fibers were ripe with cellulosic content so they could easily absorb dyes that created stunning colors. The vibrant colors of this painted Indian cotton, originating from the coast of Coromandel, especially Masulipatman, are still visible in various museums today.
Stepping into the next phase of history, in the medieval period we also notice the cotton textiles in India ruling. Under the Mughal Empire, India was the largest producer of Cotton. Countries like Africa, Arabia, Egypt, and Burma were the major importers of Indian Cotton.
The worm gear roller cotton gin, which was invented in India during the early Delhi Sultanate era of the 13th–14th centuries, came into use in the Mughal Empire sometime around the 16th century, and is still used in India through to the present day.
The largest manufacturing industry in the Mughal Empire was cotton textile manufacturing, which included the production of piece goods, calicos, and muslins, available unbleached and in a variety of colours.
When the British arrived in India, they had little knowledge of cotton as the primary materials used for their dressing was linen or wool. The British merely utilized cotton for candle wicks. When European trading companies started sailing directly to India from 1498. They were carrying enormous quantities of Indian cotton back to Europe. These brightly colored cottons from India impacted how Europeans dressed themselves and furnished their houses.
In 1664, the East India Company was established as the largest importer of cotton to Europe. A systematic plan was implemented to subdue the Indian textile industry and economy by coercing Indian farmers to abandon their farming of subsistence crops in favor of the cotton crop. Not only would this eventually subject farmers to a cycle of interest-laden debt, it would also eventually diminish the food supply greatly.
After the introduction of the spinning mills, during the industrial revolution, weaving mills in Lancashire started weaving cotton from India. The British exported duty free Indian cotton thread from the spinning mills to the weaving mills in the UK. The finished product would then return to India to be sold as finished, mill made, bulk cotton fabrics. These fabrics were the first product exported from the West to the East. This new system reduced Indian weavers and spinners to complete penury, and in some cases total obsolescence.
India had a 25% share of the global textile trade in the early 18th century. Indian cotton textiles were the most important manufactured goods in world trade in the 18th century, consumed across the world from the Americas to Japan. The most important center of cotton production was the Bengal Subah province, particularly around its capital city of Dhaka.
Bengal accounted for more than 50% of textiles imported by the Dutch from Asia. Bengali cotton textiles were exported in large quantities to Europe, Indonesia, and Japan, and Bengali Muslin textiles from Dhaka were sold in Central Asia, where they were known as "daka" textiles.
India basically became an exporter of only raw material that was only to be sold back in India at rates that left local spinners and weavers unable to afford the cotton required for their production. The extraction and destruction of artisanal industries and agricultural practices that the land could not sustain ensued.
What is important to note is the pattern of exploited labour around the world, and the positioning of Britain as the "workshop of the world". British-manufactured cloth severely undermined the Indian cotton industry during the nineteenth century, due to the speed of the U.S. – British cotton production system, which was predicated with the use of slave labour in America.
Enslaved African people allowed White plantation owners in the South to garner insurmountable wealth from cotton. Exploited labour and agricultural dexterity set the groundwork for the international fashion industry, America's first big business boom.
First cotton mill in India
The first mill in India was established in 1818 at Fort Gloster near Kolkata but was a commercial failure.
In 1854, the second mill was established named "Bombay Spinning and Weaving Company" by KGN Daber. And thus the commercial foundation of the modern cotton textile Industry was laid down.
The inauguration of Sahpur Mill in 1861 and Calico Mill in 1863 at Ahmedabad made the city to be well known as "Manchester of India".
Expansion of Cotton Industry
The real expansion of cotton textile industry took place in 1870's. By 1875-76 the number of mills rose to 47 of which over 60 per cent were located in Mumbai city alone. The industry continued to progress till the outbreak of the First World War in 1914. The total number of mills reached 271 providing employment to about 2.6 lakh persons.
The First World War, the Swadeshi Movement and the grant of fiscal protection favoured the growth of this industry at a rapid pace.
India's Decolonial Leaders
During the Indian fight for independence from the British, Gandhiji helped spur the khadi movement, which sought to boycott cloth manufactured industrially in Britain, promoting the spinning of khadi for rural self-employment and self-reliance. This constructed the framework for the larger Swadeshi movement, now known as the 'Make in India' campaign.
The origins of the Swadeshi movement propagated the idea to use only goods produced in India, and burn British-made goods. Khadi, a hand-spun, hand-woven Indian cotton, is synonymous with Indian independence today.
Demand for cloth during the Second World War led to further progress of the industry. Consequently, the number of mills increased from 334 in 1926 to 389 in 1939 and 417 in 1945. Production of cloth also increased from 4,012 million yards in 1939-40 to 4,726 million yards in 1945-46.
The industry suffered a serious setback in 1947 when most of the long staple cotton growing areas went to Pakistan as a result of partition. However, most of the cotton mills remained in India. Under such circumstances, India faced a severe crisis of obtaining raw cotton.
India had, therefore, to resort to large-scale imports of long staple cotton which was an extremely difficult task in view of the limited foreign exchange reserves. The only solution to this problem was to increase hectare-age and production of long staple cotton within the country. This goal was achieved to a great extent in the post partition era.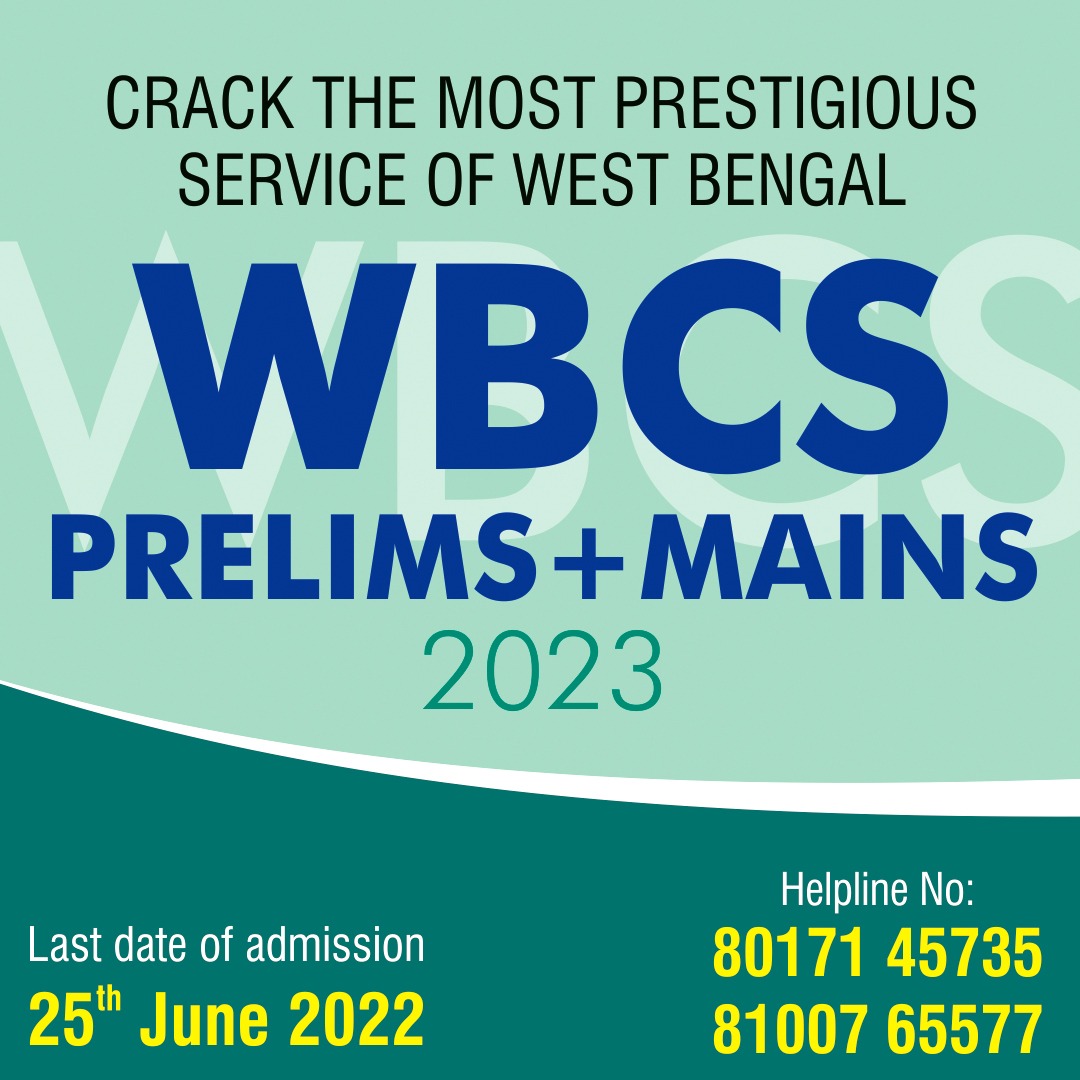 India's Cotton Industry: Present times
At present, cotton textile industry is largest organised modem industry of India. There has been a phenomenal growth of this industry during the last four decades.
India is the second largest cotton and cellulosic fibres producing country in the world after China. Whether raw cotton, cotton seed or cotton textiles, India has been a leader in producing and exporting cotton.
The cotton textile industry is the largest organized industry in India. It has grown tremendously during the last four decades and this industry has about 16% of India's capital and more than 20% of India's industrial labour.
In total, it employs up to 15 million workers. There are more than 3000 textile mills in India, both small and large, out of which 188 are in the public sector and 147 are in the cooperative sector. The rest are in the private sector. In addition, there are several thousand small factories with 5–10 looms each.
Cotton is the king of the Indian textile industry. Around 60% of the textile industry is covered by the Indian cotton textile industry. In the current condition, we are producing 31 million bales per year.
From the year 1991-92 to the year 2016-17, cotton production of India increases from 119lakh bales to 345lakh bales. This is a 190% growth in cotton production.
Gujarat, Maharashtra, Telangana, Andhra Pradesh, Karnataka, Madhya Pradesh, Haryana, Rajasthan, and Punjab are the major cotton producers in India.
Gujarat and Maharashtra together produce about 50% of India's cotton, with Gujarat ginning almost all of it.
Nearly 67% of the title cotton production of India comes from the cotton basket of India.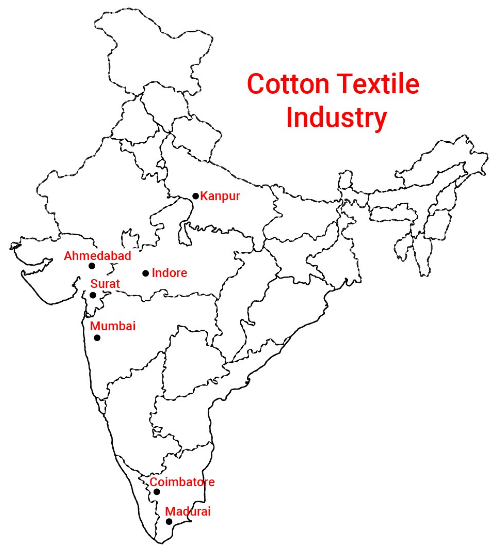 Distribution of cotton textile industries:
Maharashtra: It is the largest producer of cotton textile in the country. It produces 39.38 percent mill cloth and 1079 percent yam of India. Mumbai is called as 'Cottonpolis of India'. The textile industry has also spread to Sholapur, Kolhapur, Pune, Jalgaon, Akola, Sangali, Nagpur, Satara, Wardha, Aurangabad and Amravati It has 169 mills.
Gujarat: It is second largest producer of cotton in the country. It has 120 cotton mills. Ahmedabad is called 'Manchester of India & Boston of East' and it is also second largest centre of cotton textile industry after Mumbai. The other important centres are-Surat, Vadodara, Bharauch, Bhavnagar, Nadiad, Porbandar, Rajkot, Navsari, mauri and Viramgam.
Tamil Nadu: It has highest number of textile industries in the country. They are about 893 mills in the state. Chennai, Tirunelveli, Madurai, Tuticorin, Salem, Virudhnagar and Polachi are the major cotton textile centres. Coimbatore is called 'Manchester of South India' because it is the most important cotton textile centreCoimbatore is the most important center with 323 cotton mills. It is called the 'Manchester of South India'.
Karnataka: There are about 54 industries which are located at Davanagere, Hubli, Bellary, Gokak, Mysore, Bengaluru etc Davanagere is the chief center cotton textile in Karnataka. Bangalore, Belgaum, Mangalore, Chitradurga, Galbarga are the major cotton textile producing centres in the state.
Uttar Pradesh: Kanpur is the chief center of cotton mills in Uttar pradesh. Kanpur, Etawah, Modinagar, Moradabad, Bareilly, Hathras, Agra, Meerut and Varanasi are the major cotton textile producing centres in the state. Kanpur is called 'Manchester of Uttar Pradesh'.
Madhya Pradesh: There are 52 cotton textile industries in the state. Indore, Gwalior, Mandasaur, Dewas, Ujjain, Nagda, Bhopal, Jabalpur and Ratlam are the major cotton textile producing centres in the state.
West Bengal: The industries are largely found in Kolkata Howrah. The major cotton textile producing centres in the state are Kolkata, Howrah, Serampore, Shyamanagar, Saikia, Murshidabad, Hugli and Panihar.
Rajasthan: Kota, Jaipur, Sriganganagar, Bhilwara, Bhavanimandi, Udaipur and¢ Kishangunj are the major cotton textile producing centres in the state.
Others: In Rajasthan, Haryana, Punjab, Andhra Pradesh etc.
Classification
There are three types of cotton mills:
Spinning mills,
Weaving mills and
Composite mills – thread and cloth, both are produced.
Spinning mills are of two types:
Handloom and
Power loom.
Distribution and reasons for growth in these regions
Cotton textile centers of India are distributed in four regions:
Western Region,
Southern Region,
Northern Region and
Eastern Region.
Western Region
Western Region: Gujarat and Maharashtra are most advanced states of this region. Mumbai in Maharashtra and Ahmedabad in Gujarat are two principal centers of this region. Ahmedabad is known as the 'Manchester of India'. The other centers include Nagpur, Pune, Sholapur, Jalgaon in Maharashtra and Surat, Bharuch, Vadodara, Bhavanagar, Rajkot in Gujarat.
Factors for the growth of the industry in this region are:
Local raw cotton from Gujarat and Maharashtra.
Availability of hydel power produced in Western Ghats,
Port facilities of Mumbai and Kandla,
Humid climate required for spinning of the yarn.
Large capital invested by Parsi and Bhatia businessmen.
Locally available cheap and skilled labor from Konkan, Satara, Sholapur etc.
Good demand for cotton garments and
Well-knit transport system.
Southern Region
In South India cotton mills are located in the states of Tamil Nadu, Kerala, Karnataka and Andhra Pradesh. Important centers are Madurai, Salem, Tiruchirapalli Chennai, Guntur, Mysore, Pondicherry etc. Coimbatore is the largest cotton textile centre of this region.
The factors for the development of cotton textile industry in this region are:
Supply of local raw cotton,
Supply of hydel power,
Good transportation network,
Port facility through the ports of Kochi, Chennai, Tuticorin etc.
Locally available cheap labor,
Warm and humid climate and
Dense population of the region.
Northern Region
The region includes the states of Uttar Pradesh, Delhi, Punjab, Haryana and Rajasthan. The principal centers are Kanpur, Delhi, Amritsar, Ludhiana, Agra etc. The factors for the development of the industry in this region are:
Long staple cotton produced here,
High demand for cotton goods,
Good transportation system and
Plenty of cheap labor.
Eastern Region
This region includes the states of West Bengal, Bihar, Orissa and Assam. Maximum mills are located at Kolkata, Sodepur, Belgharia, Shyamnagar, Ghusuri, Salkia, Shrirampur, Maurigram etc. The factors for the growth of this industry are:
Nearness to the Kolkata port,
Good transportation system,
Humid climate and
High demand for cotton goods.
Key Markets, production and Export Destinations
Cotton yarn and fabrics export account for about 23% of India's total textiles and apparel export. In 2019-20*, India's cotton production was 36.04 million bales of 170 kgs each. During 2019-20, export of cotton yarn, cotton fabrics, cotton made-ups and handloom products reached US$ US$ 10.01 billion.
In 2020, India stood as the third highest exporter of raw cotton globally, accounting for about 10.2% of the total global exports.
Exports of cotton textiles including raw cotton stood at $15.29 billion in 2021-22. The government's target was $13.6 billion.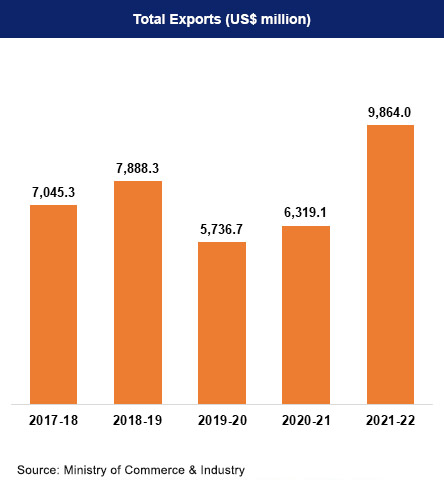 In 2021-22, India exported cotton to over 159 countries throughout the world. Bangladesh, China, and Vietnam were India's major cotton importers between April 2021-February 2022. Collectively, the three nations accounted for 60% of India's total exports.
Between October 2020-April 2021, Bangladesh and China accounted for over 80% of cotton imports from India. Vietnam and Indonesia were the other top importers contributing to over 15% of India's total cotton exports.
A significant jump was seen in exports to countries like Bangladesh, USA, Portugal and Sri Lanka. Various reputed foreign retailers and brands like Carrefour, Gap, H&M, JC Penney, Levi Strauss, Macy's, Marks & Spencer, Metro Group, Nike, Reebok, Tommy Hilfiger and Walmart import Indian textile products.
India's major Export destinations in 2018-19 were Bangladesh, China & Pakistan. Countries such as Bangladesh, China, Pakistan, Vietnam and Indonesia are scaling up their cotton imports from India to meet the requirements of their export-focused garment industries. China remains India's largest import partner even in 2021-22.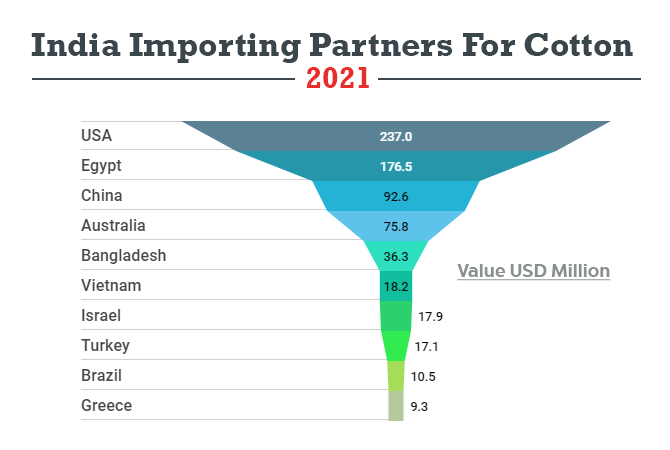 As mentioned earlier India's total production of cotton in the year 2021-22 was 34.062 million bales (bales of 170 kg each). The Central Zone (which comprises of states like Gujarat, Maharashtra, and Madhya Pradesh) is the biggest producer of cotton in India, with Gujarat being the highest producer of the Central Zone and the country at 8.516 million bales. Saurashtra constitutes about 70% of Gujarat's cotton production, with farmers in Amreli - the state's largest cotton district – playing a key role. Yavatamal, Buldhana, Akola Amravati Nagpur Washim, and Wardha are the districts of Vidarbha which are Maharashtra's major cotton-producing areas.
The Southern Zone (which comprises of states Telangana, Andhra Pradesh, Karnataka, and Tamil Nadu) is the second biggest producer of cotton, producing about 30% of the nation's cotton, with Telangana producing the largest in the Southern Zone and the third-largest in the country, contributing 6.587 million bales (bales of 170kg each).
Problems of Cotton Textile Industry
Although cotton textile is one of the most important industries of India, it suffers from many problems. Some of the burning problems are briefly described as under:
Scarcity of Raw Cotton:
Indian cotton textile industry suffered a lot as a result of partition because most of the long staple cotton growing areas went to Pakistan. Although much headway has been made to improve the production of raw cotton, its supply has always fallen short of the demand. Consequently, much of the long staple cotton requirements are met by resorting to imports from Pakistan, Kenya, Uganda, Sudan, Egypt, Tanzania, U.S.A. and Peru.
Obsolete Machinery:
Most of the textile mills are old with obsolete machinery. This results in low productivity and inferior quality. In the developed countries, the textile machinery installed even 10-15 years ago has become outdated and obsolete, whereas in India about 60-75 per cent machinery is 25-30 years old.
Only 18-20 per cent of the looms in India are automatic whereas percentage of such looms ranges from cent per cent in Hong Kong and the USA., 99 per cent in Canada, 92 per cent in Sweden, 83 per cent in Norway, 76 per cent in Denmark, 70 per cent in Australia, 60 per cent in Pakistan and 45 per cent in China.
Power shortage
Cotton Textile mills are facing acute shortage of power. Supplies of coal are difficult to obtain and frequent cuts in electricity and load shedding affect the industry badly. This leads to loss of man hours, low production and loss in the mills.
Low Productivity of Labour
Labour productivity in India is extremely low as compared to some of the advanced countries. On an average a worker in India handles about 2 looms as compared to 30 looms in Japan and 60 looms in the USA. If the productivity of an American worker is taken as 100, the corresponding figure is 51 for U.K. 33 for Japan and only 13 for India.
Strikes
Labour strikes are common in the industrial sector but cotton textile industry suffers a lot due to frequent strikes by a labour force. The long drawn strike in 1980 dealt a severe below to the organised sector. It took almost 23 years for the Government to realise this and introduce legislation for encouraging the organised sector.
Stiff Competition
Indian cotton mill industry has to face stiff competition from powerloom and handloom sector, synthetic fibres and from products of other countries. The Indian cotton textile goods is facing stiff competition in foreign markets from Taiwan, South Korea and Japan whose goods are cheaper and better in quality. It is really paradoxical that in a country where wages are low and cotton is internally available,
production costs should be so high.
Competition from the decentralised sector
An important factor for the growing sickness of the mill sector is the growth of the decentralised sector. Being a small-scale sector, the Government allowed excise concessions and other privileges. This accompanied with low wages have led to the low cost of production in the decentralised sector.
Sick Mills
The above factors acting singly or in association with one another have resulted in many sick mills. The National Textile Corporation set up in 1975 has been striving to avoid sick mills and has taken over the administration of 125 sick mills. What is alarming is hundreds of mills have already been closed.
Rising Cotton Prices
In 2022 Cotton Prices have nearly doubled compared to 2021. The average modal or most-quoted price of kapas (raw un-ginned cotton) at Rajkot APMC (Agricultural Produce Market Committee) mandi was Rs 12,250 per quintal, as against around Rs 6,300 this time last year. This was also way above the government's minimum support price of Rs 6,025 per quintal for long-staple cotton varieties.
Prices have been rallying since November 2021, when they crossed Rs 8,000 per quintal before scaling the Rs 10,000 mark for the first ever time in many markets by early-January.
Basically three reasons. The first is lower production. In 2020-21, India's total cotton lint fibre output was 353 lakh bales (lb) of 170 kg each.
The second reason is international prices. India is the world's second largest cotton producer (after China) and third largest exporter (after the US and Brazil). High global prices have made exports attractive. Also, they have pushed up domestic prices closer to export parity levels, while simultaneously making imports more expensive.
The third reason is consumption. The state-owned Cotton Corporation of India (CCI), in March, projected total domestic consumption for 2021-22 at 345 lb, compared to 334.87 lb, 269.19 lb and 311.21 lb in the preceding three marketing years. Demand has significantly increased, as mills and other users were operating at sub-optimal levels in the past few years.
Fall in production
The area sown under cotton in India has reduced from 134.77 lakh hectares (lh) in 2019-20 to 132.85 lh in 2020-21 and 123.5 lh in 2021-22.
This has been largely due to the diminishing benefits from the genetically-modified Bt cotton, which helped almost treble the country's production from 136 lb to 398 lb between 2002-03 and 2013-14.
Over a period, Bt cotton has become increasingly susceptible to pink bollworm and white-fly insect pest attacks, making it riskier for farmers to grow the crop. Besides, the government does not permit testing or commercialization of next-generation transgenic breeding technologies.
Other
Long staple cotton is not well grown in many parts of India.
Many of the factories are old and, as such, productivity has been lowered. The plants and machinery employed in many of our textile mills are now out of date. They were put to intensive use and have considerably deteriorated.
High cost of advanced machinery is an unavoidable hindrance for the procurement of new machinery. For this reason, the much-needed replacement had to be deferred for many years.
The high cost of production is also effectively retarding the growth of this important industry.
There is competition from synthetic fibers like polyester, etc.
There is competition in the International Market from Bangladesh, Japan, China, and Britain, etc.
Great difficulties are being experienced by mill-owners in obtaining the capital needed for modernization.
Solutions
The plant and machinery have to be replaced at an early date. Introduction of the more up-to-date and modernized type of machinery is so urgent that it has to be done without the least delay in the interest of producers and consumers alike.
Easy loan facility should be extended to the industries intending to modernize their plant and machinery.
Assured availability of raw-materials, labour, and power would ensure steady supply.
Economies of large-scale production should be encouraged to keep down the prices of finished products.
Government Initiatives for Cotton Industry
The government has been implementing various policy initiatives and schemes to encourage cotton spinning millers in the country, including the announcement of key reforms under a Special Package that includes additional incentives under the Amended Technology Upgradation Fund Scheme (ATUFS), relaxation of Section 80JJAA of the Income Tax Act, and the introduction of fixed-term employment for the apparel sector. Under the Market Access Initiative (MAI) Scheme, the government offers rebates on state and central taxes and levies that are integrated into production, as well as aid to exporters.
Initiatives and measures to strengthen the textile sector in India in general
Removal of anti-dumping duty
To boost exports in man-made fibre (MMF) sector, the government removed anti-dumping duty on PTA (Purified Terephthalic Acid), Viscose Staple Fibre and Acrylic.
PM MITRA scheme
The government approved setting up of Seven Pradhan Mantri Mega Integrated Textile Region and Apparel (PM MITRA) Parks in Greenfield/Brownfield sites with an outlay of Rs 4,445 crore for a period of seven years up to 2027-28.
These parks will enable the Indian textile industry to become globally competitive, attract large investment and boost employment generation, according to the ministry of textiles.
PLI scheme
The government approved the Production Linked Incentive (PLI) scheme for textiles, with an approved outlay of Rs 10,683 crore, to promote production of MMF apparel, MMF fabrics and products of technical textiles in the country.
This is expected to enable India's textile sector to achieve size and scale and to become competitive.
RoSCTL extension
The scheme of Rebate of State and Central Taxes and Levies (RoSCTL), that was effective from March 2019, has been extended till March 31, 2024 for exports of apparel/garments and made-ups in order to make the Indian textile sector competitive in the international market.
Other
Amended Technology Upgradation Fund Scheme (ATUFS)
Scheme for Integrated Textile Parks (SITP)
Integrated Skill Development Scheme (ISDS)
Technology Mission on Technical Textiles (TMTT)
Swarnjayanti Gram Swarozgar Yojana (SGSY)
Integrated Processing Development Scheme (IPDS)
Merchandise Exports from India Scheme (MEIS)
Market Development Assistance (MDA)
Market Access Initiative (MAI)

100 per cent Foreign Direct Investment (FDI) in the textile sector under automatic route.
Ambedkar Hastshilp Vikas Yojana (AHVY) Scheme.
100% subsidy is given to women weavers for construction of individual workshed.
Strategic Projects in the areas of Specialty Fibres and Geotextiles under the Flagship Programme National Technical Textiles Mission (NTTM).
PAHCHAN initiative.
Production-Linked Incentive (PLI) Scheme in Textiles Products for Enhancing India's Manufacturing Capabilities and Enhancing Exports – Atmanirbhar Bharat.
Comprehensive Powerloom Cluster Development Scheme (CPCDS) for developing Powerloom Mega Clusters to create world-class infrastructure to integrate the production chain, to fulfill the business needs of the local Small and Medium Enterprises (SMEs) and to boost production and export etc.
Comprehensive Handloom Cluster Development Scheme (CHCDS).
Textile Workers' Rehabilitation Fund Scheme.
Comprehensive Handicrafts Cluster Development Scheme (CHCDS) scheme seeks to benefit poor artisans located in far flung areas of the country.
Group Insurance Scheme for Powerloom Workers.
Jute Technology Mission (JTM).
North East Region Textile Promotion Scheme (NERTPS).
Catalytic Development Programme to promote sericulture.
Pashmina Wool Development Scheme seeks to benefit Pashmina wool growers.
Techtextil India, a trade fair focused on technical textiles, nonwovens and composites.
SAMARTH training.
National Handloom Development Programme (NHDP).
Weaver MUDRA Scheme.
India-Japan pact on cooperation in textiles will facilitate Indian exporters to meet the requirements of Japanese importers as per the latter's technical regulations.
Cabinet Committee on Economic Affairs (CCEA) approved mandatory packaging of food grains and sugar in jute material for the Jute Year 2019-20.
'Hastkala Sahyog Shivirs' in handloom-handicrafts clusters.
Directorate General of Foreign Trade (DGFT) has revised rates for incentives under the Merchandise Exports from India Scheme (MEIS) for two subsectors of Textiles Industry - Readymade garments and Made ups - from 2 per cent to 4 per cent.
Ready- made garment manufacturing units.
Merchandise Exports from India Scheme (MEIS).
Centers of trade facilitation.
Interest Equalization Scheme.
Financial assistance (up to 50%) for technology up gradation.
reduced the duty drawback rates on garment exports. Duty drawbackis the duty refund that a business gets against what it paid for importing the raw material.
Cotton Textile Export Promotion Council
The Cotton Textile Export Promotion Council (TEXPROCIL) takes part in national and international events to enhance the visibility of Indian products, advertise and promote Indian products in various media vehicles such as fashion magazines, event-related pull-outs, India reports and leading trade magazines, and organise buyer-seller meets (BSM) and trade delegation visits.
Road Ahead
The future of the Indian Cotton textiles industry looks promising, buoyed by strong domestic consumption as well as export demand. With consumerism and disposable income on the rise, the retail sector has experienced a rapid growth in the past decade.
High economic growth has resulted in higher disposable income. This has led to rise in demand for products creating a huge domestic market. Skill and capacity building of workers and entrepreneurs is required and critical.
Cotton industry needs to command premium prices; target niche products and markets; redesign products in higher value-added segments. It also needs to focus on regional and cluster subsidies, technology upgradation and skill development subsidies for sustained development.
Investment in value added services, e.g., marketing, warehouse rentals, logistics, courier, other product fulfilment costs constitute a pre-requisite for the sector going to scale.
Modernisation is required to increase production, reduce cost, rationalize labour in various operations, reduce maintenance and make the industry energy efficient.
Automation is also important to enhance the productivity of textile units in India and reduction in unit cost of product.
Government R&D institutions and academic institutions should have greater interface with industry and take up R&D, which are more relevant to the emerging needs of the cotton textile industry. Faster adoption of technology is a key for Indian cotton textile sector to accelerate the pace of manufacturing and become globally more competitive.
In this cost competitive era, the Indian cotton textile sector has to invest more for modernization with special focus on increasing automation of production processes and promotion of innovation and R&D in order to gain edge over its competitors like China, Bangladesh and Vietnam.
MSPs have a decisive influence on domestic cotton prices. While massive MSP operations may protect the livelihood issues of farmers, they may also push up our cotton prices above international prices and render our cotton textiles uncompetitive in the global markets.
With present system, high procurement costs to honour the MSP commitments are becoming unsustainable with huge subsidy costs and it is also against the competitiveness for domestic cotton textiles in value chain.
If a scheme can be devised for direct transfer of subsidies to the extent of the gap between market prices and MSPs whenever market rates fall below MSPs, this would provide the same extent of relief to cotton farmers without affecting the cotton textiles industry and its exports and with lesser cost to government. Scheme of direct subsidy will surely prove to be better for cotton growers as well as cotton textile industry.