EXCERPTS FROM TOPPERS' TALK WITH MR CHALLAPALLE YASWANTH KUMAR REDDY AIR-93 IN UPSC CSE 2020
EXCERPTS FROM TOPPERS' TALK WITH MR CHALLAPALLE YASWANTH KUMAR REDDY AIR-93 IN UPSC CSE 2020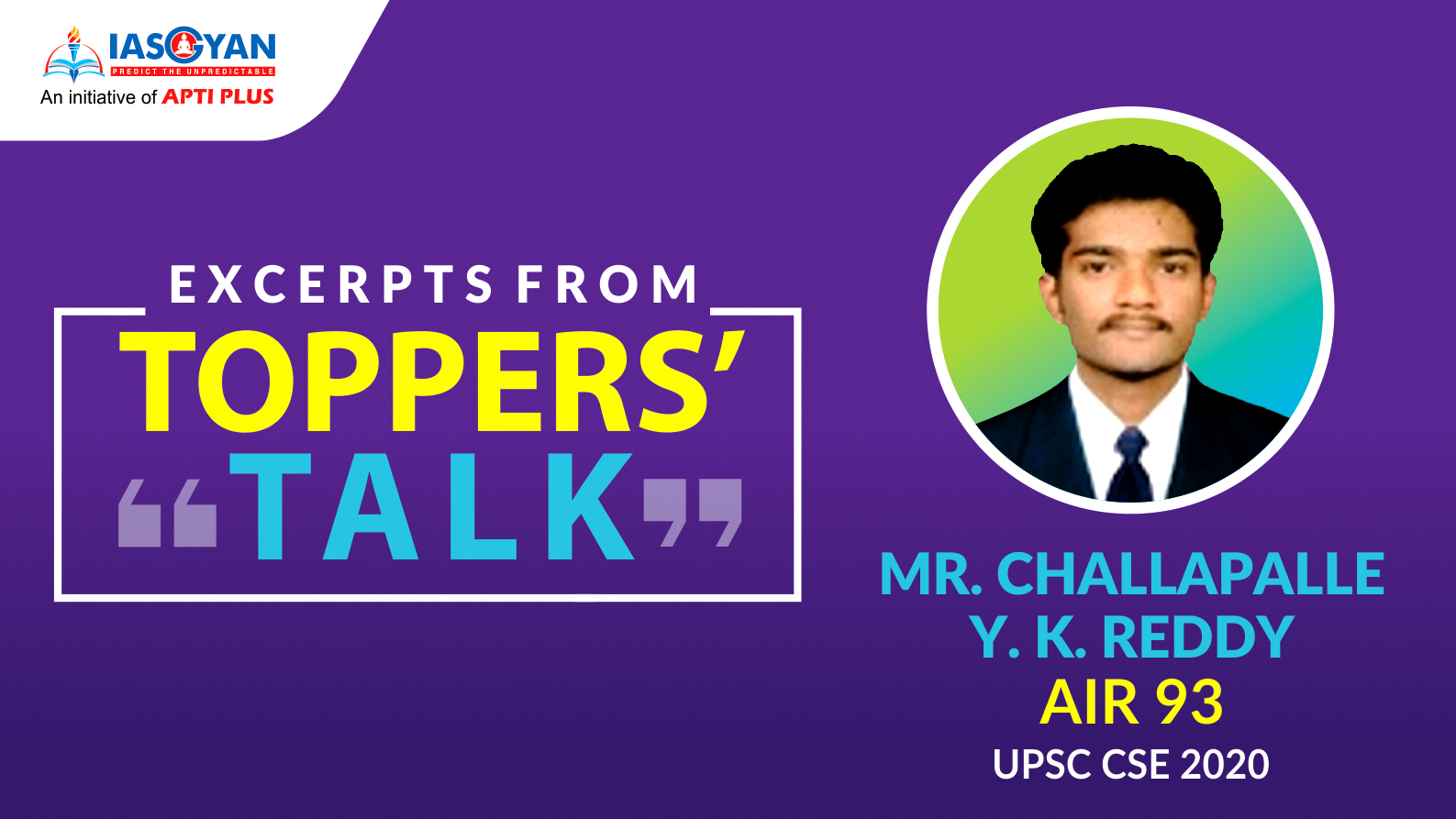 Profile of the candidate
Hello,
I am Challapalle Yaswanth Kumar Reddy and have secured AIR 93 in the civil services examination 2020. I am currently posted as Assistant Commissioner of State Taxes in Andhra Pradesh. Previously I was Information Systems Officer in IOC. I did my graduation from JNTU Kakinada and schooling from Jawahar Navodya Vidalaya.
How was your journey of CSE preparation?
The starting point of the journey is same for everyone. Everyone is filled with self-doubt and fear. But it is in one's own hands to make it easy and interesting. One should have clarity regarding the demand of CSE and enjoy the process. This will help in decreasing the difficulty of the journey. Also have a detailed plan in hand- daily, weekly, monthly. This will help in gaining confidence and satisfaction. Also don't isolate yourself completely from your hobbies. UPSC CSE should be seen just as one part of your life.
Duration of preparation
I started my preparation in November/ December 2016. I failed in prelims in my first attempt in 2019. Initially my optional was mathematics but after preparing it for three months I switched to anthropology.
How did you overcome the hurdles that you faced during the preparation?
Every CSE aspirant faces lack of confidence, self-doubt and issues related to mental health during his/ her journey. But failure makes you humble, open-minded and honest. Every beginner should realise that there are no shortcuts in CSE preparation. CSE needs holistic preparation. First of all go through the syllabus (memorize it). Then go through the blogs of previous year toppers and previous year papers to have a general feel of the exam and types of questions asked. Then start reading standard books such as laxmikant for Polity and NCERTs. In first read of the books aim is to know the subject not to learn. Then again go through the previous year papers. Gradually in second and third reading start the learning process and make notes. Note only the important points. Notes shall be only 1/5th or 1/6th of the reference material.
How important was newspaper reading?
Newspaper is one of the most important part of preparation. For current affairs best approach is to read newspapers. Make short notes of one to two lines on each topic. Segregate your notes topic wise. Couple this with any coaching institution's CA monthly.
Internet sources vs hard copy materials
For static portion I referred standard books and NCERTs in hard copy format. For dynamic/ current affairs portion internet research is a must(daily current affairs of IAS GYAN etc).
Tell us about your Interview
I got Air Marshal Bhonsle board. I scored 165 marks in the interview. I was asked questions related to GST (due to my current job), questions related to Artificial Intelligence/ machine learning (my background is Computer Science Engineering), questions related to oil, shale gas (served in IOC), questions relating to cyclones (did graduation from JNTU Kakinada), questions related to schooling and education (schooling from Jawahar Navodya Vidalaya) and questions relating to anthropology such as Darwin's theory.
Mains subjects in Prelims
It is very important to understand that UPSC CSE is a highly dynamic exam. You cant leave any subject. But you can prioritise on the subjects. For example, polity and economy if well prepared can be highly scoring.
How was it preparing with the job?
Preparing with job in hand is one's personal decision. I don't like taking risks so I decided to have a job in hand. Also one should understand that you cant excel in both CSE as well as your job at the same time. My jobs were not at all demanding. I took two months leave before the mains exam and twenty days leave before my interview. You also need to ask yourself whether your job is aiding you in the exam preparation?
What is a good answer according to you?
I don't believe in writing the best answers. I believe in writing 20 average/ more than average answers. In this case cost to benefit ratio is in your favour. While writing answer keep your approach simple. Divide the answer into introduction, body and conclusion. Connect what has been asked to current affairs. Cover multiple dimensions (PESTEL etc). write 4-5 points on each part of the question. Substantiate with data/ stats wherever required. Mention the way forward in conclusion.
Time management for exam
Prepare a mental construct beforehand. I planned 15 minutes for every two ten marker questions. This took around 1 hour 15 minutes. And 10 minutes for every 15 marker. This took around 1 hour 40 minutes. I kept 5 minutes as a buffer period.
How to revise?
It is one of the most important component of the CSE preparation. Number of books studied wont matter. It is easy to remember from one's own notes rather than from standard books. Once you have read something, close your eyes and try to recall and frame an answer if the same topic came in the exam as a question.
Hard work vs smart work
Focus should be on quality instead of quantity meaning how much hours you are putting into must be of highest quality without disturbance.
Mocks
For prelims I gave around 60 to 70 mocks
For mains I gave nine mock tests
For optional I gave two mocks
I gave multiple mocks for interview
Do SWOT analysis. This is must.
Feedback from mocks is very vital.
Optional
Initially my optional was mathematics but after preparing it for three months I switched to anthropology.
Take adequate time in choosing the best optional for yourself.
Consider factors like graduation, interest, coaching/mentorship, reference books etc.
Go through previous year papers, syllabus, talk with seniors/ toppers.
For anthropology 2-3 months of dedicated preparation is required.
I referred standard books, coaching institution compilations, toppers' notes. I was selective in my approach picking the best sources.
3-4 days should be dedicated for understanding the demand of the exam, syllabus and collecting the best sources.
I made notes (15-20 points) on each topic and related them to current affairs as well.
Essay
Start after completing your GS preparation.
Go through previous 10 year papers to know the trend.
Prepare quotes/ stats/ data/examples and dimensions for each and every theme.
Connectors should be used.
Make concise paragraphs
Devote 1.5 hours to each essay.
Out of the 90 minutes, devote 5-10 minutes to selecting the essay and rest 20-25 minutes to making structure/ noting all the points in the rough page. 60 minutes should be devoted to write the essay.
How did the IAS Gyan materials & DAF Questionnaire helped you?
DAF is bible and APTI PLUS questionnaire helped in this regard. The current affairs and the questions prepared by the APTI PLUS team were very specific and elaborate.
Interview experience with APTI PLUS Academy
I had given mock interviews with APTI. APTI PLUS provides Interview Guidance Program for Free. They conduct mock interviews in an ambiance which is akin to the actual UPSC interview, with the esteemed panel members consisting of senior retired bureaucrats, personality experts and eminent professors.