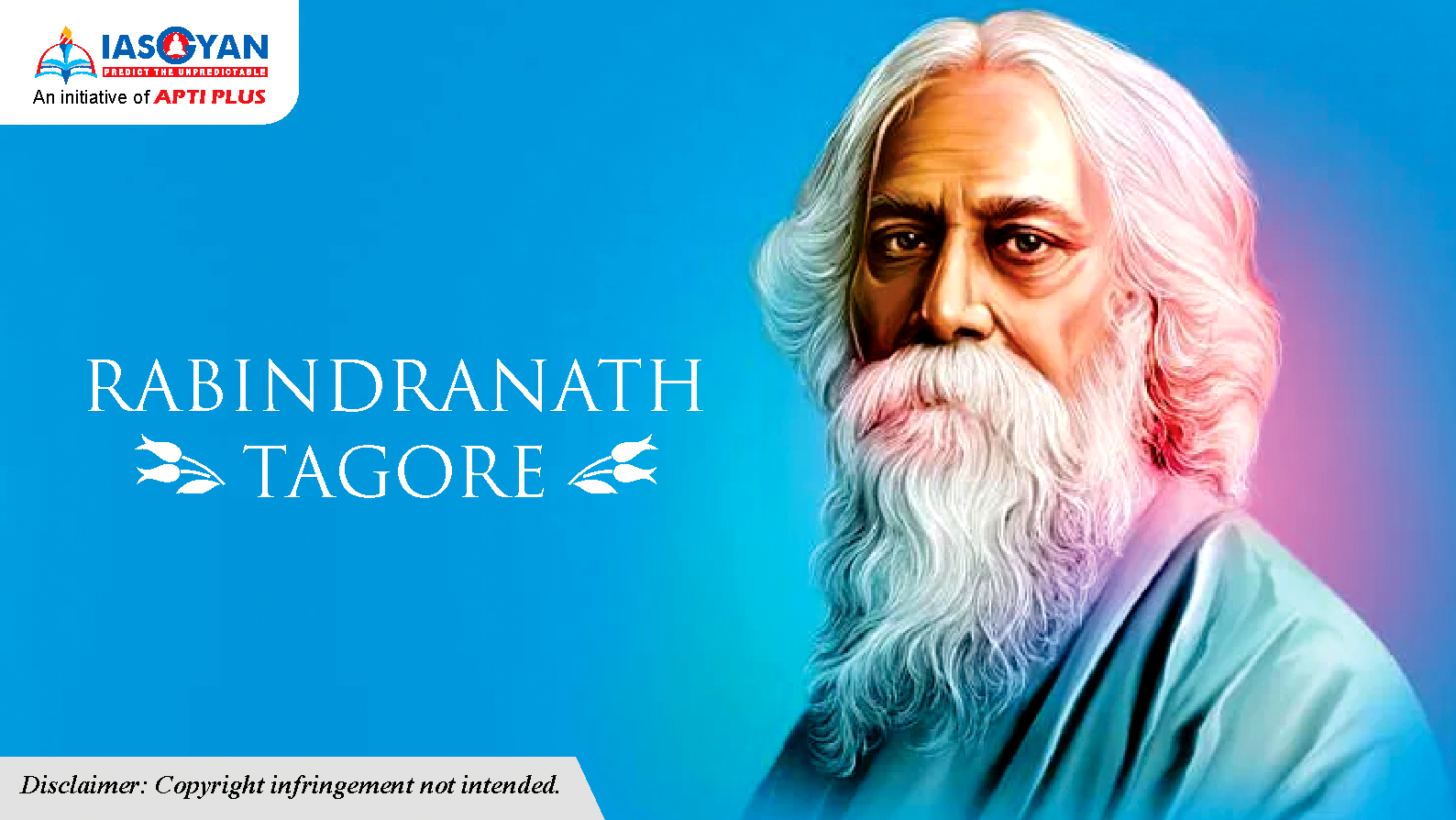 Rabindranath Tagore
Son of Debendranath Tagore (leader of the Brahmo Samaj); Rabindranath Tagore was a poet, writer, music composer, and painter.
He was known by his pen name Bhanu Singha Thakur.
He is referred to as 'Gurudev', 'Kabiguru', and 'Vishwakavi'.
Contributions

Literature & Art
He reshaped Bengali literature and music, as well as Indian art.
In 1913, Tagore became the first non-European to win the Nobel Prize in Literature for his novel
He wrote the National Anthems of India and Bangladesh.
Education
Tagore despised rote classroom schooling. His vision led to the establishment of a unique educational institution - Visva- Bharati University.
Santiniketan Ashram established by Devendranath Tagore, was later expanded by Rabindranath Tagore.
The educational complex invented its own syllabus —that kept students abreast of political, social and environmental changes in the country.
Social Reform
He used his literature to mobilize people towards political and social reform.
Through his works, he protested against Brahmanical social order, Caste System, narrow sectarianism, untouchability and animal sacrifice.
Economy
In 1921, Tagore and agricultural economist Leonard Elmhirst set up the "Institute for Rural Reconstruction", later renamed
He emphasized on expansion of small-scale cottage industries in the villages. The aim was to supply fresh blood to the rural economy depending on local resources.

Freedom Struggle
Partition of Bengal (Swadeshi Movement)
Tagore wrote the song Banglar Mati Banglar Jol (Soil of Bengal, Water of Bengal) to unite the Bengali population.
He started the Rakhi Utsav where people from Hindu and Muslim communities tied colorful threads on each other's wrists.
He urged the masses to seek self-reliance and unite themselves against oppression.
Protest against Jallianwala Bagh Massacre
He was awarded a knighthood by King George V in 1915, but Tagore renounced it after the 1919 Jallianwala Bagh massacre.

His vision of Nationalism
He skeptically scrutinized the construction of the nation on narrow parochial lines.
Tagore opined that the term nationalism was derived from the term nation-state. And it was nothing but the embodiment of Western ideas of capitalism and mechanization.
He believed that these ideals were intrinsically against the Indian tradition of self-autonomy, pluralism and religious tolerance.
Fundamental to his belief was that nationalism could not rise above humanity.