UPSC CALENDAR 2022: DATES FOR CSE AND IFoS EXAM RELEASED
UPSC CALENDAR 2022: DATES FOR CSE AND IFoS EXAM RELEASED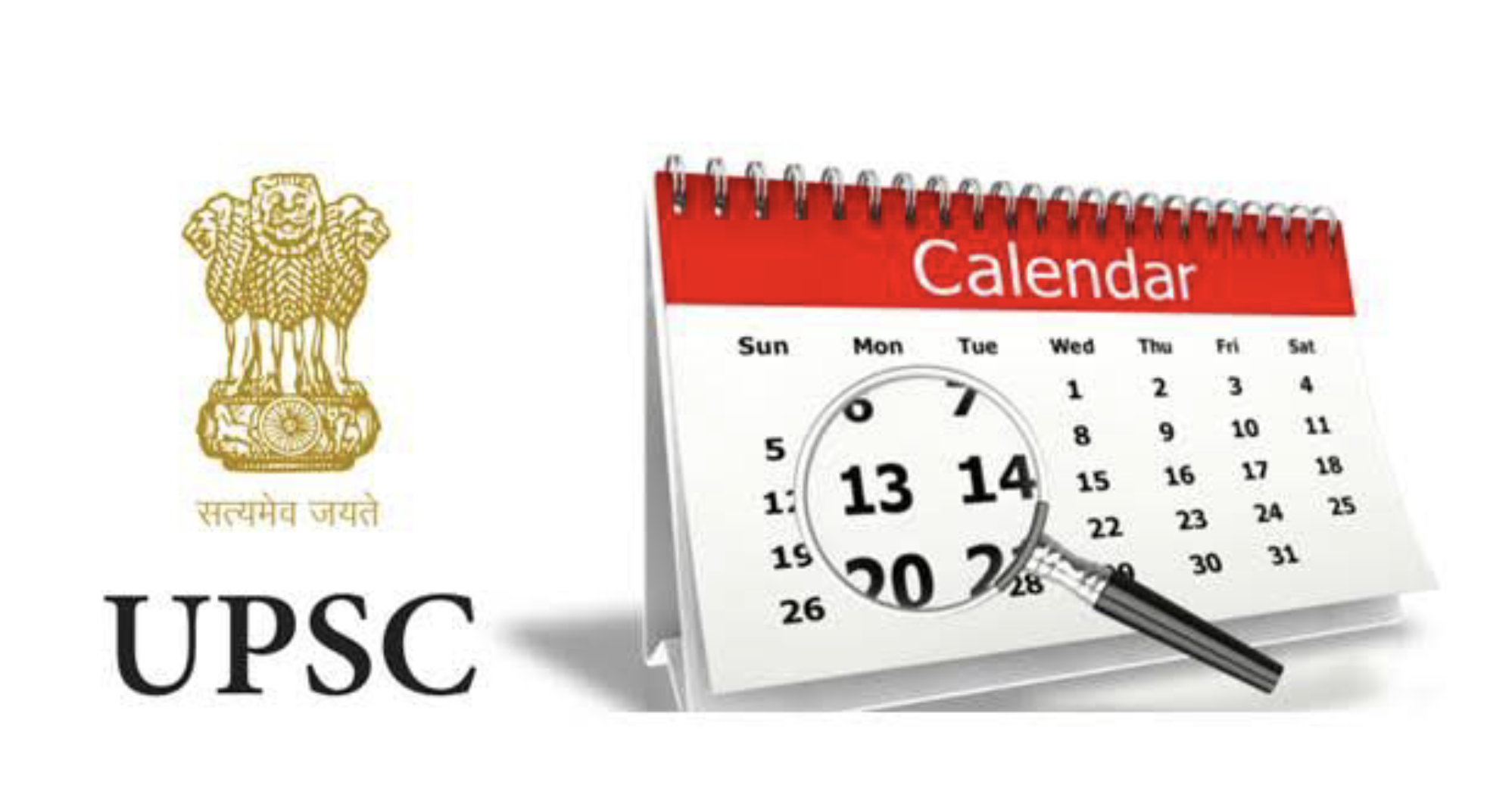 The much awaited UPSC Calendar for the 2022 aspirants is out!!!
The Union Public Service Commission(UPSC) has released its annual schedule on its official website for the year 2022. The 2022 calendar determines the civil services exam schedule and dates of various exams to be conducted by the Union Public Service Commission. Every year, UPSC publishes an annual calendar well in advance so that aspirants preparing for different exams will get an overall idea about the dates.
The UPSC schedule states that the UPSC civil services exam (prelims) will be conducted on 5 June 2022. The official notice for applying to the exam will be released on 2nd February. According to the calendar, the mains exams for the year 2022 will begin from 16th September 2021. Also, the main exams will be administered for five days at specified dates.
The calendar issued on the official website indicates that the dates and schedule of commencement and interval of exams are subjected to change.
CALENDAR: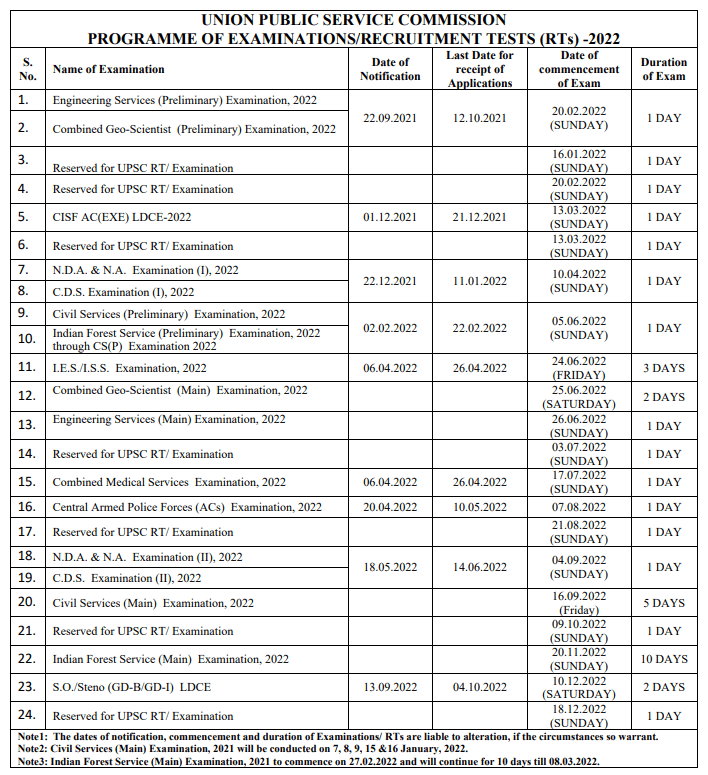 There are about 20 weeks to PRELIMS 2022. For some of the aspirants these could be just numbers. But for the serious ones it is the timeline of their preparation. It rings the bell that now is the time to strategize the preparation which will help the aspirants in taking the lead and going ahead in the race.
APTI PLUS Academy has brought about various programmes keeping the 2022 exam in mind:
DISTANCE LEARNING PROGRAM
Distance learning aims to create and provide access to learning when the source of information and the learners are separated by space and time.
It primarily caters to the need of aspirants who are unable to join regular coaching classes due to major reasons but have ardent desire to become a civil servant.
Out-stationed & working aspirants, who are unable to join Classroom Program should not be deprived of the valuable guidance and motivation provided by India's most renowned faculty members & mentors. Thus, the importance of Distance Learning Program cannot be emphasized enough.
COURSE FORMAT:
Course Fees: Rs. 41,300/-
Validity: 365 days
COVERAGE:
It will cover GS, CSAT, Essay and Optional.
There will be updated study material which will be delivered in or after August 2021.
It will include e-magazine subscription.
There will be tests for prelims as well as mains.
There will be 37 tests covering the entire ambit of civil services examination syllabus.
There will be 5 tests based on previous year UPSC CSE, CDS, CAPF and ESE exam.
There will 10 full length tests covering Indian Constitution, Political System and Governance + Geography + History of India + Indian Economy & Social Development + Ecology & Environment + General Science + Current Affairs + Budget 2022 + Economic Survey.
HOME LEARNING PROGRAM
OVERVIEW:
Years of expertise, research & analysis of Civil Services Examination has driven APTI PLUS Academy to embark upon developing a Virtual (Live/Online) Classroom Program that is in line with the changing dimensions of the UPSC preparation process.
The program is meticulously designed by India's most adroit professionals having extensive expertise in the field of Civil Services Examination.
It is the most comprehensive program developed by APTI PLUS Academy in which the best quality of education gets delivered straight to your home through India's Top Educators.
Objective is thus to simplify the process of UPSC preparation and provide a platform that can best suit aspirants and professionals and lead them to the path of success.
COURSE FORMAT AND COVERAGE:
Following courses are on offer:
NCERT Online Foundation Course
Online Program for Regular Course (Prelims + Mains)
Two Years Online Foundation Course
Online Course for Prelims only
Online Course for Mains only
Online Course for Optional Subject
Online Test Series Program
Course Duration: 2 months to 12 months
Course Fees: Rs. 35,400 to 1,41,600/-
It will cover GS Mains and Prelims, CSAT, Essay and Optional.
Complete coverage of current affairs of the year.
There will be classes on weekdays and weekends. Duration- 2 to 3 hours.
PRELIMS TEST SERIES 2022
The basic mantra for success in UPSC CSE is "Learn, Revise, Evaluate, Improve, Succeed". Keeping this in mind, APTI PLUS Academy has structured its Prelims Test Series Program meticulously, with an in-depth coverage of the syllabus and scientifically designed Tests covering the entire static and current portions to ensure improved learning outcomes and enhanced scores of the students. A stage-wise approach starting from extensive in-depth coverage of GS syllabus moving towards thematic and current affairs based tests and finally CSE simulation through full length tests makes sure that aspirants can handle the different facets of the UPSC Prelims Paper and be exam ready with all the ingenuities and expertise in order to cope with any surprise that UPSC throws at them. The program helps aspirants not only exhaustively cover all the standard sources but also steps up their preparation and brings it to UPSC level by multiple revisions and personalized feedback.
COURSE FORMAT AND COVERAGE:
Course Duration: 365 Days
Course Fees: Online Tests-Rs. 7,900/- & Offline Tests- Rs. 9,999/-
There will be total 60 tests & 12 month's subscription of IAS GAZETTE.
There will be 38 sectional tests covering the entire ambit of civil services examination syllabus.
There will be 5 tests on previous year questions.
There will be 7 monthly current affair tests.
There will be 10 full length tests.
MAINS TEST SERIES 2022
The ultimate program meticulously designed for truly dedicated aspirants to bank upon for being Mains 2022 & 2023 Ready
The main Examination is intended to assess the overall intellectual traits and depth of understanding of candidates rather than merely the range of their information and memory. The questions are likely to test the candidate's basic understanding of all relevant issues, and ability to analyze, and take a view on conflicting socio-economic goals, objectives and demands. 'Mains' assesses the quality of thoughts and content of one's mind. These will enter subconsciously into one's answer sheets.
Further, Instances of serious aspirants failing to clear the Mains hurdle, despite having good knowledge and being extensively read and doing all the hard work, are very common in the circles of UPSC CSE preparation.
So the question arises what is the magical mantra to achieve success in Mains?
It is 'LEARN, REVISE & PRACTICE, TEST, IMPROVE, SUCCEED'.
APTI PLUS through its Program offers that kind of conducive 360 degree platform which meets each and every requirement of the 'LEARN, REVISE & PRACTICE, TEST, IMPROVE, SUCCEED' mantra. This highly innovative course has been strategically designed for serious aspirants to make them exam ready by strategically steering their preparation in the right direction and imparting them a mix of enhancement of knowledge, improvement in skills, personalized mentorship and extensive practice and revision.
COURSE INVESTMENT: Rs 18,000/-
FEATURES OF THE PROGRAM:
16 HIGH QUALITY TESTS
This component has been designed so as to ensure not only content development and enhanced answer writing skills for the aspirants but also to enable them to develop multi-dimensional analytical perspective across all themes. It will help aspirants master the art of writing answers such as structure and presentation, learn how to present knowledge with contextual, structural and language competency, understand the key words/context, approach towards attempting question, understand their current preparedness and identify their strengths and weaknesses and work upon them in a concerted manner.
Features of Test Series Program:
A clear-cut detailed schedule of the Tests.
Strictly adhering to UPSC pattern and standard
Sectional Tests to ensure that aspirants can cover each subject comprehensively in sufficient time and can evaluate his/her performance through the tests.
Full Length Mock Tests to evaluate the overall preparation level.
Detailed analysis of Tests based on Level of Difficulty making it easier for aspirants to evaluate their performance that strategize their preparation accordingly.
LEARN THROUGH MAINS ORIENTED SUBJECT-WISE SESSIONS: 15 hours online classes on essay and ethics case studies
IMPROVE THROUGH PERSONALISED MENTORSHIP: 6 one to one interactive sessions with our evaluators
MAINS ANSWER WRITING PROGRAMME 2022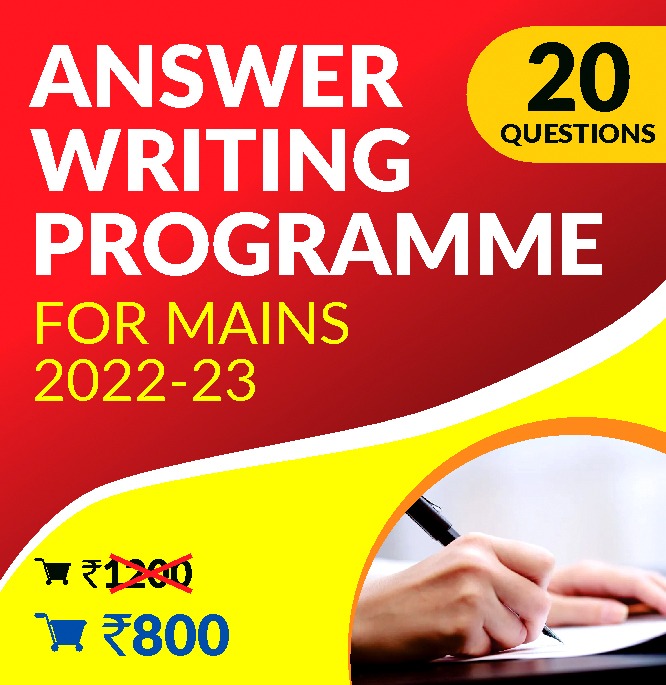 APTI PLUS through its Mains 2022 Program offers that kind of conducive 360 degree platform which meets each and every requirement of the 'LEARN, REVISE & PRACTICE, TEST, IMPROVE, SUCCEED' mantra. One can 'Revise, Practice & Improve' and stay ahead of the curve with Mains 2022 Answer Writing Evaluation Programme known for its codified objective criteria, uniform standards and timely, constructive, personalised and practical inputs on all aspects of answer writing. The programme aims to develop an analytical perspective in aspirants and ensure continuous improvement using evaluation, feedback and personal mentorship. One-to-one personalised mentorship and trusted and expert guidance enables the aspirants to get their performance evaluated anytime from anywhere and helps them learn at their own pace.
Monthly 20 answers
Answer evaluation by experts
Get evaluated answers within 48 hours with personalized feedback
Source of question can be from anywhere
Monthly Fees: Rs.800/-
THE TIME TO REST IS OVER FOR 2022 ASPIRANTS.
So, from today onwards brace yourself and do something today that your future self will thank you for.
HAPPY LEARNING!!!