UPSC CSE 2020 RESULTS OUT: APTI PLUS ACADEMY SHINES ONCE AGAIN!!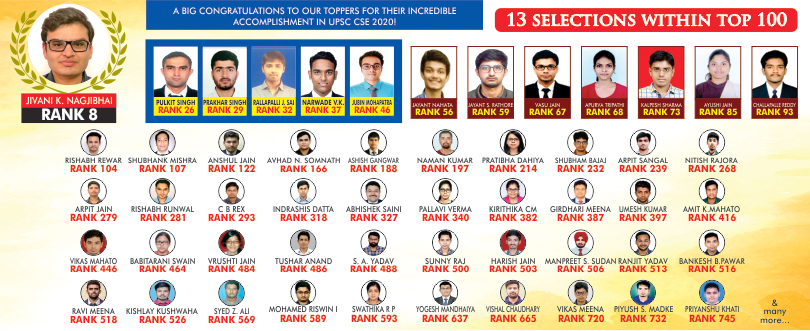 HOW TO HANDLE UPSC CIVIL SERVICES 2020 FINAL RESULT?
Recently, UPSC declared the civil services 2020 final result.
First of all, Congratulations to all selected students of APTI PLUS family in UPSC CSE 2020, Always ahead in Eastern India:
List of Qualified Aspirants:
JIVANI KARTIK NAGJIBHAI - AIR- 8
PULKIT SINGH - AIR- 26
PRAKHAR KUMAR SINGH - AIR- 29
RALLAPALLI JAGAT SAI - AIR- 32
NARWADE VINAYAK KARBHARI - AIR- 37
JUBIN MOHAPATRA - AIR- 46
Jayant Nahata - AIR- 56
JAYANT SINGH RATHORE - AIR- 59
VASU JAIN - AIR- 67
APURVA TRIPATHI - AIR- 68
KALPESH KUMAR SHARMA - AIR- 73
Ayushi jain - AIR- 85
CHALLAPALLE YASWANTH KUMAR REDDY- AIR- 93
RISHABH KUMAR REWAR - AIR- 104
SHUBHANK MISHRA - AIR- 107
ANSHUL JAIN - AIR- 122
AVHAD NIVRUTTI SOMNATH - AIR- 166
ASHISH GANGWAR- AIR- 188
NAMAN KUMAR - AIR- 197
PRATIBHA DAHIYA - AIR- 214
SHUBHAM BAJAJ - AIR- 232
ARPIT SANGAL- AIR- 239
Nitish Rajora - AIR- 268
ARPIT JAIN - AIR- 279
RISHABH RUNWAL- AIR- 281
C B REX - AIR- 293
INDRASHIS DATTA- AIR- 318
ABHISHEK SAINI - AIR- 327
Pallavi Verma - AIR- 340
KIRITHIKA CM - AIR- 382
GIRDHARI LAL MEENA - AIR- 387
UMESH KUMAR - AIR- 397
MAHATO AMITKUMAR SIDHIPRASAD - AIR- 416
VIKAS MAHATO- AIR- 446
BABITARANI SWAIN - AIR- 464
VRUSHTI JAIN - AIR- 484
Tushar Anand - AIR- 486
YADAV SURYABHAN ACHCHHELAL - AIR- 488
SUNNY RAJ - AIR- 500
HARISH JAIN - AIR- 503
MANPREET SINGH SUDAN - AIR- 506
YADAV RANJIT MOHAN - AIR- 513
PAWAR BANKESH BABARAO - AIR- 516
Ravi Meena - AIR- 518
KISHLAY KUSHWAHA- AIR- 526
SYED ZAHED ALI - AIR- 569
MOHAMED RISWIN I - AIR- 589
Swathika R P - AIR- 593
YOGESH MANDHAIYA - AIR- 637
VISHAL CHAUDHARY - AIR- 665
VIKAS MEENA - AIR- 720
MADKE PIYUSH SUDHAKAR - AIR- 732
PRIYANSHU KHATI - AIR- 745
This result has led to a few hundreds achieving their dream of seeing their name in the final list and the remaining thousand shocked, surprised, saddened depending on the expectations they had. One might have expected a top 100 rank and still found no name in the list and the other might have ended up with a top 100 rank when least expected. In this exam, from the preliminary to the final list, at each stage, lakhs of aspirants look forward with a lot of hope and expectations, but looking at the limited seat availability, the cut throat competition and various other factors, the degree of disappointment is bound to be very high.
UPSC civil services exam is not an exam in itself but a journey in itself which might span a year for some and for other years of hard work and dedication and yet the dream of getting the expected rank in the final list might never get a closure. The final result list in itself does not just carry the names of the candidates but also has effect on all the aspirants. Those who clear get a new sense of belief and become even more motivated to be the actors of change and those who do not get the expected result go through introspections from self, from the society, some find themselves defeated at life, some find their morale down, confidence eroded and become indifferent to the society thy wanted to make a difference in.
The sinking feeling every failed aspirant goes through, the magnitude of the same varies. This might depend on the number of years given to the preparation- for first attempt aspirants the feeling might be shocking, the second attempt aspirants may find it humbling and third attempt on wards it becomes devastating. Various other factors like financial issues, societal and parental pressure continue to play their roles. In the end, only one option seams feasible and that is of quitting.
Again, looking at the individualistic nature of the exam, every aspirant blames various people for their failure-UPSC, optional, everything apart from self. As mentioned before, UPSC CSE is more than just an exam. It is a journey that requires tremendous self-belief, patience, the urge to learn from failures and mistakes, perseverance etc. And certainly is not the end of the road in itself. A few hundred seats are available to lakhs of aspirants that apply and hence, there is bound to be aspirants who do not make the cut at each stage, motivation for whom is categorized as below:
Aspirants who made to the final list with expected rank or higher than expected rank:
Should not become arrogant.
Should enter the world of challenges with the traits essential to be a civil servant.
Be an inspiration and motivation to others.
Aspirants who made to the final list with unexpected lower rank:
Should not become less ambitious.
Must remember that it is a relative exam and even a mark can make a difference and that does not make you any less worthy.
Individualistic thinking is important- analyse what might have gone wrong but do not overdo it and accordingly plan the future course of action.
Accept what you have on offer and do not be manipulated by others.
Aspirants who appeared for interview but did not get a rank-
Never back down.
In cut throat competition coming this far is an achievement and a learning experience in itself.
Be mentally strong to accept the result with poise.
Without overdoing analyse the reasons for failure(after seeing marks etc) and chalk out strategy accordingly
Resolve to work on your weaknesses and taste success the next time
Aspirants who failed at the mains/prelims stage or will attempt first time:
Always be calm and composed.
Do a diligent SWOT analysis of the syllabus, preparation, time schedule etc and think and plan accordingly with a new strategy.
Do not try to imitate or blindly copy others and neither be influenced in a wrong way, rather get inspired.
Do not settle for less and do not be afraid of failures.
There are certain points which overlap in all the categories, for all the aspirants. Every aspirant no matter what stage he or she is in should never let the exam and its preparation and success and failure take a toll on self. Taking a break is always an option. One can choose hobbies like yoga, meditation, arts, volunteering to diversify self and should never hesitate to consult parents, teachers, seniors or guide.
Always remember UPSC exam is a rigorous exercise that requires continuous perseverance, hard work, practice and smart preparation to taste the success. One must strive hard so that every step taken, every pain felt and every struggle overcome culminates into something worthy in the end. Learning is incomplete without failure and failure is never a waste provided you make the best out of it by learning to overcome the flaws. And when you do that you win, you win big.