17th EAST ASIA SUMMIT 2022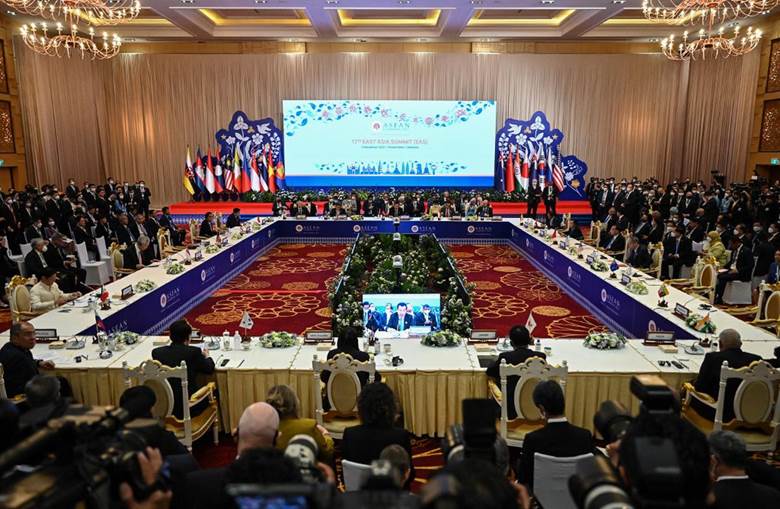 Copyright infringement not intended
Context: Vice President Jagdeep Dhankhar addressed the East Asia Summit on the last day of his visit to Cambodia, as the three-day Association of South East Asian Nations (ASEAN) summit concluded.
Details:
Highlights of the Meeting:
Cambodian leader Hun Sen called for unity, telling a gathering including Russia, China and the United States that current global tensions have been taking a toll on everyone.

The comments come as regional tensions remain high between the United States and China over Taiwan and Beijing's growing regional aspirations, and while the Russia invasion of Ukraine has disrupted global supply chains, causing rising energy and food prices far beyond Europe.

Hun Sen said he hoped leaders would embrace a "spirit of togetherness in upholding open and inclusive multilateralism, pragmatism and mutual respect in addressing the existential and strategic challenges we all face."

Biden promised that the S. would work with ASEAN, telling leaders of the strategically vital coalition that "we're going to build a better future that we all want to see" in the region where US rival China is also working to expand its influence. He promised to collaborate to build a region that is "free and open, stable and prosperous, resilient and secure."

China highlighted that amid a "turbulent" global security situation, "unilateralism and protectionism are surging, economic and financial risks are rising, and global development is confronted with unprecedented challenges."

India's Vice President emphasized therole of the EAS mechanism in promoting free, open and inclusive Indo-Pacific with freedom of navigation and overflight.

The Vice President also talked about the growing global concerns in the food and energy sector.

He also urged for the contribution of members of the East Asia Summitto the International Year of Millets.
What is the East Asia Summit?
Beginning in 2005, 16 participating countries comprised this grouping, with their first meeting in Kuala Lumpur, Malaysia.

These members were the 10

ASEAN

countries, Australia, China, India, Japan, New Zealand, and the Republic of Korea.

ASEAN's 10 member countries are Brunei, Cambodia, Indonesia, Laos, Malaysia, Myanmar, the Philippines, Singapore, Thailand, and Vietnam.

The United States and the Russian Federation joined at the 6th East Asia Summit in 2011.

Simply, the EAS is an ASEAN initiative and refers to the annual Meeting of Heads of States/Governments of these countries, where they are able to discuss common concerns and interests

Its creation was based on the idea of enhancing cooperation among East Asian countries and those in the neighbouring regions.

Six priority areas of cooperation were identified – environment and energy, education, finance, global health issues and pandemic diseases, natural disaster management, and ASEAN Connectivity.
What are the EAS's links with India?
This year marks the 30th anniversary of ASEAN-India relations and is being celebrated as the ASEAN-India Friendship Year.

In a joint statement, ASEAN-India acknowledged the deep civilisational linkages, maritime connectivity, and cross-cultural exchanges between Southeast Asia and India which have grown stronger over the last 30 years, providing a strong foundation for ASEAN-India relations.

VP Dhankhar announced an additional contribution of USD 5 million to the ASEAN-India science and technology fund to enhance cooperation in sectors of public health, renewable energy and smart agriculture.

According to a 2021 statement by the Prime Minister's website, "ASEAN-India Strategic Partnership stands on a strong foundation of shared geographical, historical and civilizational ties. ASEAN is central to our Act East Policy and our wider vision of the Indo-Pacific."

India and ASEAN countries vowed to establish a comprehensive strategic partnership and enhance cooperation against terrorism after Vice President Dhankhar addressed the 19th ASEAN-India Summit.
https://indianexpress.com/article/explained/everyday-explainers/east-asia-summit-vp-dhankar-asean-8268342/