Copyright infringement not intended
Context: The Assam government has announced its intention to withdraw the Armed Forces Special Powers Act (AFSPA) from the entire state by the end of 2023.
Details
AFSPA is a law that grants special powers to the armed forces in areas declared as "disturbed" due to insurgency or other security threats.

It allows them to arrest, search and shoot anyone without a warrant or judicial oversight. The law has been widely criticized as draconian and a violation of human rights.
Assam under AFSPA
Assam has been under AFSPA since 1990 when it faced a violent separatist movement led by the United Liberation Front of Assam (ULFA). However, in recent years, the security situation has improved significantly, with several militant groups signing peace accords with the Centre and joining the mainstream.

In April 2022, the Centre removed AFSPA from 23 districts and a sub-division of Cachar district in Assam. Later, it was also lifted from the West Karbi Anglong district and Lakhipur sub-division.

Currently, only five districts - Dhubri, Goalpara, Kokrajhar, Chirang and Udalguri - remain under AFSPA.

Recently, the Chief Minister of Assam said that his government is planning to lift AFSPA from these five districts by November this year.

He also said that the Central Armed Police Forces (CAPF) deployed in these areas would be replaced by the Assam Police Battalions.

He added that his government would rope in ex-military personnel to train the state police force.
Present Status of AFSPA
AFSPA is now applicable fully only in 31 districts of 4 Northeast states and partially in 12 districts.

The Act is applicable in the entire state of Jammu and Kashmir.

AFSPA is currently applicable in;

Nagaland

Assam

Arunachal Pradesh

Manipur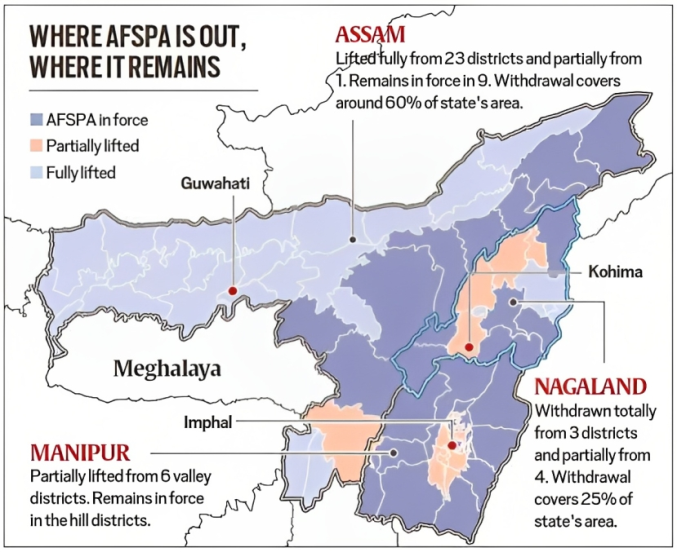 Must Read Articles:
AFSPA: https://www.iasgyan.in/daily-current-affairs/armed-forces-special-powers-act-afspa-48
PRACTICE QUESTION
Q. Under AFSPA, an officer of the armed forces has the power to:
1. Arrest anyone without a warrant
2. Search any premises without a warrant
3. Use force even to the extent of causing death
Choose the correct code;
A) 1 and 2 only
B) 2 and 3 only
C) 1 and 3 only
D) 1, 2 and 3
Answer: D
Explanation:
Under AFSPA, an officer of the armed forces has the power to:
● Fire upon or use any other kind of force against any person who is acting in contravention of any law or order in the disturbed area, even if it causes death.
● Arrest any person without a warrant who has committed or is suspected of committing a cognizable offence in the disturbed area.
● Enter and search any premises without a warrant to make an arrest or recover any property that is suspected to be stolen or unlawfully possessed.
● Stop, search and seize any vehicle or vessel that is suspected to be carrying any person, weapon, explosive or other article that is intended to be used for an unlawful purpose in the disturbed area.
● Enjoy legal immunity for their actions in the disturbed area, unless otherwise decided by the central government.
https://epaper.thehindu.com/ccidist-ws/th/th_delhi/issues/37190/OPS/GHKB8UI69.1+GUAB8VCSG.1.html