AGREEMENT BETWEEN GOVERNMENT OF INDIA, GOVERNMENT OF ASSAM AND REPRESENTATIVES OF 8 ADIVASI GROUPS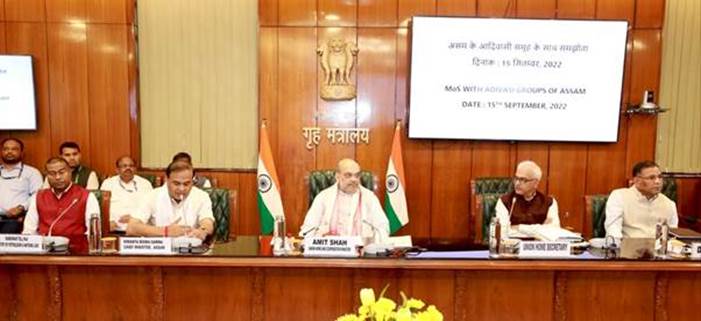 Copyright infringement not intended
About
The Union Minister of Home Affairs headed over the signing of an agreement between the Government of India, the Government of Assam and representatives of 8 Adivasi Groups in New Delhi.

The agreement was signed to end the decades-old problem of Adivasis and tea garden workers in Assam.

In the agreement, provisions have been made to protect the social, cultural, ethnic and linguistic identity of Adivasi groups as well as to further strengthen them.

The agreement also provides for the establishment of a Tribal Welfare and Development Council to ensure speedy and focused development of tea gardens.

The agreement also provides for rehabilitation and resettlement of armed cadres and measures for the welfare of tea garden workers.

A special development package of Rs.1000 crore (Rs.500 crore each by the Government of India and the Government of Assam) will be provided over a period of 5 years for infrastructure development in villages/areas with tribal populations.

The Union Home Minister highlighted that this agreement will prove to be an important landmark and is in the direction of the government's vision of a peaceful and prosperous North East and making North-East extremism free by 2025.

The Minister stated that the government has taken many efforts in the direction of making the Northeast peaceful and developed by;

Promoting and developing the rich culture of the region.

Settling all disputes.

Establishing peace and accelerating development in the Northeast to make it peaceful and prosperous.

NLFT agreement in 2019.

BRU-REANG and Bodo accord in 2020.

Karbi Anglong agreement in 2021.

Assam-Meghalaya Inter-State Boundary Agreement in 2022.

The Home Minister announced that the Union Government has decided that before 2024, all border disputes between the North Eastern states and all disputes related to armed groups will be resolved.
https://www.pib.gov.in/PressReleasePage.aspx?PRID=1859665
https://t.me/+hJqMV1O0se03Njk9