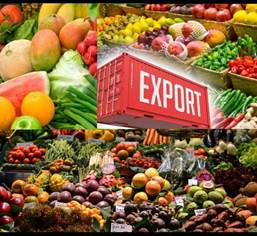 Disclaimer: Copyright infringement not intended.
Context
India's agriculture exports have grown 16.5% year-on-year in April-September. It is set to surpass the record $50.2 billion achieved in 2021-22 (April-March).
Curbs in the past
The government had, on May 13, banned the export of wheat.

On May 24, sugar exports were moved from the "free" to "restricted" list. Also, total exports for the 2021-22 sugar year (October-September) were capped at 100 lt.

On September 8, exports of broken rice were prohibited, and a 20% duty was imposed on all other non-parboiled non-basmati shipments.
Trends in Exports and Imports
Despite the above-mentioned curbs exports are growing.
Wheat exports, at 45.90 lakh tonnes (lt) during the April-September period, were nearly twice the 23.76 lt for the same period last year.

Sugar exports, likewise, grew 45.5% in value terms to $2.65 billion during April-September, and are on course to exceed the all-time-high of $4.6 billion reached in the 2021-22 fiscal year.

Non-basmati exports have also risen from 82.26 lt in April-September 2021 to 89.57 lt in April-September 2022, alongside that of basmati rice (from 19.46 lt to 21.57 lt).
2021-22, registered both record exports ($50.2 billion) as well as imports ($32.4 billion).

Although the resultant surplus of $17.8 billion was much below the $27.7 billion surplus in the previous all-time-high export year of 2013-14.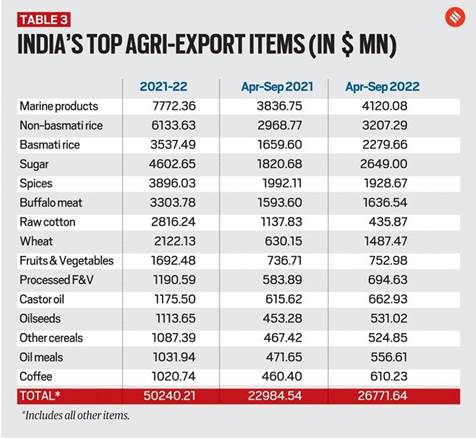 Note:

All barring two (cotton and spices) have posted positive growth.

India has been out-priced by Vietnam, Sri Lanka, Indonesia, and Brazil in pepper, while it has lost market share to Guatemala in cardamom.

In 2021-22, the country's cashew exports were valued at $453.08 million, compared to imports of $1.26 billion.

60% of India's total agri imports is accounted for by a single commodity: vegetable oils. Vegetable oils are today India's fifth biggest import item after petroleum, electronics, gold, and coal.
Must Read Article: https://www.iasgyan.in/daily-current-affairs/agricultural-exports
https://indianexpress.com/article/explained/explained-economics/indias-agriculture-exports-commerce-ministry-8266667/