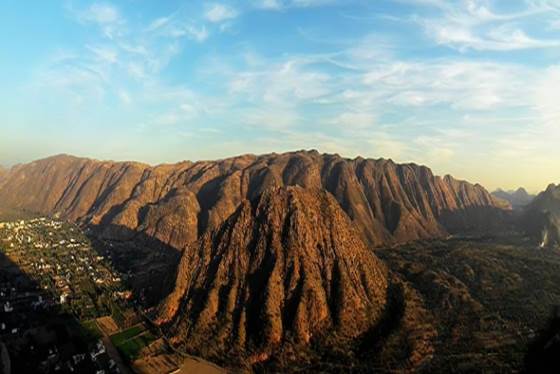 Disclaimer: Copyright infringement not intended.
Context: The Supreme Court judgement recently held protected land in Aravalli ranges as forests, guarding it against non-forest use. However, environmentalists fear the ruling may fast-track amendments to Forest (Conservation) Act, 1980.
Details:
The Supreme Court of India July 21, 2022 held that land area covered under Section 4 of the Punjab Land Preservation Act (PLPA) be treated as forest and invoked the provisions of the Forest Conservation Act, 1980.

The judgement came in the backdrop of Aravallis in Haryana, where the state demanded to allocate land parcels for development.

The court, citing the Act, called thousands of hectares as forest land and said it can't be handed over for non-forest use.

As per FCA, activities like the felling of trees or activities like constructions, mining and others are considered as non-forest use.

However, there is no clarity whether afforestation or planting trees is a forest activity or a non-forest activity.

Planting trees in forest areas requires permission to avoid hampering the local biodiversity by introducing non-native species.

Work like developing water holes for wildlife and constructing roads for patrolling and securing the area are not considered non-forest activities.
Aravalli Range
The Aravalli Range, often called Aravali Range, is a hill chain in northern India that runs 350 miles (560 kilometres) northeast across Rajasthan state.Isolated rocky outcroppings can still be seen to the south of Delhi.

The system is split into two sections: the larger Sambhar-Sirohi ranges, which include Guru Peak on Mount Abu, the highest peak in the Aravalli Range, and the shorter Sambhar-Khetri ranges, which are made up of three discontinuous ridges.

The Aravalli Range is abundant in natural resources (including minerals) and acts as a barrier to the western desert's expansion.

Several rivers flow from it, including the Banas, Luni, Sakhi, and Sabarmati.

Though highly wooded in the south, it is mostly desolate and sparsely inhabited in the north, consisting mostly of sand and stone and masses of rose-colored quartzite.
Geology
The Aravalli Range, an eroded stub of ancient mountains, is the oldest range of fold mountains in India.

The natural history of the Aravalli Range dates back to times when the Indian Plate was separated from the Eurasian Plate by an ocean.

The range rose in a Precambrian event called the Aravalli-Delhi Orogen. The Aravalli Range is a northeast–southwest trending orogenic belt located in the northwestern part of Indian Peninsula.

In ancient times, Aravalli were extremely high but since have worn down almost completely from millions of years of weathering, whereas the Himalayas, young fold mountains, are still continuously rising. Aravalli have stopped growing higher due to the cessation of upward thrust caused by the tectonic plates in the Earth's crust below them.
Mining
Mining of copper and other metals in the Aravalli range dates back to at least the 5th century BCE, based on carbon dating.

Recent research indicates that copper was already mined here during the Sothi-Siswal period going back to c. 4000 BCE. Ancient Kalibangan and Kunal, Haryana settlements obtained copper here.
Climate
The Northern Aravalli range in Delhi and Haryana has humid subtropical climate and hot semi-arid continental climate with very hot summers and relatively cool winters.

The main characteristics of climate in Hisar are dryness, extremes of temperature, and scanty rainfall. The maximum daytime temperature during the summer varies between 40 and 46 °C (104 and 115 °F). During winter, its ranges between 1.5 and 4 °C.

The Central Aravalli range in Rajasthan has an arid and dry climate.

The Southern Aravalli range in Gujarat has a tropical wet and dry climate.
Rivers
Three major rivers and their tributaries flow from the Aravalli, namely Banas and Sahibi rivers which are tributaries of Yamuna, as well as Luni River which flows into the Rann of Kutch.
North-to-south
North-to-south flowing rivers originate from the western slopes of the Aravalli range in Rajasthan, pass through the southeastern portion of the Thar Desert, and end into Gujarat.

Luni River, originates in the Pushkar valley near Ajmer, ends in the marshy lands of Rann of Kutch. It used to be one of the channel of the Saraswati River, as a result its banks have several Indus Valley Civilisation sites including Lothal.

Sakhi River, ends in the marshy lands of Rann of Kutch.

Sabarmati River, originates on the western slopes of Aravalli range of the Udaipur District, end into the Gulf of Khambhat of the Arabian Sea.
West to North West- Western Slope
West to north-west flowing rivers originate from the western slopes of the Aravalli range in Rajasthan, flow through semi-arid historical Shekhawati region and drain into southern Haryana. Several Ochre Coloured Pottery culture sites, also identified as late Harappan phase of Indus Valley Civilisation culture, have been found along the banks of these rivers.

Sahibi River, originates near Manoharpur in Sikar district flows through Haryana and meets its confluence with the Yamuna in Delhi where it is called Najafgarh drain, along with its following tributaries: Masani barrage, is an important wildlife area.

Dohan river, tributary of the Sahibi River, originates near Neem Ka Thana in Sikar district).

Sota River, tributary of the Sahibi River with which it merges at Behror in Alwar district.

Krishnavati river, former tributary of Sahibi river, originates near Dariba copper mines in Rajsamand district of Rajasthan, flows through Patan in Dausa district and Mothooka in Alwar district, then disappears in Mahendragarh district in Haryana much before reaching Sahibi River Many important wetlands lie in its paleochannel, including Matanhail, Chhuchhakwas-Godhari, Khaparwas Wildlife Sanctuary, Bhindawas Wildlife Sanctuary, Sarbashirpur, Sultanpur National Park, Basai and The Lost Lake (Gurugram).
West to North-East- Eastern Slopes
West to north-east flowing rivers, originating from the eastern slopes of Aravalli range in Rajasthan, flow northwards to Yamuna.

Chambal River, a southern-side tributary of Yamuna River.

Banas River, a northern-side tributary of Chambal River.

Berach River, a southern-side tributary of Banas River, originates in the hills of Udaipur District.

Ahar River, a right-side (or eastern side) tributary of the Berach river, originates in the hills of Udaipur District, flows through Udaipur city forming the famous Lake Pichola.

Wagli River, a right-side tributary of the Berach River.

Wagon River, a right-side tributary of the Berach River.

Gambhiri River, a right-side tributary of the Berach River.

Orai River, a right-side tributary of the Berach River.
Ecology
Wildlife corridors
The Great Green wall of India
"The Great Green Wall of Aravalli" is a 1,600 km long and 5 km wide green ecological corridor along Aravalli range from Gujarat to Delhi, it will be connected to Shivalik hill range and 1.35 billion (135 crore) new native trees will be planted over 10 years to rehabilitate the forest cover in this area.

To be implemented on a concept similar to the Great Green Wall of Sahara in Africa, it will act as a buffer against pollution, 51% of which is caused by the industrial pollution, 27% by vehicles, 8% by crop burning and 5% by diwali fireworks.
Northern Aravalli leopard and wildlife corridor
The Sariska-Delhi leopard wildlife corridor or the Northern Aravalli leopard wildlife corridor is a 200 km long important biodiversity and wildlife corridor which runs from the Sariska Tiger Reserve in Rajasthan to Delhi Ridge.

This corridor is an important habitat for the Indian leopards and jackals of Aravalli.
Southern Aravalli leopard wildlife corridor
This corridor runs from Sariska and Ranthmbor to Rann of Kutch National Park and Gir National Park in Gujarat.
Nature reserves
Ashoka pillar at Delhi Ridge, brought to Delhi from Topra Kalan by Firuz Shah Tughlaq in 1356.

The following national parks, wildlife reserves, and forests lie in the Aravalli Range.
Delhi Ridge
Northern ridge biodiversity park, 87 hectares approximately near Delhi University

Yamuna biodiversity park

Neela Hauz biodiversity park, next to Sanjay Van

Sanjay Van

Sanjay Lake

Aravalli Biodiversity Park

Tilpath valley biodiversity park, 70 hectares approximately near Sainik Farm

Asola Bhatti Wildlife Sanctuary
Haryana
Aravali Biodiversity Park, Gurgaon

Madhogarh biodiversity park forest

Nuh Aravalli biodiversity park forest

Satnali biodiversity park forest

Tosham hills range biodiversity park

Masani barrage wildlife area.

Matanhail wildlife area

Chhuchhakwas-Godhari wetland

Khaparwas Wildlife Sanctuary

Bhindawas Wildlife Sanctuary

Sarbashirpur

Sultanpur National Park

Basai

Bandhwari forest

Mangar Bani forest

The Lost Lake (Gurugram)
Rajasthan
Sariska Tiger Reserve

Ranthambore National Park

National Chambal Sanctuary

Phulwari ki Nal Wildlife Sanctuary

Sita Mata Wildlife Sanctuary

Todgarh-Raoli Sanctuary

Mount Abu Wildlife Sanctuary

Kumbhalgarh Wildlife Sanctuary

Bassi Wildlife Sanctuary

Jaisamand Wildlife Sanctuary
Gujarat
Balaram Ambaji Wildlife Sanctuary

Jambughoda Wildlife Sanctuary

Jessore Sloth Bear Sanctuary
Fauna
The Aravalli Range is rich in wildlife. The first-ever 2017 wildlife survey of a 200 square kilometre area crossing five districts (Gurgaon, Faridabad, Mewat, Rewari and Mahendergarh) of Haryana by the Wildlife Institute of India (WII) found 14 species, including leopards, striped hyena, golden jackal (with 92% occupancy across the survey area), nilgai, palm civet, wild pig , rhesus macaque , peafowl and Indian crested porcupine.

Encouraged by the first survey, the wildlife department has prepared a plan for a comprehensive study and census of wildlife across the whole Aravalli Range, including radio collar tracking of the wild animals.

Well known leopard and hyena habitat is along the Ferozpure Jhirka-Nuh Aravali range as well as Delhi South Ridge (Faridabad-Gurugram) to Farrukhnagar area on the Delhi–Haryana border, with reports of sightings in Saidpur, Lokri and Jhund Sarai Viran villages near the KMP expressway; Bhukarka 7 km from Pataudi; Pathkori, Bhond, Mandawar in Ferozepur Jirka region.
What is the significance of the Aravalli Range?
Acts as a barrier to prevent additional desertification in Rajasthan's east, and afterwards in the Gangetic plains.

If the erosion of the natural barrier known as 'The Aravali' continues unchecked, dust storms may become more powerful and frequent.

Responsible for ensuring enough monsoon rainfall

, which in turn supports a diversified flora and fauna, rich biodiversity, livelihood, and agriculture in the member states.

The Aravalli serves as a barrier for clouds to move eastwards to the lower Himalayas, influencing the climate of north India.

The plains are protected from the effects of westerly winds from Central Asia.

Despite its diminishing forest resources, the Aravalli serves as a buffer for the urban landscape, absorbing the strain and shock of increased anthropogenic activity and pollution.

An Aravalli that is greener serves as a groundwater recharge for a region that is experiencing severe water scarcity.
Challenges and Issues
Left-over mines, artificial pit-lakes, falling groundwater levels, loss of biodiversity and disease incidence, insect assaults (Termite), and man-animal conflict

in the regions have painted a bleak image throughout the years.

It fundamentally embodies the ills of unthinking exploitation, plunging the Aravalli and its constituent parts into protracted periods of irrevocable ruin.

According to a research published by the Wildlife Institute of India, Aravalli has the most degraded forests in India, necessitating conservation efforts on par with priority conservation regions.

The laws governing the use of natural resources in different states, such as Rajasthan and Haryana, are incompatible with the aims of sustainable development, which are urgently needed. The importance of a greener Aravalli should be emphasised more.

Desertification is a real issue growing east of the Aravalli. In a paper issued by the Wildlife Institute of India, groundwater levels are being depleted and the Aravalli range is being breached owing to anthropogenic topographical change in Haryana, at least in 12 places.

Encroachment of forest land, coupled with dwindling wildlife habitat and dried-up water sources, has driven wildlife to wander into human settlements. Leopards rescued from concrete jungles in Gurugram and other cities attest to this.
Conclusion
The Aravalli is a key mountain range in our nation, and it is extremely important to the member states, defining their culture, tradition, and history, as well as influencing their environment, climate, and geography, and ensuring the economy and food security of millions of people.

Citizens, civic society, and state organisations must band together to achieve a shared objective of safeguarding and restoring the Aravalli through a variety of approaches.

For this generation and beyond, protecting and preventing future damage of the Aravalli is critical.
https://www.downtoearth.org.in/news/environment/what-will-supreme-court-judgement-on-aravalli-mean-for-forest-conservation--84104