Copyright infringement not intended
Context: Ukraine's President Vlodymyr Zelensky on the G7 platform has denied the claims Russia that said they have captured the city of Bakhmut in Ukraine.
Details
Zelensky said that the reports of Bakhmut's fall were "fake news" and "propaganda" aimed at undermining Ukraine's morale and international support.

He said that the Ukrainian army was holding its positions and repelling the Russian-backed attacks.

He called on the world to stand with Ukraine and condemn Russia's actions, which he said threatened global peace and security.

He also thanked Japan for hosting him at the G7 summit and for its solidarity and assistance to Ukraine.
Bakhmut in Ukraine
Bakhmut is a city in eastern Ukraine

that has been at the centre of a fierce conflict between Ukrainian and Russian forces since February 2022.

The city, which lies on the Bakhmutka River, is the administrative centre of the Bakhmut Raion district and has a population of about 77,000 people.

The town is known for its salt industry, which dates back to the 18th century and produces about 200,000 tons of salt per year.

Bakhmut is also a cultural and educational centre, with several museums, theatres, libraries and schools.

The town has a rich architectural heritage, featuring buildings from different historical periods and styles, such as Baroque, Classicism, Art Nouveau and Constructivism.

Since the outbreak of the war, Bakhmut has been reduced to rubble and ruins, with thousands of civilians killed or displaced by the violence.

The battle for Bakhmut has become a symbol of resistance for Ukraine and a target of conquest for Russia.

Both sides have claimed to control the city at different times, but the situation remains fluid and uncertain.

As of May 2023, Russia says it has fully captured Bakhmut, but Ukraine denies this and says it still holds part of the city and is trying to encircle the enemy forces.

The international community has condemned Russia's aggression and expressed support for Ukraine's sovereignty and territorial integrity.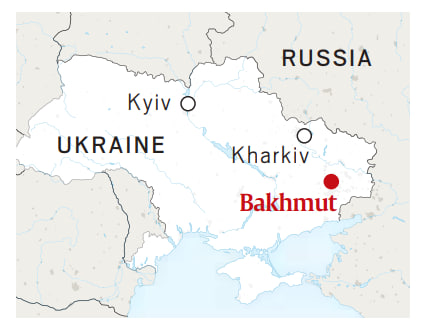 Must Read Articles:
Group of Seven (G7): https://www.iasgyan.in/daily-current-affairs/g-7-50
Ukraine: https://www.iasgyan.in/daily-current-affairs/ukraine-25
PRACTICE QUESTION
Q. Recently the place "Bakhmut" was frequently mentioned in the news. It is located in;
A) Scotland
B) Thailand
C) Ukraine
D) Tajikistan
Answer: C
https://indianexpress.com/article/explained/explained-global/zelensky-dispute-russia-captured-bakhmut-8621478/