BARKUDIA LIMBLESS SKINK SIGHTED AT KAMBALAKONDA WILDLIFE SANCTUARY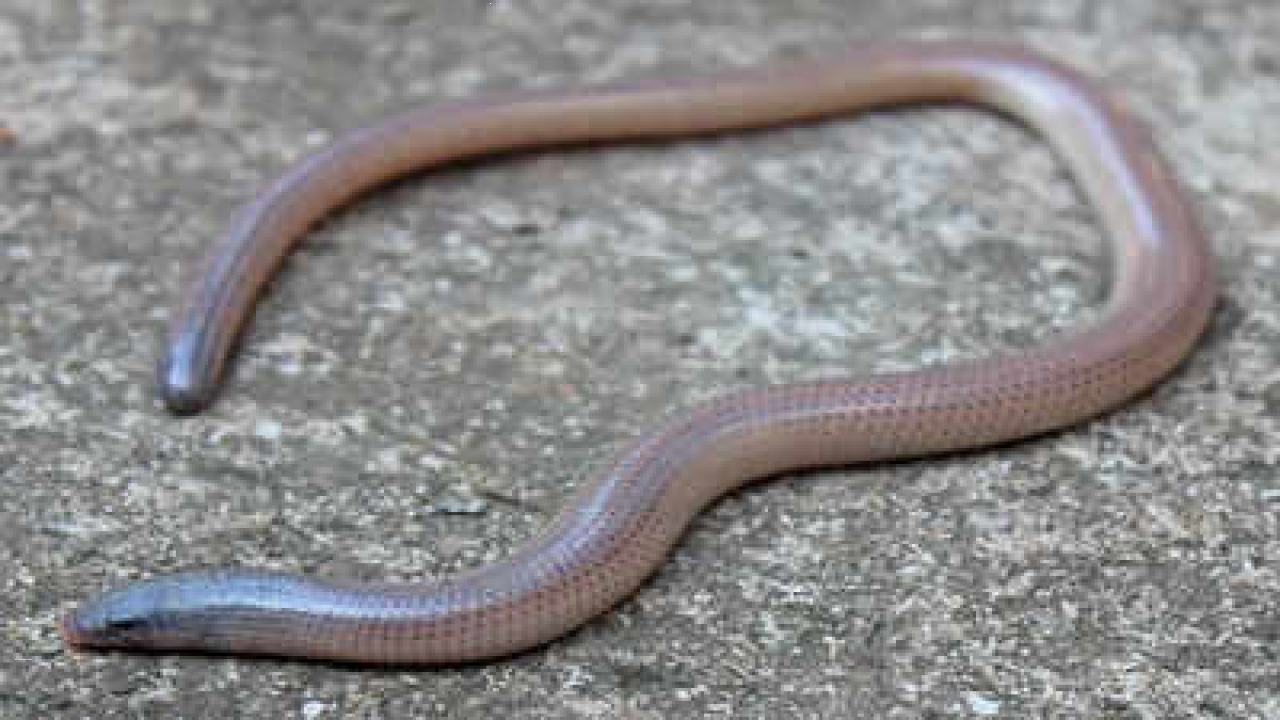 Disclaimer: Copyright infringement not intended.
Context
The first-ever sighting of Barkudia limbless skink (Barkudiamelanostica), a small reptile, renowned for its unique limbless body and extraordinary adaptation, which has long eluded scientific observation, has been reported at the Kambalakonda Wildlife Sanctuary
About The Barkudia limbless skink
It is fossorial in nature and is characterised by its elongated body, muddy brown colouration, and absence of limbs, a unique adaptation to its environment.

Barkudia insularis commonly known as the Madras spotted skink is a critically endangered limbless skink which was described in 1917 by Nelson Annandale and rediscovered in the wild in 2003.

It was previously believed to be found only in the mangrove habitats near Barkuda Island in Chilka Lake, Odisha, India.

Later observations in adjoining parts of Odisha indicate a larger range within the state.

The lizard looks like a large earthworm and lives in the subsoil and probably feeds on small arthropods.

Only four reports of the species have been made since its description, all within Odisha: observations in 1917 and 2003 at Barkuda Island in Chilka Lake, a 1979 observation in Nandankanan Zoological Park, and a 2022 observation made near the vicinity of Buguda.
SCIENTIFIC CLASSIFICATION
Kingdom: Animalia

Phylum: Chordata
Class: Reptilia
Order: Squamata
Family: Scincidae
Genus: Barkudia
Species: B. insularis
About The Kambalakonda Wildlife Sanctuary
The Kambalakonda Wildlife Sanctuary is a forest located near Visakhapatnam.

It has been under the control of Andhra Pradesh Forest Department since 10 March 1970.

It was named after the local hillock Kambalakonda. Named after the local hillock " Kambalakonda " acting as a green lung for citizens of Vizianagaram, is this large and sprawling sanctuary.

It is a dry evergreen forest mixed with scrub and meadows and covers an area of 70.70 square kilometers.

The indicator species is the Indian leopard.
Flora
There is diverse flora and fauna in this sanctuary representing the Eastern Ghats. Floral diversity is high.

The floral diversity is wonderful with plants like Tectona grandis, Randia dumetorum, Grewaia tiliaefolia, Abrus precatorius, etc
Fauna
The invertebrate fauna too is wonderful with insects, arachnids, etc.

Reptilian fauna is represented by Russell viper, Common Cobra, Chameleon, etc. Avifauna includes Paradise flycatcher, Tree pie, Quails, Partridges, etc.

The mammalian fauna in the Sanctuary includes mammals like Leopard, Barking Deer, Jackal, etc.
PRACTICE QUESTION
Q) Which of the following statements with reference to Barkudia limbless skink is/are correct?
1. The lizard looks like a large earthworm and lives in the subsoil.
2. It is commonly known as the Madras spotted skink and is a critically endangered species as per IUCN list.
1 only

2 only

Both 1 and 2

Neither 1 nor 2
Correct Answer: 3
https://www.thehindu.com/news/cities/Visakhapatnam/barkudia-limbless-skink-sighted-at-kambalakonda-wildlife-sanctuary-in-visakhapatnam/article66882242.ece/amp/