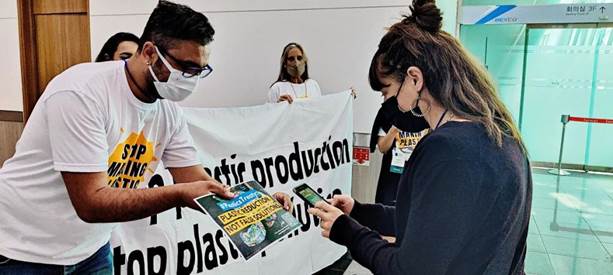 Copyright infringement not intended
Context:
Activists from Break Free From Plastic, a global movement envisioning a future free from plastic pollution, demonstrated after a plenary session at the 7th International Marine Debris Conference (7IMDC), that is being held in Busan from September 18-23.
Details:
To stop plastic pollution, the global plastics treaty must address how to stop plastic production including its harmful toxic additives

Fast moving consumer goods companies, such as Unilever, Nestle, Coca Cola and Pepsi, were prioritising investments in false solutions that allowed them to rely on single use plastics

They engage third-party services to collect and dispose of plastic waste in cement kilns and incinerators, all the while making public statements that frame plastic pollution as a marine debris problem

These businesses must switch to delivering their products without using single-use plastics (SUPs) and hiding behind false solutions and false narratives

The statement said plastic waste from the United States, United Kingdom, European Union, Japan and Australia was often exported to countries across the Asia-Pacific, Africa and Latin America under the guise of 'recycling'.

Destination countries lacked the infrastructure to deal with the waste, which affected the health of their citizens and their environment. The waste trade allowed plastic production to continue with impunity and was linked to marine plastic pollution, the statement added.
https://www.downtoearth.org.in/news/waste/stop-making-plastic-green-activists-demand-at-busan-meet-85049