Disclaimer: Copyright infringement not intended.
Context
A Ladakh politician representing Chushul, along the Line of Actual Control in eastern Ladakh, urged Defence Minister Rajnath Singh Thursday to provide infrastructure, telecommunication and other facilities in national security interest in the villages of the area to make them comparable to the ones that the Chinese are building to assert territorial claims.
About
Chushul is a village in the Leh district of Ladakh.
It is located in the Durbuk tehsil, south of the Pangong Lake and west of the Spanggur Lake.
The Line of Actual Control with China runs about 5 miles east of Chushul.
In August 1842 the concluding battle of Dogra-Tibetan War with subsequent signing of Treaty of Chushul in September 1842 for border non-proliferation took place at Chushul.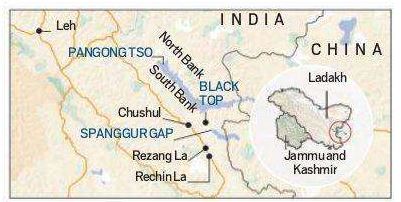 https://indianexpress.com/article/india/chushul-leader-tells-rajnath-need-infra-see-cell-towers-across-lac-7630070/