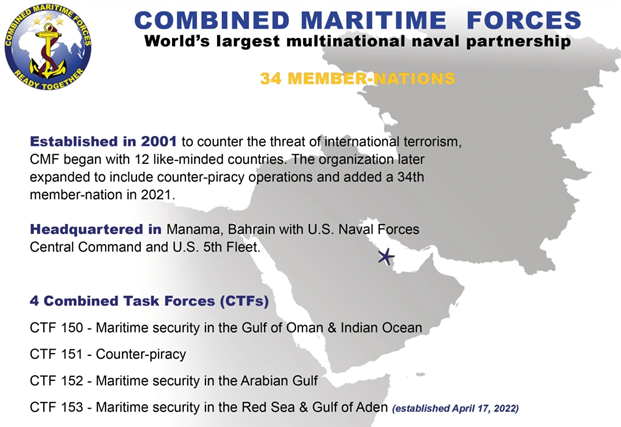 Copyright infringement not intended
In News
India has formally started cooperation with the Combined Maritime Forces (CMF): a Bahrain-based multilateral partnership.

Recently, at the India-U.S 2+2 dialogues, India announced that it would join the Combined Maritime Forces (CMF) as an Associate Partner.

Associate members to provide resources, personnel and cooperative engagement based on the needs and requirements.

The Indian Navy could be contributing a warship whenever required.
Combined Maritime Forces
It is a multinational naval partnership to promote security, stability and prosperity.

This is a 34 members grouping commanded by a U.S. Navy Vice Admiral.

The maritime forces are based in Bahrain and undertake counter-terrorism, counter-piracy and regional cooperation.

Pakistan is a full member of the Combined Maritime Forces.

It comprises three task forces:

CTF 150 (maritime security and counter-terrorism).

CTF 151 (counter-piracy).

CTF 152 (Arabian Gulf security and cooperation).

It is a flexible organization and members are not bound by either a political or military mandate.

India has in the past cooperated with CMF on various occasions.
Significance of the Step
It would strengthen cooperation in regional security in the western Indian Ocean.

It will deepen the multilateral engagements by the Indian Navy and widen military diplomacy.

This will promote India as a responsible maritime security partner in the Indian Ocean.
https://epaper.thehindu.com/Home/ShareArticle?OrgId=GAMA4G3UL.1&imageview=0