COMPREHENSIVE STUDY ON AIR POLLUTION AND GREENHOUSE GASES (GHGS) IN DELHI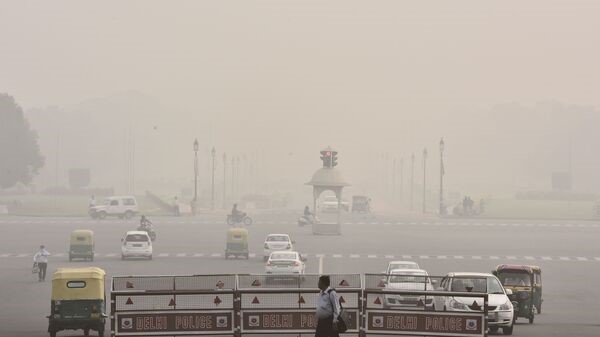 Disclaimer: Copyright infringement not intended.
Context
A 'very poor' quality air continued to engulf the Delhi-NCR region.
The Supreme Court pulled up the governments of Punjab, Haryana, and Rajasthan, directing them to stop farmers from burning stubble.
COMPREHENSIVE ARTICLE ON DELHI AIR POLLUTION: https://www.iasgyan.in/daily-current-affairs/delhi-air-pollution
Details
The Supreme Court has asked the Delhi government to ensure that municipal solid waste isn't burnt in the city.
The comments came a day after the Delhi government decided to implement the odd-even scheme for cars from November 13-20 to keep vehicular emissions down.
Such measures might bring down peak pollution levels, but their impact will be limited.
To significantly improve air quality in New Delhi, a host of preventive steps need to be taken in the national capital as well as the adjoining areas, according to a 2016 report, Comprehensive Study on Air Pollution and Green House Gases (GHGs) in Delhi', by Indian Institute of Technology Kanpur.
A successful execution of these measures is expected to bring down PM 2.5 and PM 10 levels.
Read About Graded Response Action Plan (GRAP): https://www.iasgyan.in/daily-current-affairs/grap-43
What measures are needed to improve Delhi's air quality?
Here is a look at the 10 steps listed in the report that need to be implemented to control the air pollution in the region:
Stop the use of coal in hotels and restaurants
The report noted that there are approximately 9,000 hotels and restaurants in Delhi that use coal, mostly in tandoors.
They are a major source of PM emissions in the form of fly ash — a byproduct of coal combustion that can cause lung disease if inhaled.
LPG to all
Each household must avoid using wood, crop residue, cow dung, and coal for cooking.
Everyone should get access to Liquefied Petroleum Gas (LPG), which would bring down levels of PM 2.5, PM 10, and nitrogen oxides (NOx).
Stop municipal solid waste (MSW) burning
MSW is essentially everyday items we use and then throw away.
They include product packaging, furniture, clothing, bottles, food scraps, newspapers, appliances, and batteries.
A 2015 study found that Delhi burns 190 to 246 tons of MSW every day, which severely pollutes the air.
Therefore, any form of garbage burning must be stopped and authorities need to develop infrastructure for effective collection and disposal of MSW.
Construction materials at construction and demolition sites must be covered
Measures like vertically covering the construction area, covering raw materials, use of water spray and windbreaker to ensure raw materials such as sand don't fly away, storing waste inside premises, and covering construction materials during on-road movement can improve air quality by 50%.
Use windbreaker and telescopic chute during concrete batching
Concrete batching is the process of mixing materials to form concrete. It is another major source of fly ash emissions in Delhi.
To curtail it, spots where concrete batching is done need to use water spray, windbreaker, and telescopic chute (a device that helps to load/unload the free-flowing process material and provide dust-free and safe out-loading of material).
Promote the use of electric, BS-VI vehicles
The report said in winter, on average vehicles can contribute up to 25% to PM 2.5 levels and at some locations, it can spike to 35%.
Using Diesel Particulate Filter (DPF) can significantly reduce emissions from diesel vehicles.
The introduction of more electric, hybrid and BS-VI vehicles can also help. Improvement of public transport is also necessary.
De-SOx-ing and De-NOx-ing systems at power plants
The large power plants and refineries in Delhi emit pollutants like sulfur dioxide (SO2) and nitrogen oxides (NOx).
In a bid to limit them, these plants and refineries need to install De-SOx-ing and De-NOx-ing systems that remove SO2 and NOx respectively.
Petrol pumps should install vapour recovery systems
Petrol contains volatile organic compounds (VOCs) that dissipate into the atmosphere during the unloading of petrol to storage tanks or refueling of vehicles.
These petrol vapours contribute to the formation of smog and pose a potential health risk to the public.
Vapour recovery systems help to collect VOCs released during unloading and refueling and curtail the emissions.
Limit biomass burning
Burning of crop residue in Haryana and Punjab needs to stop, according to the report.
Instead of burning, the residue can be used for energy production, biogas generation, and feeding cattle.
Tackle fly ash
The report said during summers, fly ash is one of the biggest contributors to PM 10 in Delhi.
To deal with the pollutants, water spraying, and installation of windbreakers and plantations should be done.
PRACTICE QUESTION
Q. Severe pollution is a recurring problem for Delhi every winter. What has Delhi done over the decades to combat air pollution? Why does Delhi's air pollution problem never get solved? What concrete measures are needed to improve Delhi's air quality? Suggest a suitable way forward.