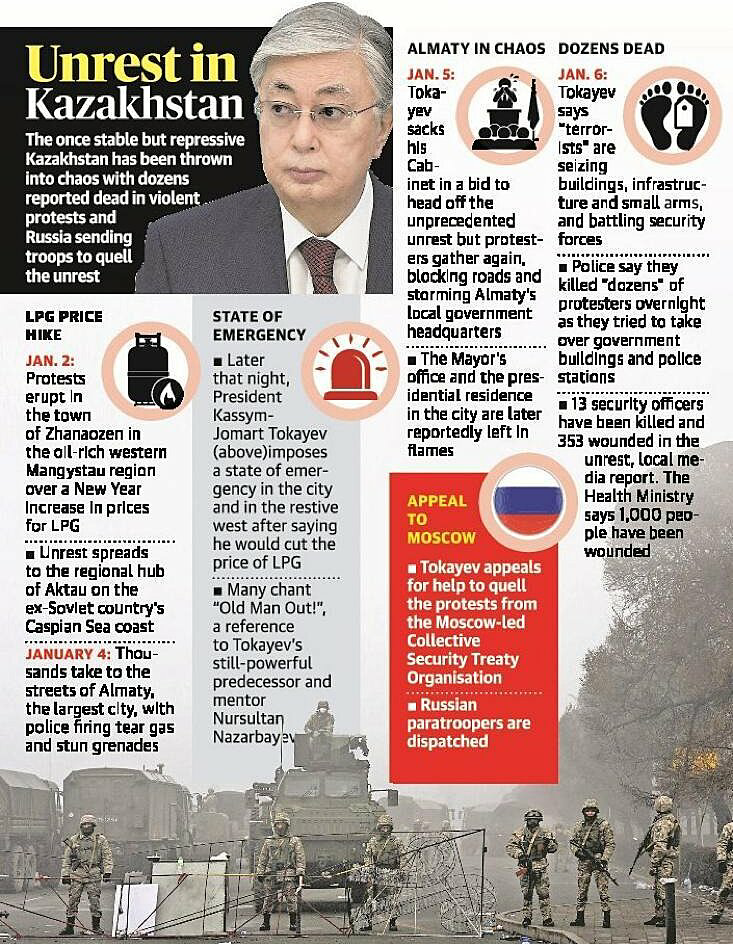 Copyright infringement is not intended
Context: A state of emergency has been declared in Kazakhstan and the government has officially stepped down following violent protests against a sharp and sudden increase in fuel prices.
What is current situation?
To restore order in the main city Internet services were promptly shut off and messaging apps were banned.
Russia has sent in troops under the Collective Security Treaty Organization , to assist security personnel in their efforts to restore order in the country.
Collective Security Treaty Organization (CSTO), is a Moscow lead military alliance, comprising Russia, Armenia, Belarus, Kazakhstan, Kyrgyzstan and Tajikistan.
So, why are Kazakhs protesting?
High LPG prices: Kazakhs were protesting after fuel prices doubled in the oil-rich Central Asian nation when the government lifted price caps for LPG, commonly used in vehicles.
Protest quickly turned violent across the country and protesters demanded resignation of the government and lowering of LPG prices.
Risk of Income inequality: Protesters are worried that jump in LPG prices could cause a steep increase in food prices and deepen the income inequality that has plagued the nation for decades.
Inflation in the country is close to 9 percent due to covid-19 pandemic.
Demands for democracy: There is discontent among Kazakhs over rising income inequality, which has worsened due to the coronavirus pandemic.
Its authoritarian government has been widely criticised over the years for violating fundamental freedoms.
Anti-Nazarbayev sentiment : Country's long-time Soviet-era leader Nursultan Nazarbayev was replaced by Tokayev, who is regarded as his hand-picked successor. Nazarbayev and his family, continued to enjoy a fair bit of power in the country.
How did the government respond to the protests?
After declaring a state of emergency, Tokayev dismissed the country's prime minister and his cabinet.
He assured that authorities would soon bring down LPG prices to "ensure stability in the country".
Tokayev ordered government protection for foreign embassies and businesses owned by foreign companies.
The National Bank of Kazakhstan had decided to suspend work of banks for the safety of their workers.
Concerns for neighbors':
The recent crisis has caused considerable concern in neighbouring Russia and China, both of which are key strategic partners of Kazakhstan.
https://indianexpress.com/article/explained/kazakhstan-fuel-prices-emergency-government-protests-explained-7709017/