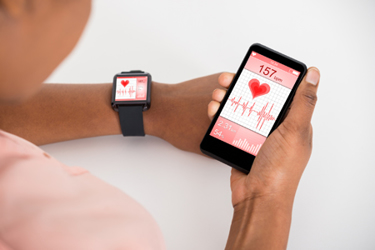 Disclaimer: Copyright infringement not intended.
In News
Digital wearables, smartwatches and fitness trackers pose unique threats to the security and privacy of customer data, warned the Institute of Electrical and Electronics Engineers (IEEE), a global outfit for technical professionals.

India has been witnessing a massive adoption of wearable technology in the recent years.

The wearables market in India had clocked a record-breaking, double-digit growth in the first quarter of 2022, with shipments surpassing 13.9 million devices, as per IDC.
Digital Wearables
Wearables are electronic technology or devices incorporated into items that can be comfortably worn on a body. These wearable devices are used for tracking information on real time basis. They have motion sensors that take the snapshot of our day to day activity and sync them with mobile devices or laptop computers.

Wearable devices such as activity trackers are an example of the Internet of Things, since "things" such as electronics, software, sensors, and connectivity are effectors that enable objects to exchange data (including data quality through the internet with a manufacturer, operator, and/or other connected devices, without requiring human intervention.
Different types of Wearables Devices
Smart Watches

: A watch that does more than just telling time. It provides users notifications on their calls, messages, emails, social media updates, etc.

Fitness Tracker

: Helps keep a track of the number of steps the user walks each day and continuously monitors the heart rate. Using this information, the devices is able to calculate and report accurate data on calorie burn and exercise done by the user.

Head Mounted Display:

Takes you to a different world of virtual reality. It provides virtual information directly to your eyes.

Sports watches

: The wearable devices is especially built for sports personnel who love running, cycling, swimming etc. These devices come with GPS tracker and records information on the user's pace, heart rate etc.

Smart jewellery:

Smartwatches are designed as jewelries specially targeting women. These jewelries notify the users of their text messages, calls or emails when their phone is out of reach.

Smart Clothing

: The smart electronic devices are incorporated into the Wearable Clothing to give an interesting and fashionable look.

Implantable:

These wearable electronics are surgically implanted under the skin. These are usually used for medical reasons like tracking contraception's, insulin levels etc.
Potential Threats
Easy Physical Access to Data

Ability to Capture Photos, Videos and Audio

Insecure Wireless Connectivity

Lack of Encryption

No Regulation or Compliance

Patching and Vulnerabilities: Target for hackers

Financial Loss due to cyber threats
Way Ahead
Cyber deterrence

Establishing cyber insurance framework for such devices

Amendment of IT Act 2008: The regulations need to keep pace with the changing cyber scenario to ensure penalties serves as deterrence for crimes.

Updation of cyber security policy.

Enhanced international cooperation
Read:
IOT: https://www.iasgyan.in/daily-current-affairs/internet-of-things-iot#:~:text=The%20internet%20of%20things%2C%20or,human%2Dto%2Dcomputer%20interaction.
Industry 4.0: https://www.iasgyan.in/daily-current-affairs/industry-40
https://epaper.thehindu.com/Home/ShareArticle?OrgId=G3M9V09TT.1&imageview=0