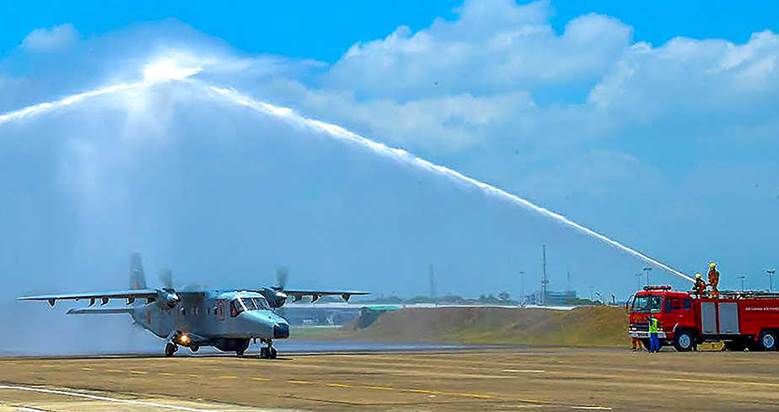 Copyright infringement is not intended
Context: India handed over a Dornier aircraft to Sri Lanka in the presence of President Ranil Wickremesinghe, reaffirming its security ties with the island nation.
Details:
Security of India and Sri Lanka are enhanced by mutual understanding, mutual trust and cooperation.

Gifting of Dornier 228 is India's latest contribution to this cause

The gifting of the Dornier aircraft to the Sri Lanka Air Force "is of relevance to and a step to meet its requirements for maritime safety and security

It is an example of India's strength, adding to the strength of its friends and neighbours, including those in Indian Ocean Region and the Bay of Bengal, such as Sri Lanka.

The capability of the aircraft to undertake search and rescue operations "exemplifies its direct benefit to the people

The Indian gift was in response to a request from the Sri Lankan government in 2018 for two Dornier Reconnaissance Aircraft to enhance the maritime surveillance capabilities of the island nation.

Sri Lanka is a member of the 'Colombo Security Conclave', that began as a trilateral initiate involving India, Sri Lanka and the Maldives, and later included Mauritius, for maritime cooperation in the region.
Dornier 228:
The Dornier 228 is a twin- turbodrop utility aircraft of the STOL (Short-Take off and Landing) variety.

It was designed by DASA Dornier, Fairchild – DOrnier.

In 1983, a production licence was bought by Hindustan Aeronautics Limited (HAL) who set up a manufacturing unit of these aircrafts in Kanpur. About 124 aircrafts were built here.

The Dornier 228 is a general aircraft with twin engines capable of carrying at least 19 passengers.
https://epaper.thehindu.com/Home/ShareArticle?OrgId=GLGA5G7MA.1&imageview=0