Draft National Air Sports Policy (NASP)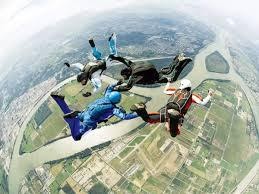 Disclaimer:Copyright infringement not intended.
Context
Ministry of Civil Aviation has released draft National Air Sports Policy (NASP) for public feedback.
Key Provisions of the Draft Policy
The key features of the Draft National Air Sports Policy are:
NASP 2022 covers sports like aerobatics, aeromodelling, amateur-built and experimental aircraft, ballooning, drones, gliding, hang gliding and paragliding; microlighting and paramotoring; skydiving and vintage aircraft.
NASP 2022 seeks to leverage India's huge potential for air sports given its large geographical expanse, diverse topography and fair weather conditions.
An Air Sports Federation of India (ASFI) will be established as the apex governing body. Associations for each air sport will handle day to day activities e.g. Paragliding Association of India or Skydiving Association of India etc.
The air sports associations shall be accountable to ASFI with respect to the regulatory oversight and for providing safe, affordable, accessible, enjoyable and sustainable conduct of their respective air sport.
ASFI shall represent India at FAI and other global platforms related to air sports. Greater participation and success of Indian sportspersons in global air sports events will be facilitated.
Domestic design, development and manufacturing of air sports equipment will be promoted in line with the Atmanirbhar Bharat Abhiyan.
The Fédération Aéronautique Internationale (FAI), headquartered in Lausanne, Switzerland is the world governing body for air sports. All competitions in India will be conducted as per the guidelines laid down by FAI.
Air sports by their very nature involve a higher level of risk than flying a regular aircraft. NASP 2022 places strong focus on ensuring international best practices in safety.
Concluding words
The vision is to make India one of the top air sports nations by 2030.
The mission is to provide a safe, affordable, accessible, enjoyable and sustainable air sports ecosystem in India.
https://www.pib.gov.in/PressReleasePage.aspx?PRID=1786923