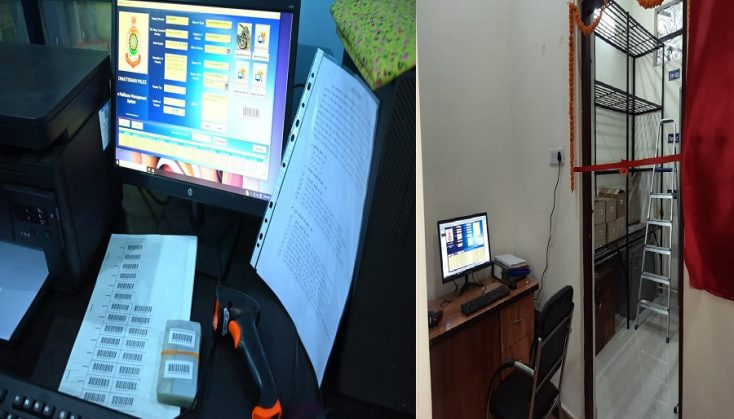 Copyright infringement not intended
Context: The Visakhapatnam Police Commissionerate is planning to introduce e-Malkhana, a digital system for storing and managing seized items and forensic evidence, in all its 23 police stations by June this year.
Details
e-Malkhana
e-Malkhana is a digital initiative to modernize the management of seized and recovered properties.

It aims to reduce the burden of physical storage, ensure transparency and accountability, and facilitate quick disposal of case properties.

The system involves scanning barcodes, uploading photographs and details of case properties on a web portal, and assigning unique identification numbers to each item.

The system also allows tracking the movement and status of case properties online.
Significance
It is aimed at improving the efficiency and transparency of the police department and reducing the chances of tampering or misplacing valuable or sensitive materials.

It will enable the police officers to scan, label and upload the details of the seized items on a central database, which can be accessed by authorized personnel only.

It will also generate reports and alerts on the status and disposal of the items.

It enhances the public trust and confidence in the police by ensuring proper documentation and verification of case properties.

It prevents pilferage, tampering and misplacement of case properties by creating a digital trail and audit mechanism
Challenges
Lack of adequate infrastructure and equipment such as computers, scanners, printers, internet connectivity, etc.

Lack of trained and skilled staff to handle the e-Malkhana system and maintain its accuracy and quality.

Lack of awareness and cooperation among various stakeholders such as courts, forensic labs, prosecutors, etc.

Lack of uniformity and standardization in the e-Malkhana system across different police stations and districts.

Lack of legal provisions and guidelines for the disposal of case properties through e-Malkhana.
Steps need to be taken
Providing adequate infrastructure and equipment to all police stations and ensuring their regular maintenance and upgradation.

Conducting regular training and capacity-building programs for the staff involved in e-Malkhana and creating a pool of experts and mentors.

Creating awareness and sensitization campaigns for the stakeholders and establishing coordination mechanisms among them.

Developing a common framework and protocol for e-Malkhana across all police stations and districts and ensuring its compliance and monitoring.

Framing legal provisions and guidelines for the disposal of case properties through e-Malkhana and streamlining the process.
Conclusion
e-Malkhana is a commendable initiative to leverage technology for improving police service delivery. It has the potential to transform the way case properties are handled and disposed of. However, it also requires constant improvement and innovation to overcome the challenges and achieve its objectives.
Must Read Articles:
Police in India: Issues and Solutions: https://www.iasgyan.in/blogs/police-in-india-issues-and-solutions
PRACTICE QUESTION
Q. Recently the "e-Malkhana" was frequently mentioned in the news. It is related with;
A) Modernize the management of seized and recovered properties
B) Modernize the management of the Police department
C) Modernize the management of Medical Education
D) Modernize the management of Court cases
Answer: A
https://epaper.thehindu.com/ccidist-ws/th/th_delhi/issues/36737/OPS/GK4B8ESV8.1+GVOB8FRU3.1.html