EAST ASIA SUMMIT ECONOMIC MINISTERS' MEETING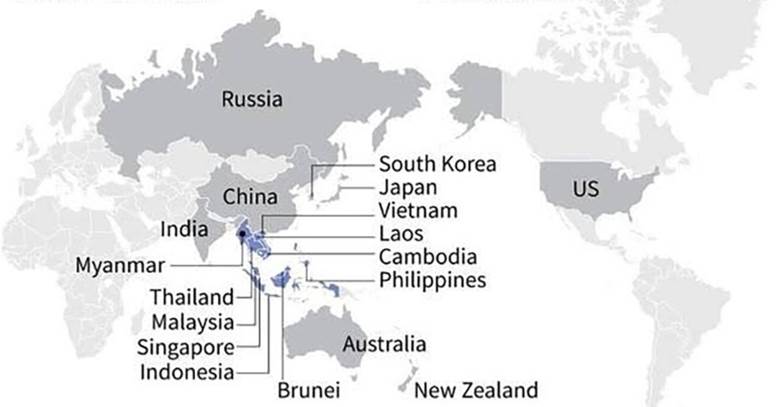 Copyright infringement not intended
Context: Smt. Anupriya Patel, Minister of State for Commerce and Industry attended 10th EAS EMM (East Asia Summit Economic Ministers' Meeting) in Siem Reap City, Cambodia. The meeting saw representation from all 10 ASEAN countries as well as 8 partner countries viz. Australia, China, India, Japan, New Zealand, Republic of Korea, Russian Federation and the USA.
Details:
The Ministers exchanged views on global and regional economic developments

including the outcomes of the 12thWTO Ministerial Conference, post-pandemic economic recovery efforts, measures adopted to mitigate the impact of global supply chains disruptions and strong inflation pressure.

The Ministers reaffirmed their commitment to recover and build greater economic resilience in the region by facilitating trade, investment, and secure and resilient supply chains; undertaking supportive fiscal policy measures to encourage economic growth; and ensuring that strong macroeconomic fundamentals are in place to retain sustainable growth in the region.

The Ministers also noted the necessity of closer and deeper cooperation and coordination in the region to mitigate the negative economic impact on the post-pandemic recovery.

Anupriya Patel in her remarks acknowledged the pivotal role of EAS in strengthening multilateralism and promoting peace, stability, and economic prosperity in the region.

She commended the ASEAN Secretariat for putting together a useful analysis of regional and global economic developments including economic developments in EAS economies which shows that India did well with highest GDP growth of 8.7% among EAS economies in 2021 and in spite of a forecast of some tapering of GDP growth in 2022 and 2023, India is set to maintain top position in GDP growth among EAS economies.

Anupriya Patel reiterated India's commitment to strengthening the EAS as an ASEAN-led organisation and its support in collective actions of the EAS Forum aimed at mitigating the economic impact of the pandemic and strengthening regional economic architecture.
16th East Asia Summit outcomes: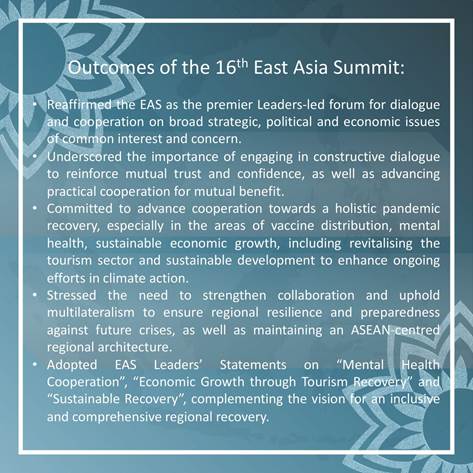 About East Asia Summit:
The East Asia Summit is a premier leaders-led forum in the Indo-Pacific region.

Since its inception in 2005, it has played a key role in the strategic and geopolitical evolution of east Asia.

Apart from the 10 ASEAN member states, East Asia Summit includes India, China, Japan, the Republic of Korea, Australia, New Zealand, the United States and Russia.

India, being a founding member of the East Asia Summit

, is committed to strengthening the East Asia Summit and making it more effective for dealing with contemporary challenges.

ASEAN-India summits are held annually and provide the opportunity for India and ASEAN to engage at the highest levels.
https://www.pib.gov.in/PressReleasePage.aspx?PRID=1860180