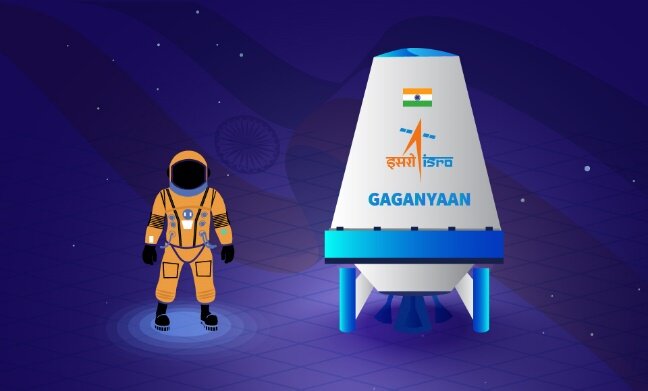 Disclaimer: Copyright infringement not intended.
Context
India's maiden human space flight mission under the Gaganyaan programme is targeted to be launched in the fourth quarter of 2024, Union Minister of State for Space Jitendra Singh informed the Parliament.
Gaganyaan
About
Gaganyaan is an Indian crewed orbital spacecraft that is intended to send 3 astronauts to space for a minimum of seven days by 2023, as part of the Indian Human Spaceflight Programme.

The spacecraft, which is being developed by the Indian Space Research Organisation (ISRO), consists of a service module and a crew module, collectively known as the Orbital Module.
It will be for the first time that India will launch its manned mission to space, making the country fourth in line to have sent a human to space.
Launch Vehicle
GSLV Mk-lll (Geosynchronous Satellite Launch Vehicle) the three-stage heavy-lift launch vehicle

will be used for carrying the orbital module.

Note: This three-stage heavy lift launch vehicle, named GSLV MkIII-M1, was used for launching Chandrayaan-2.

GSLV Mk III is designed to carry 4 ton class of satellites into Geosynchronous Transfer Orbit (GTO) or about 10 tons to Low Earth Orbit (LEO). The powerful cryogenic stage of GSLV Mk III enables it to place heavy payloads into LEO's of 600 km altitude.

The launcher uses two S200 solid rocket boosters to provide the huge amount of thrust required for lift off.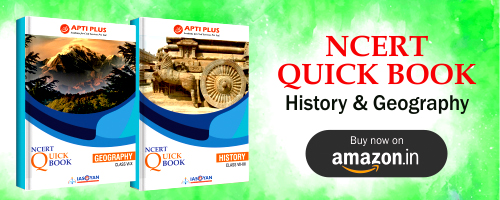 Placement
The spacecraft will be placed in a low earth orbit of 300-400 km.

The human spaceflight will take 16 minutes to reach the orbit where it will stay for five to seven days.

The capsule will rotate around the Earth every 90 minutes, and astronauts will be able to witness sunrise and sunset. The three astronauts will be able to see India from space every 24 hours, while they conduct experiments on micro-gravity.
Suit
With the ability to hold one oxygen cylinder, the suit will allow the astronaut to breathe in space for 60 minutes.
Return
For its return, the capsule will take 36 hours, and will land in the Arabian Sea, just off the coast of Gujarat.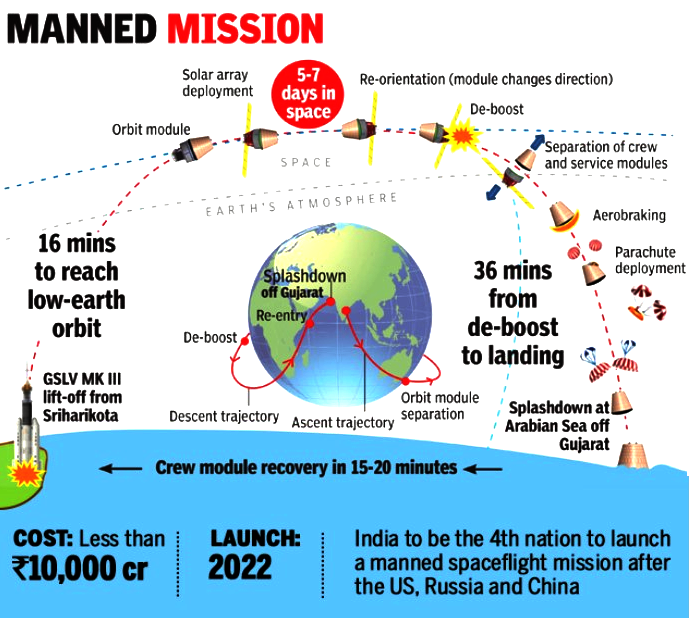 Vyommitra
ISRO has also developed a female half humanoid robot named Vyommitra, a combination of two Sanskrit words Vyoma (space) and Mitra (friend), which will be sent on the first unmanned Gaganyaan flight.

Vyommitra will help in simulating human functions in space and will also interact with the environment control life support system.

Vyommitra has been designed to speak in Hindi and English, can act as a companion to the astronauts, converse with them, and also respond to their queries.
Significance
If the maiden human spaceflight Gaganyaan mission is a success, India will become the fourth country to have conducted human spaceflights after the US, Russia, and China.
The programme would spur research and development within the country in niche science and technology

ISRO has developed some critical technologies like re-entry mission capability, crew escape system, crew module configuration, thermal protection system, deceleration and flotation system, sub-systems of life support system required for Mission Gaganyaan.

The human spaceflight programme will provide a unique micro-gravity platform in space for conducting experiments and a test bed for future technologies.
It has potential for technology spinoffs in several areas such as medicine, agriculture, industrial safety, pollution, waste management, water and food resource management through this programme.
The maiden spaceflight is also aiming to achieve economic activities such as employment generation, human resource development, and enhanced industrial capabilities.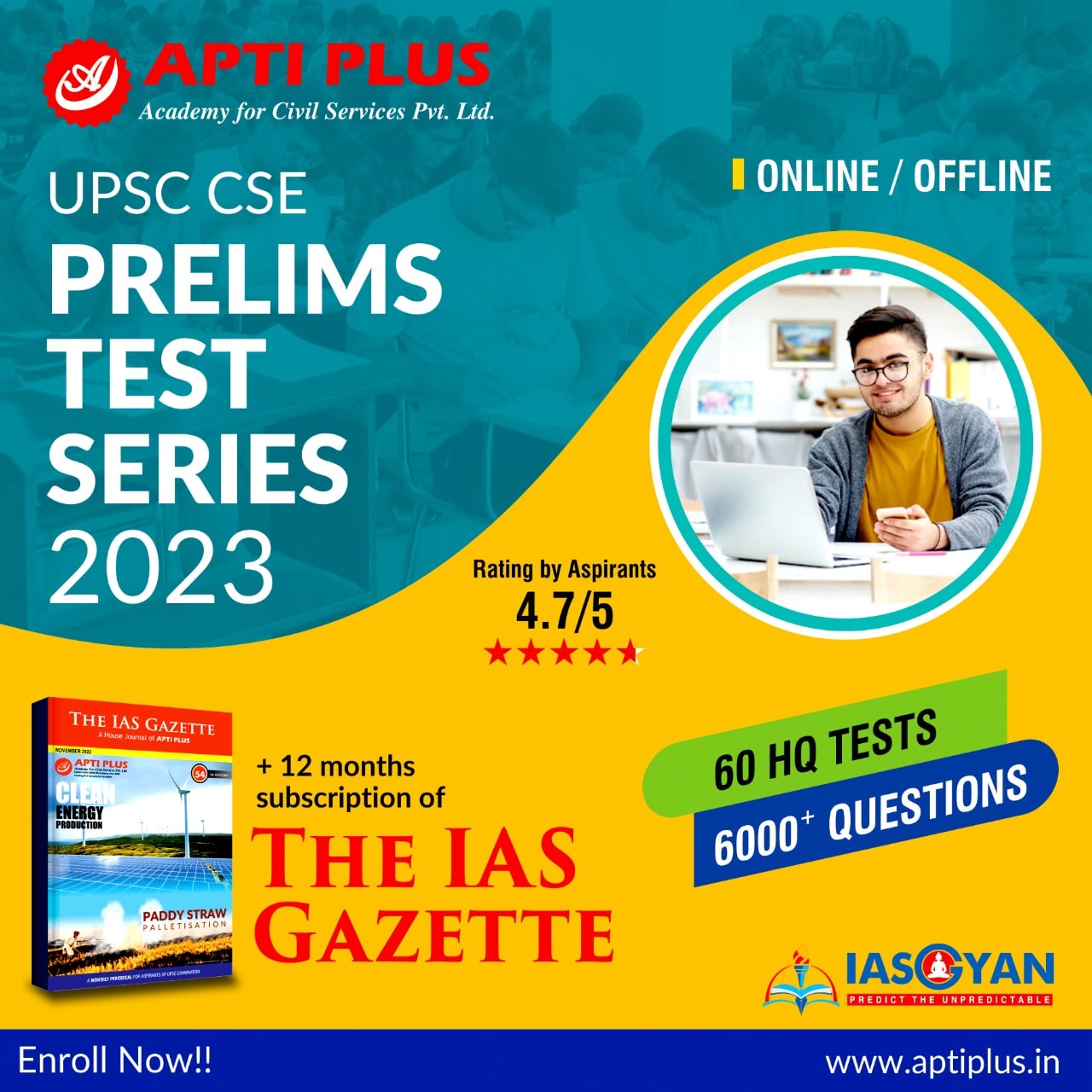 https://www.indiatoday.in/science/story/gaganyaan-mission-isro-indian-astronauts-to-be-launched-to-space-in-late-2024-2311920-2022-12-21