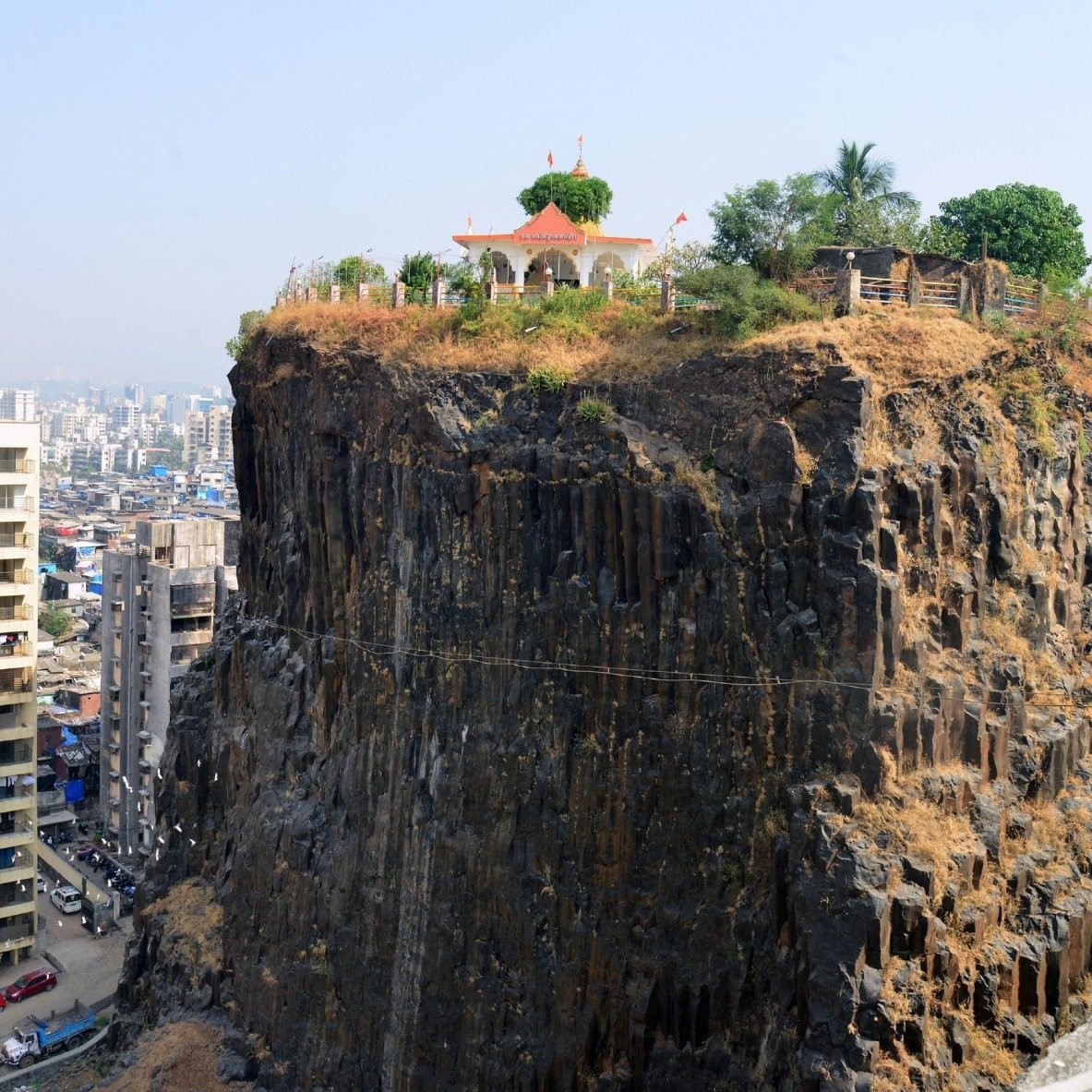 Disclaimer: Copyright infringement not intended.
Context
Gilbert Hill in Andheri West is not a hidden or a secret structure, but what it stands for is something which many people are unaware of.
The structure is one of the world's oldest basalt rock formations which have withstood the test of time.
Details
Maharashtra is situated on the Deccan Plateau, which is composed of volcanic soil and is relatively barren.
In this section of the country, there must have been a volcanic explosion or something similar that created the black soil and infertile plateau.
What Happened 66 Million Years Ago?
It is said that a gigantic bubble of lava froze in mid air at different place across the globe and formed three gigantic rocks which stand as a testimony to the earliest life on the planet.
Gilbert Hill is a monolith column of black basalt rock and actually dates back to the Mesozoic Era which dates back to 66 million years ago.
Gilbert hill
About
It is a 200-foot monolithic column of black basalt rock located in Mumbai's Andheri district.
The sheer vertical face of the rock was produced when molten lava was forced out of the Earth's clefts some 66 million years ago during the Mesozoic Era.
It was designated a National Park in 1952 and a Grade II cultural structure by the Brihan Mumbai Municipal Corporation in 2007.
The 'hill' is one of just three volcanic rock outcrops on the planet.
Gilbert Hill, arguably the country's oldest heritage property in its original form, contains a few temples and a tiny garden atop. A steep staircase chiseled into the rock leads to these.
Facts about Mesozoic era
This era lasted around 252 million years and ended approximately 66 million years ago.
This epoch is separated into three periods, which are the Triassic, Jurassic, and Cretaceous.
The Triassic period:
The Triassic period, which began roughly 250 million years ago and ended approximately 200 million years ago, is commonly divided into three major epochs: the Early Triassic, Middle Triassic, and Late Triassic Epochs.
Various species, notably nothosaurs and ichthyosaurs, began to evolve during this time period.
Crustaceans and corals of all kinds began to proliferate as well.
By the end of the Triassic Period, reptilian development had exploded, and dinosaurs had also begun to evolve.
However, as global temperatures began to increase, the Fourth Major Extinction, commonly known as the Triassic-Jurassic Extinction Event, occurred.
Except for crocodiles, this event wiped out all archosaurs and nearly all large amphibians that lived at the period.
It also wiped out more than 30% of all aquatic animals.
The Jurassic period:
The Jurassic Period, which lasted from 200 to 145 million years ago, is one of the most well-known periods on the Geologic Time Scale.
This time period is classified into three major epochs: the Early Jurassic, Middle Jurassic, and Late Jurassic Epochs.
Huge fern prairies traversed the land masses during the beginning of this epoch on the geological time scale, and dinosaurs like Diplodocus and Brachiosaurus grazed on these fern forests.
During this time, true crocodiles also began to evolve.
By the conclusion of the Jurassic Period, there was an extinction known as the Jurassic-Cretaceous Extinction Event, which killed off a large number of species.
This extinction event, however, is not regarded one of the significant ones on the prehistoric timeframe.
The Cretaceous Period (145 to 66 million years ago):
This period the dinosaurs reach their zenith of diversity.
The temperature cooled and dried out, and the continents continued to drift apart.
The period ended with the Cretaceous-Paleogene (K-Pg) extinction, which was most likely triggered by a combination of events.
This event resulted in the extinction of non-avian dinosaurs as well as many other species.
PRACTICE QUESTION
Consider the following pairs:

Cretaceous – Paleogene: Evolve of crocodile

Jurrassic period : Extinction of non-avian dinosaurs

Triassic period:

wiped out more than 30% of all aquatic animals
How many of the above pairs is/are correct?
A) Only one
B) Only two
C) All three
D) None
Answer: A
https://indianexpress.com/article/cities/mumbai/gilbert-hill-to-be-developed-on-the-lines-of-burj-khalifa-lodha-8922457/
https://www.nativeplanet.com/travel-guide/gilbert-hill-the-best-kept-secret-of-mumbai-003739.html?story=4