GLOBAL CLEAN ENERGY ACTION FORUM-2022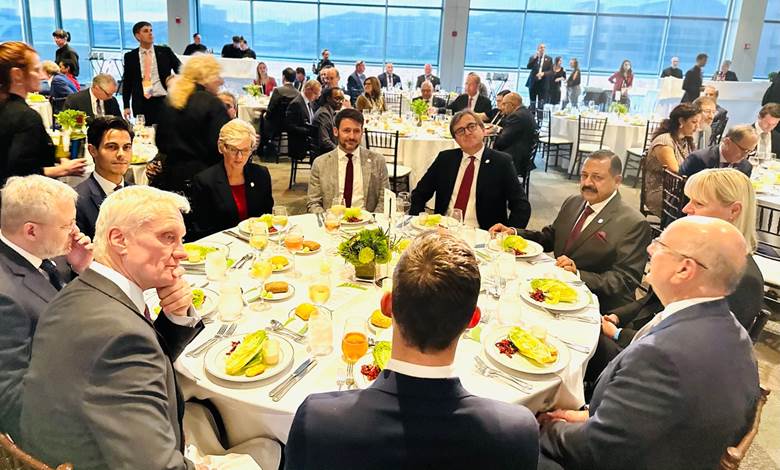 Copyright infringement not intended
Context
:
The hallmark of the first day of the Global Clean Energy Action Forum 2022 was a dinner meeting attended by Union Minister Dr Jitendra Singh with US Energy Minister Jennifer Granholm and other important Ministers of the forum. Earlier, the Action Forum-2022 began with an opening ceremony at the Heinz History Centre at Pittsburgh, Pennsylvania, US.
Details:
The coveted joint convening of the Clean Energy Ministerial (CEM13) and Mission Innovation (MI-7) from 21stto 23rd September at Pittsburg is being organised by the U.S. Department of Energy and Carnegie Mellon University.

The Minister noted that the Global Clean Energy Action Forum meet offers India an opportunity to present Prime Minister Narendra Modi's climate and clean energy vision before the world.

Dr Jitendra Singh will have very close engagements at the Plenary and two Roundtables of Global Clean Energy Action Forum.

At the 1st Roundtable on Sustainable Bioenergy and Bio-refineries he is expected to speak about India's plan to work towards transforming the energy landscape with significant clean energy share.

At the 2ndRoundtable on Net Zero Built Environment with Connected Communities, the Minister will elaborate on India supported research development and deployment of technologies with an investment of 34.3 million USD during the last decade.

Both the Roundtables will be followed by the Joint Ministerial Plenary of Clean Energy Ministerial (CEM13) and Mission Innovation (MI-7), where Dr Jitendra Singh will tell the Ministers and Delegates that India is founding and active member of both MI & CEM since launch and now actively engaged with MI2.0 through various Missions and Platforms work streams.

12th CEM (CEM12) Meeting was virtually hosted by Chile.
About Clean Energy Ministerial (CEM):
It was established in December 2009 at the UN's Framework Convention on Climate Change conference of parties in Copenhagen.

The Framework for the Clean Energy Ministerial, adopted at the seventh Clean Energy Ministerial in 2016, defines the CEM governance structure and outlines the mission statement, objectives, membership, and guiding principles.

CEM is a high-level global forum to promote policies and programs that advance clean energy technology, to share lessons learned and best practices, and to encourage the transition to a global clean energy economy

.

The CEM is focused on three global climate and energy policy goals:

Improve energy efficiency worldwide, Enhance clean energy supply, Expand clean energy access.

29 countries are part of CEM.
About Mission Innovation (MI):
Mission Innovation was announced on 30th November 2015, on the sidelines of the Paris Climate Agreement to undertake ambitious measures to combat climate change.

It is a global initiative of 24 countries and the European Union to accelerate global clean energy innovation.

Commitment by all members to seek to double their clean energy innovation investments over five years in selected priority areas.

Each member according to its own priorities, policies, processes, and laws independently determines the best use of its funding and defines its own Research & Development priorities and path to reach the doubling goal.

To achieve the shared goal of accelerating innovation, all the members have agreed to develop a second phase (2.0) that includes an enhanced Innovation Platform building on current activities to strengthen the global clean energy innovation ecosystem and to accelerate learning.
https://www.pib.gov.in/PressReleasePage.aspx?PRID=1861492