Green Energy Corridor Phase-II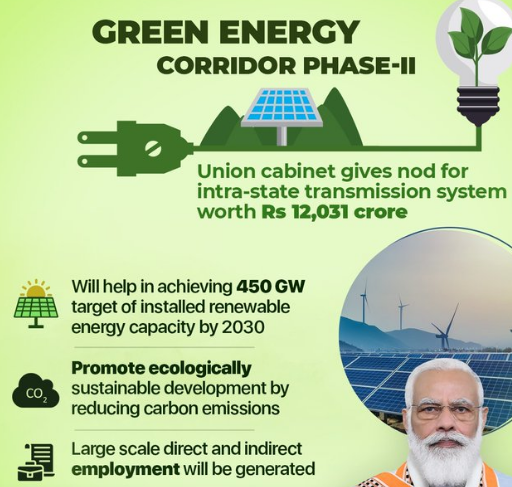 Copyright infringement is not intended
Context: Government approved the scheme on Green Energy Corridor Phase-II for Intra-State Transmission System (InSTS).
About Green Energy Corridor Phase II
Project Timeline: 2021-22 to 2025-26 fiscal years.
Budget outlay: Rs 12,031 crores.
The Central Financial Assistance (CFA) will be 33% of the project cost, that is ₹3,970.34 crore.
CFA will help in offsetting the intra-state transmission charges and keep the power costs down.
Aim:
To facilitate grid integration and power evacuation of about 20 GW of renewable energy projects in seven states— Gujarat, Himachal Pradesh, Karnataka, Kerala, Rajasthan, Tamil Nadu and Uttar Pradesh.
To help India meet the pledge it made at COP26 climate summit.
To add around 10,750 ckm of transmission lines and 27,500 MVA of transformation lines and substations under phase II
What is India's climate commitment?
India has pledged to increase its non-fossil fuel power generation capacity to 500 GW by 2030, meeting 50% of its energy requirements.
It would help India to bring down its carbon footprint but also save on foreign exchange.
What is the Green Energy Corridor project about?
Overseen by: the Ministry of New and Renewable Energy (MNRE).
Aims: to "synchronise electricity produced from renewable sources, such as solar and wind, with conventional power stations in the grid".
Significance:
It will evacuate the large-scale green energy produced under the Intra State Transmission System (InSTS) project sanctioned by the MNRE in 2015-16.
Will link it to the load centre of the national grid so that it can be distributed for use.
Objective of Scheme on Green Energy Corridor
To achieve the target of 450 GW installed RE capacity by 2030.
To contribute to long-term energy security of the country and promote ecologically sustainable growth by reducing the carbon footprint.
To generate large direct and indirect employment opportunities for both skilled and unskilled personnel in power and other related sectors.
GEC Phase-I
It is under implementation in Andhra Pradesh, Gujarat, Himachal Pradesh, Karnataka, Madhya Pradesh, Maharashtra, Rajasthan and Tamil Nadu for grid integration and power evacuation of about 24 GW of RE.
The Phase-I is for addition of 9,700 km of transmission lines and 22,600 MVA capacity of substations having estimated cost of transmission projects of ₹10,141.68 crore, with CFA of ₹4,056.67 crore.
What is Renewable energy?
Renewable energy is energy that is collected from renewable resources that are naturally replenished on a human timescale. It includes sources such as sunlight, wind, rain, tides, waves, and geothermal heat.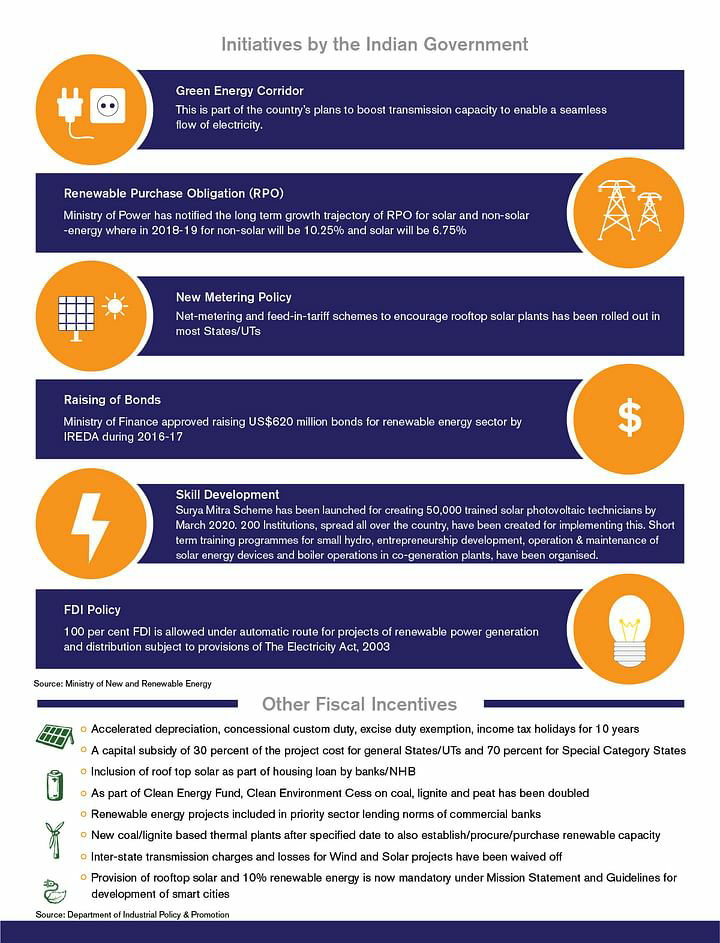 https://www.thehindu.com/news/national/govt-approves-green-energy-corridor-phase-ii-with-12000-crore-outlay/article38149652.ece