Ground Level Ozone loss in Arctic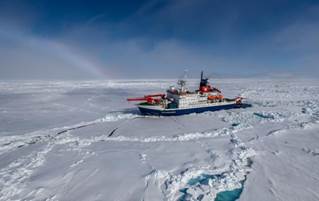 Disclaimer: Copyright infringement not intended.
Context
Climate change is causing the Arctic Ocean to release significant amounts of iodine into the atmosphere, substantially destroying ground-level ozone, according to a study published in Nature Geoscience.
Ground level Ozone in Arctic
Ground-level ozone is a pollutant

that forms when oxides of nitrogen (NOx) react with volatile organic compounds (VOC). It differs from stratospheric ozone, which protects the Earth from harmful ultraviolet rays.

The depletion of the ground-level ozone pollutant is positive for the Arctic.
Depletion of Ground Level Ozone (Pollutant) due to Iodine and Bromine
Iodine is one of the most potent ozone destruction agents. And large concentrations are seen in the Antarctic but never in the Arctic until now.

The Arctic Sea ice is melting in response to high temperatures, exposing the ocean. As a result, ozone from anthropogenic emissions gets deposited in the water, releasing iodine from seawater into the atmosphere. Once in the atmosphere, it can destroy ozone in the presence of sunlight.

Bromine, an ozone-destroying agent, is another main driver. The concentration of Bromine oxide in the atmosphere is because it escapes into the atmosphere from the sea-ice region.

In Arctic, the maximum individual single-day contribution of bromine to ozone loss was roughly 70 per cent, the findings showed.

As for iodine, the maximum single-day contribution to ozone loss was about 75 per cent. The findings suggested that, on average, iodine and bromine contribute about 56 per cent of the ozone loss during spring.
Concern but
This reduction in Ground level Ozone does not match anthropogenic emissions of ozone.

The Arctic has been warming nearly four times faster than the rest of the world in the last 43 years. The implications of such warming are huge.
Read: https://www.iasgyan.in/daily-current-affairs/ozone
https://www.downtoearth.org.in/news/climate-change/iodine-drives-substantial-ground-level-ozone-loss-in-arctic-climate-change-altering-natural-processes-study-84969