HEALTH NATIONAL FAMILY HEALTH SURVEY-5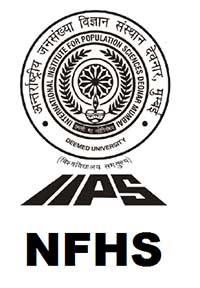 Copyright infringement not intended.
Context
NFHS-5, the most comprehensive survey on socio-economic and health indicators in the country, shows some surprising demographic transitions.

The previous four rounds of the NFHS were conducted in 1992-93, 1998-99, 2005-06 and 2015-16.
Major Outcomes of the Survey
Births in institutional facilities:

Such as a hospital, improved by nearly eight percentage points.

Stunting and wasting:

Children who were either stunted or displayed signs of wasting only dropped by a maximum of three percentage points, shows a comparison of National Family Health Survey-5 (NFHS-5) and NFHS-4.
Slow and steady progress is seen on stunting, which seems to be coming from change happening in big States such as Uttar Pradesh and others.

Total fertility rate (TFR):

India has also officially hit a total fertility rate (TFR) of 2.0 that indicates a decrease from the 2.2 in the NFHS-4.
According to the United Nations Population Division, a TFR of about 2.1 children per woman is called replacement-level fertility.
If replacement level fertility is sustained over a sufficiently long period, each generation will exactly replace itself.
The urban TFR is 1.6 and the rural TFR is 2.1.
Only six States: Bihar, Meghalaya, Manipur, Jharkhand and Uttar Pradesh have a TFR above 2.0.
This is a significant feat for the country's family-planning programme, which does not include coercive policies.
These findings bust the population-explosion myth and show that India must steer away from coercive measures of population control.
While the increase in the use of modern contraceptive methods is heartening, an increase in female sterilisation coupled with continued stagnation in male sterilisation uptake shows that the onus of family planning still lies with women.

Use of contraceptives:

An overall survey of the major differences between the NFHS-5 and NFHS-4 suggests that the use of contraceptives has improved from 53.5% to 66.7% in the latest NFHS-5 and institutional births increased from 78.9% to 88.6%.

Vaccination of children:

The proportion of children (12-23 months) who were fully vaccinated improved from 62%-76% and children under 6 months who were exclusively breastfed also showed a sharp improvement from 54.9 to 63.7%.

Nutrition concerns:

There were, however, mixed signals in nutrition.
Though the gains in childhood nutrition were minimal, women and men (15-49) who had a below normal body mass index (BMI) each dropped roughly four percentage points.
Those overweight (or had a higher BMI than ideal) increased by around 4 percentage points.
Abnormal BMIs are linked to an increase in obesity and other non-communicable diseases (NCD).

Anaemia:

India's battle with anaemia also appears to have faltered. The proportion of anaemic children (5-59 months) increased from 58% to 67%.
Women aged 15-49 who were anaemic increased from 53% to 57% and men of the same age increased from 29% to 31% between both editions of the NFHS.

Obesity:

Nutritionally deficient diet likely explained the rise in obesity.
Very challenging findings on waist-hip ratio. 56.7% women and 47.7% men have a high-risk waist-to-hip ratio.
Demographic shift in India:

The fifth edition of the National Family Health Survey (NFHS) confirmed signs of a demographic shift in India.
Which suggests more women than men in India.
For the first time since the NFHS began in 1992, the proportion of women exceeded men: there were 1,020 women for 1,000 men.
In the last edition of the survey in 2015-16, there were 991 women for every 1,000 men.
Only the decadal census is considered the official marker of population trends in India and has a wider surveillance programme.

The NFHS surveys are smaller but are conducted at the district level and are a pointer to the future.

Sex ratio at birth:

However, sex ratio at birth for children born in the last five years only improved from 919 per 1,000 males in 2015-16 to 929 per 1,000, underscoring that boys, on average, continued to have better odds of survival than girls.
Most States and Union Territories (UTs) had more women than men, the NFHS-5 shows.
States that had fewer women than men included Gujarat, Maharashtra, Arunachal Pradesh, Haryana, Madhya Pradesh, Punjab and Union territories such as Jammu & Kashmir, Chandigarh, Delhi, Andaman and Nicobar Islands, Dadra and Nagar Haveli, and Ladakh.
All of these States and UTs, however, showed improvements in the population increase of women.
A notable exception is Kerala, a State with among the highest ratios of women to men at 1,121 and improvement over 1,049 recorded in the NFHS-4.

Most populous country in the world:

India is still poised to be the most populous country in the world with the current projection by the United Nations population division forecasting that India's population will peak around 1.6 to 1.8 billion from 2040-2050.
A Government report projected that India would overtake China as the world's most populous country around 2031 almost a decade later than the United Nations projection of 2022.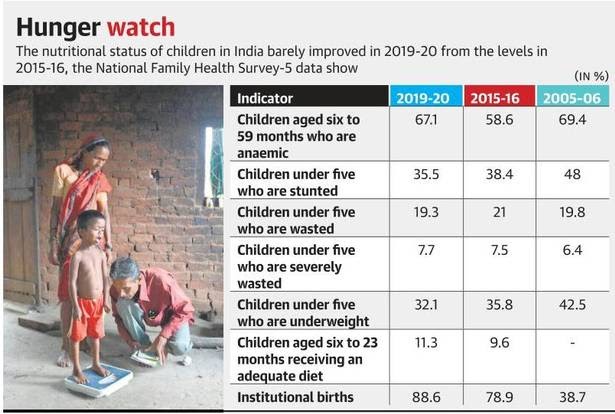 About NFHS Survey
It is a large-scale, multi-round survey conducted in a representative sample of households throughout India.
The survey provides state and national information for India on fertility, infant and child mortality, the practice of family planning, maternal and child health, reproductive health, nutrition, anaemia, utilization and quality of health and family planning services.
The Ministry of Health and Family Welfare (MOHFW) designated the International Institute for Population Sciences (IIPS) Mumbai, as the nodal agency, responsible for providing coordination and technical guidance for the survey.
https://www.hindustantimes.com/india-news/the-key-demographic-transitions-captured-by-the-5th-round-of-nfhs-101637777904158.html