HIGHLIGHTS OF PM's INDEPENDENCE DAY SPEECH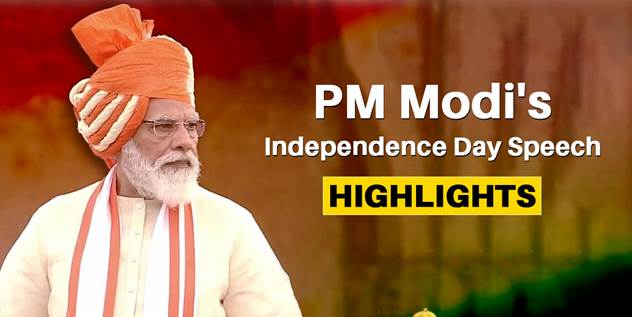 Copyright infringement not intended
In News
Addressing the country on the 76th Independence Day, the Prime Minister of India said that corruption, nepotism and misogyny are some of the big challenges that needed to be combated.

The Prime Minister also gave a call for setting big resolutions and spelt out "Panch Pran" (five resolves) to fulfil the dreams of freedom fighters for the country by 2047, the centenary of Independence.
Key Points of the Speech
In the pursuit of Independence, the entire period of slavery was spent in a struggle. No part of India or any time period remained untouched by the freedom struggle against several centuries of slavery and marked by people sacrificing themselves facing torture and making supreme sacrifices.

All the countrymen are deeply indebted to Pujya Bapu, Netaji Subhash Chandra Bose, Babasaheb Ambedkar, and Veer Savarkar, who devoted all their life to the path of duty toward the nation.

The path of obligation has been their sole life path.

This country is grateful to Mangal Pandey, Tatya Tope, Bhagat Singh, Sukhdev, Rajguru, Chandrashekhar Azad, Ashfaqulla Khan, Ram Prasad Bismil and countless such revolutionaries of ours who shook the foundations of British rule.

This nation is grateful to those brave women, be it Rani Lakshmibai, Jhalkari Bai, Durga Bhabhi, Rani Gaidinliu, Rani Chennamma, Begum Hazrat Mahal, Velu Nachiyar, who showed their mettle of women power of India.

Every Indian is filled with pride while remembering the countless brave women who achieved the pinnacle of sacrifice.

We cannot forget the contribution of our tribal society living in forests. There are countless names like Bhagwan Birsa Munda, Sidhu-Kanhu, Alluri Sitarama Raju, and Govind Guru, who became the voice of the freedom movement and inspired my tribal brothers and sisters, mothers and youth in the remotest jungles to live and die for the motherland.

Many great men like Narayana Guru, Swami Vivekananda, Maharishi Aurobindo, and Gurudev Rabindranath Tagore kept awakening the consciousness of India in every corner and every village of India and kept this consciousness alive.

On 14th August, India also remembered the deep wounds of Partition on 'Partition Vibhishika Memorial Day' with a heavy heart.

This journey of 75 years has been full of ups and downs. our countrymen have accomplished various achievements.

India is the Mother of democracy, our India has proven to all that we have this invaluable strength.

We must take up the responsibility of fulfilling all the dreams of the freedom fighters by embracing those 'Panch Pran' by 2047 when the country celebrates 100 years of independence.

The country to move ahead with a big resolve of a developed India.

We have to liberate ourselves from the slavery mindset which is visible in innumerable things within and around us.

We should feel proud of our heritage and legacy.

Unity and solidarity. Amongst 130 million countrymen when there is harmony and bonhomie, unity becomes its strongest virtue.

We must be responsible citizens and have a duty towards the nation.

The 10% ethanol blending seemed like a very big dream. Old experiences showed that it was not possible, but the country has realized this dream of 10 % ethanol blending before time.

Providing electricity connection to 2.5 crore people in such a short time was not a small task, but the country has done it.

The country is rapidly providing 'water from tap' to the homes of lakhs of families.

Freedom from open defecation has become possible in India.

Experience tells us that we can achieve our goals once we are determined. Be it the goal of renewable energy, the intention of building new medical colleges in the country or creating a workforce of doctors, the pace has increased a lot in every field.

New National Education Policy has been formulated with a lot of brainstorming, with the exchange of ideas from various people and is at the root of the country's education policy. The skill that we have emphasized is such a power, which will give us the strength to be free from slavery.

One of the dreams of a self-reliant India is to ensure that India does not lag in fulfilling the needs of the world. Even if it is the MSMEs we have to take our products to the world with 'Zero Defect - Zero Effect'.
https://epaper.thehindu.com/Home/ShareArticle?OrgId=GLGA5GHHH.1&imageview=0
https://t.me/+hJqMV1O0se03Njk9