Disclaimer: No Copyright infringement intended.
Context
Prime Minister, Shri Narendra Modi has greeted the people on Hindi Diwas.
About
Hindi Day/Hindī Diwas is celebrated every year on 14 September marking the declaration of Hindi language as one of the official languages of Union government of India.

On 14 September 1949, Hindi was adapted as one of the official languages in India.

As such, on the 50th birthday of Beohar Rajendra Simha on the 14th of September 1949, the efforts resulted in the adoption of Hindi as an official language.

In all, there are 22 Scheduled languages of India.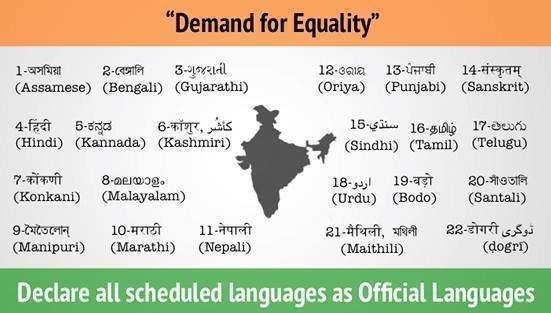 Official Languages
There is no national language in India.

However, article 343(1) of the Indian constitution specifically mentions that, "The official language of the Union shall be Hindi in Devanagari script.

The form of numerals to be used for the official purposes of the Union shall be the international form of Indian numerals."

The business in Indian parliament can only be transacted in Hindi or in English.

English is allowed to be used in official purposes such as parliamentary proceedings, judiciary, communications between the Central Government and a State Government.

There are various official languages in India at the state/territory level.

States within India have the liberty and powers to specify their own official language(s) through legislation.