Copyright infringement not intended
Context: Hiroshima, a city on Japan's main island Honshu, will host this year's Group of Seven (G7) Summit, an annual gathering of the leaders of the world's richest and most industrialised nations.
Details
This year, Hiroshima will host the Group of Seven (G7) Summit, an annual meeting of leaders from seven of the world's most powerful democracies: Canada, France, Germany, Italy, Japan, the United Kingdom, and the United States.
The summit will take place from May 19 to 21 at a hotel near the Peace Memorial Park.
The leaders will discuss various global issues and challenges, such as climate change, economic recovery, health security, human rights, and regional stability.
Why Hiroshima?
The choice of Hiroshima as the venue of the G7 Summit reflects Japan's Prime Minister Fumio Kishida's commitment to put nuclear disarmament and nonproliferation at the forefront of the international agenda.
Kishida is a native of Hiroshima and has been a vocal advocate for abolishing nuclear weapons and preventing their proliferation.

He has also invited leaders from other countries that have been affected by nuclear testing or accidents, such as Kazakhstan, Marshall Islands, Ukraine, and Belarus, to join some sessions of the summit as guests.
Background
Hiroshima was the first city in the world to experience the devastating effects of a nuclear weapon, when an atomic bomb was dropped by the United States on August 6, 1945, near the end of World War II.
The blast killed tens of thousands of people instantly and left many more injured or sick from radiation exposure.
The city was almost destroyed, except for a few buildings that survived the firestorm.
Present day
Today, Hiroshima is a vibrant and prosperous regional hub, with a population of about 1.2 million people.
It is a major industrial, commercial, and cultural centre.
It is also a symbol of peace and resilience, as it has rebuilt itself from the ashes and dedicated itself to promoting nuclear disarmament and nonproliferation.
The city hosts several monuments and museums that commemorate the victims of the atomic bombing and educates visitors about its consequences and lessons.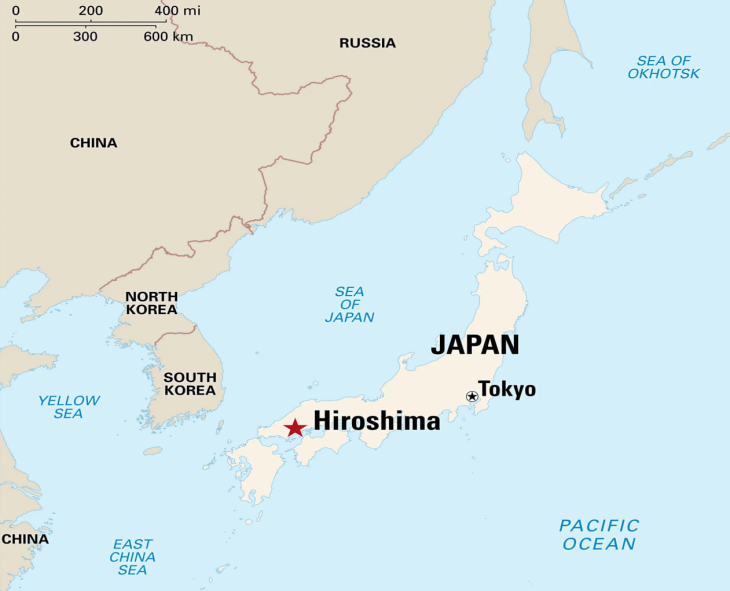 Atomic Bomb Dome
One of the most iconic landmarks in Hiroshima is the Atomic Bomb Dome, which was formerly the Hiroshima Prefectural Industrial Promotion Hall.
It was one of the few structures that remained standing near the hypocenter of the explosion, and it has been preserved as a memorial to the tragedy.
The dome is part of the Hiroshima Peace Memorial Park, which also includes the Children's Peace Monument, the Peace Memorial Museum, and the Cenotaph for the A-Bomb Victims.
Natural beauty and Cultural heritage
Hiroshima is also known for its natural beauty and cultural heritage.
It is surrounded by mountains and sea, and it has many parks and gardens that offer scenic views and relaxation.
It is famous for its local cuisine, especially okonomiyaki, a savoury pancake with various toppings, and oysters, which are harvested from the nearby Seto Inland Sea.
It is also home to several historical and religious sites, such as Hiroshima Castle, Shukkei-en Garden, Mitaki Temple, and Itsukushima Shrine.
Conclusion
The G7 Summit in Hiroshima will be an opportunity for world leaders to witness firsthand the horrors of nuclear war and to renew their pledge to work together for a more peaceful and secure world without nuclear weapons. It will also be an occasion for Hiroshima to showcase its remarkable recovery and transformation from a city of death to a city of life.
Must Read Articles:
Group of Seven (G7): https://www.iasgyan.in/daily-current-affairs/g-7-50
PRACTICE QUESTION
Q. Which of the following countries is NOT a member of the G7 group of advanced economies?
A) Canada
B) Japan
C) China
D) Germany
Answer: C
Explanation: Although China has the second-largest nominal GDP and the largest PPP GDP in the world, it is not a member of the G7. This is because China does not meet the political and social criteria of the group, such as respect for human rights and the rule of law. China also has a different economic model than the G7 countries, which are mostly market-based and open economies. China has a more state-controlled and closed economy, which often leads to trade disputes and conflicts with the G7.
https://indianexpress.com/article/explained/everyday-explainers/everyday-explained-hiroshima-bomb-g7-summit-history-explained-8617766/