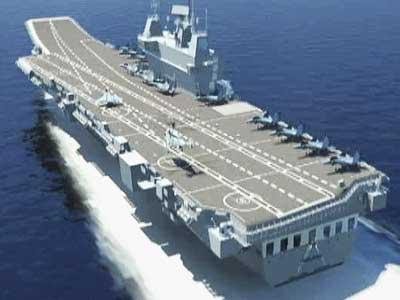 Copyright infringement is not intended
Context: IAC Vikrant heading out for the next set of sea trials.
Context:
It is country's maiden indigenous aircraft carrier (IAC-1).
Built by: Cochin Shipyard Ltd.
The IAC would be commissioned as INS Vikrant in the first half of 2022, which would be the most potent sea-based asset.
Capabilities: can project Air Power over long distances, including Air Interdiction, Anti-Surface Warfare, offensive and defensive Counter-Air, Airborne Anti-Submarine Warfare and Airborne Early Warning.
It has a STOBAR (short take off but arrested recovery) system of aircraft launch and recovery on the flight deck.
It is armed with the Barak LR-SAM (long range surface-to-air missile) air defence and AK-630 close-in weapon system besides a slew of advanced sensors and an electronic warfare suite.
Other specifications:

It is expected to have a top speed of 30 knots (approximately 55 kmph) and is propelled by four gas turbines.
Its endurance is 7,500 nautical miles at 18 knots (32 kmph) speed.
The vessel can carry up to 1,500 personnel and has 2,300 compartments.
The ship shall operate MiG-29K fighter aircraft, Kamov-31 Air Early Warning Helicopters, the soon to be inducted MH-60R multi-role helicopter and the indigenously manufactured Advanced Light Helicopters.
Italian, Russian help
While the design was done with help from the Italian firm Fincantieri, the Russians collaborated in designing and developing the aviation complex.
Significance of IAC:
Shining example of 'AatmaNirbhar Bharat' as it has nearly 75 per cent indigenous content - from design to steel used in construction to key weapons and sensors.
It help secure India's interests in maritime domain.
It will help to realize the vision of SAGAR (Security and Growth for All in the Region) and the wider goal of a free, open and inclusive Indo-Pacific to ensure peace and stability in the region.
https://www.pib.gov.in/PressReleasePage.aspx?PRID=1788782