IAF HERITAGE CENTRE IN CHANDIGARH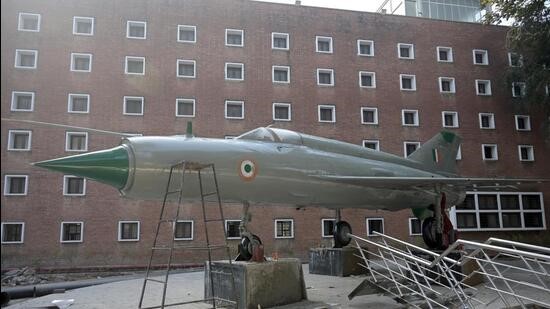 Disclaimer: Copyright infringement not intended.
Context
Defence Minister Rajnath Singh inaugurated the nation's first Indian Air Force Heritage Centre in Chandigarh.
Details
The centre highlights the IAF's role in various wars.

It houses five vintage aircraft and will provide visitors with cockpit exposure and an experience with flight simulators.

It also houses the first IAF-made patent aircraft Air Force 'Kanpur-1 Vintage Prototype Aircraft', a single-engine indigenous flying machine designed and built by the late Air Vice Marshal Harjinder Singh in 1958 at Base Repair Depot Kanpur.

Gradually, this centre will also be updated about various rescue operations being undertaken by the IAF all over the country and at the world level.
About Indian Air Force
The Indian Air Force (IAF) is the air arm of the Indian Armed Forces.
History
It was officially established on 8 October 1932 as an auxiliary air force of the British Empire.
Mission
Its primary mission is to secure Indian airspace and to conduct aerial warfare during armed conflicts.
Operations
Since 1950, the IAF has been involved in four wars with neighbouring Pakistan.

Other major operations undertaken by the IAF include Operation Vijay, Operation Meghdoot, Operation Cactus and Operation Poomalai.

The IAF's mission expands beyond engagement with hostile forces, with the IAF participating in United Nations peacekeeping missions.
Personnel
The President of India holds the rank of Supreme Commander of the IAF.

The Chief of the Air Staff, an air chief marshal, is a four-star officer and is responsible for the bulk of operational command of the Air Force.

The rank of Marshal of the Air Force has been conferred by the President of India on one occasion in history, to Arjan Singh. On 26 January 2002, Singh became the first and so far, only five-star rank officer of the IAF.
Role
The IAF's mission is defined by the Armed Forces Act of 1947, the Constitution of India, and the Air Force Act of 1950.

It decrees that in the aerial battlespace:

Defence of India and every part there of including preparation for defence and all such acts as may be conducive in times of war to its prosecution and after its termination to effective demobilisation.

The Primary objective of IAF is to defend the nation and its airspace against Air threats in coordination with Army and Navy.

The secondary purpose is to assist civil power during natural calamities and internal disturbances.

The IAF provides close air support to the Indian Army troops in the battlefield and also provides strategic and tactical airlift capabilities.

IAF also provides strategic air lift or secondary Airlift for the Indian Army.

The IAF also operates the Integrated Space Cell together with the other two branches of the Indian Armed Forces, the Department of Space and the Indian Space Research Organization (ISRO).

Rescue of civilians during natural disasters.

Evacuation of Indian nationals from foreign countries in case of instability or other problems.
PRACTICE QUESTION
Q) The primary mission of Indian Air Force is to secure Indian airspace and to conduct aerial warfare during armed conflicts. Discuss in context of the role of Indian Air Force defined as per Armed Forces Act of 1947. (250 words)
https://indianexpress.com/article/india/country-first-air-force-heritage-centre-inaugurated-8597721/