INDIA AND NETHERLANDS RELATIONS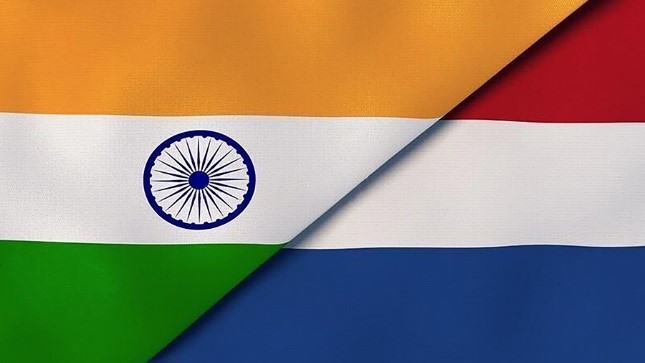 Disclaimer: Copyright infringement not intended.
Context
India and the Netherlands have signed a Memorandum of Intent (MoI) to cooperate on medical product regulation and enhance the quality of medical products and healthcare services for both countries in Hague, Netherlands.
Overview of India-Netherlands Relations
India and the Netherlands established diplomatic relations in 1947.
The year 2022 marked 75 years since the establishment of diplomatic relations.
Today, India and the Netherlands enjoy strong political, economic & and commercial relations.
Water, Agriculture, and Health (WAH) are 3 priority sectors of cooperation besides technology and innovation.
Institutional Mechanisms
India and the Netherlands discuss issues covering the entire gamut of bilateral relations, through annual consultations led by the Ministry of Foreign Affairs on both sides.
The last Foreign Office Consultations were held in The Hague on November 10, 2021.
The two sides have Joint Working Groups (JWGs) at functional level in the fields of (i) Science & Technology (ii) Agriculture (iii) Healthcare (iv) Urban Development and (vi) Counter Terrorism.
Indo-Pacific
The Netherlands issued its guidelines on the Indo-Pacific in 2020 which identifies India as a key partner.
India welcomed the guidelines. Both sides recognize the close convergence between each others vision for a free, open and inclusive Indo-Pacific.
Trade and Commercial Relations
The Netherlands is India's 4th largest trading partner in Europe (2021-22) and the 4th largest investor in India.
Bilateral trade touched an all-time high of USD 17 billion in 2021-22.
This includes exports worth USD 12 billion and imports worth approx. USD 5 billion.
The cumulative FDI inflows from the Netherlands to India from April 2000 to June 2022 amounted to USD 43 billion.
There are over 300 Dutch companies present in India, including Philips, Signify, Akzo Nobel, DSM, Heineken, KLM and others.
Indian companies are also investing in the Netherlands in a big way and the Netherlands is now the 4th largest destination for Overseas Direct Investment (ODI) by Indian companies.
More than 300 Indian companies, including all major IT companies such as TCS, HCL, Wipro, Infosys, Tech Mahindra have presence in Netherlands.
Water Management
Cooperation in the water sector has been given a further boost by the decision to institute a 'Strategic Partnership on Water', and upgrade the JWG on Water to Ministerial-level during the virtual summit held in April 2021.
The Netherlands is engaged with various States and Municipalities in India to implement water-related projects including the States of UP (Namami Ganga Programme), Tamil Nadu (water as leverage, water management and conservation) and Kerala (flood management).
Ports/Shipping/Inland Waterways
India and Netherlands signed an MoU in the fields of Ports and Maritime Transport and Logistics in 2008, which was extended twice. It had a special focus on research and development, shipbuilding, innovation and sustainability.
The 4th Indo-Dutch Forum on Smart & Sustainable Port-Led Development was held in September 2020.
Port of Rotterdam, Port of Amsterdam and Dutch companies took part in the online Maritime India Summit held in March 2021.
Maritime sector was one of the focus areas for the Dutch trade delegation which accompanied the King and Queen of Netherlands during their state visit to India in 2019.
Agriculture and Food Processing
Agriculture is one of the core sectors identified by the two sides for enhancing bilateral cooperation.
India and Netherlands cooperate on agriculture through a Joint Working Group which is led by Ministries of Agriculture on both sides.
The 6th meeting of Indo-Dutch JWG on Agriculture Cooperation was held digitally in June 2021. Under the JWG, India and Netherlands have signed an action plan which envisages cooperation in establishing Centres of Excellence.
India has set an ambitious agenda to establish 25 CoEs by 2025 in Agri sector, 7 out of which are already functional.
India also participated in Floriade 2022, which is an international exhibition and garden festival, held every 10 years in the Netherlands.
Healthcare cooperation
An MoU for Cooperation in the Field of Healthcare and Public Health was signed in January 2014 to promote global research collaboration in emerging health challenges associated with communicable diseases and antimicrobial resistance.
India and the Netherlands cooperate through a Joint Working Group on Health led by the Ministry of Health on both sides under this MoU.
The 3rd meeting of this JWG was held in April 2021 and discussions were held on antimicrobial resistance, Covid-19 vaccination, collaboration on digital health and so on.
Urban Development and Smart Cities
India and the Netherlands signed an MoU in the field of Spatial Planning, Water Management and Mobility Management in 2013.
The 4th meeting of its Joint Working Group was held in June 2021 and discussed cooperation in various fields including in urban development, smart city, waste-to-value projects, geospatial innovation and so on.
Renewable Energy
India and Netherlands have strong cooperation in Renewable Energy.
The Netherlands signed the Framework Agreement of the International Solar Alliance (ISA) in May 2018.
India is one of the convening countries of the Global Commission on Adaptation (GCA), headquartered in the Netherlands.
The Netherlands joined the Coalition for Disaster Resilient Infrastructure (CDRI) in 2021.
PM Modi addressed the Climate Adaptation Summit hosted by the Netherlands in January 2021.
He had called for CDRI and GCA to work together to enhance infrastructure resilience globally.
NITI Aayog, India's premier policy think tank, and the Embassy of Netherlands, signed a Statement of Intent on 28th September 2020, through which both sides agreed to work together to support the decarbonisation and energy transition agenda.
S&T and Space
The Netherlands Organization for Scientific Research (NWO) collaborates with major national funders of research in India such as Department of Science and Technology (DST), Department of Biotechnology (DBT), Ministry of Electronics and Information Technology (MEITY).
The Netherlands was India's partner country in the Technology Summit 2019 held in New Delhi.
The Netherlands was a partner country with India for the Global Bio India 2021 Virtual Summit which was held in March 2021.
ISRO has long-standing cooperation with European Space Agency which has its European Space Research and Technology Centre (ESTEC) based in Noordwijk, Netherlands.
Cultural Cooperation
Yoga is very popular in the Netherlands.
An ICCR Cultural Centre "The Gandhi Centre" has been functional in The Hague since 2011. The Centre has an active calendar of programmes including Yoga, Sanskrit, Tabla, Kathak and Hindi language classes, in addition to various programmes related to Indian culture including music, dance, workshops, movies, etc.
The Gandhi Centre is also engaged in an outreach programme for various Indian (Surinami-Hndustani ) schools in The Hague.
Indian Community and Students
The Netherlands hosts the second largest Indian Diaspora (after UK) in Europe and the largest on mainland Europe, totalling around 2,60,00.
The Netherlands is a popular education destination for Indian students, particularly in the field of science & and technology.
Many Dutch Universities like TU Delft, Leiden University and Maastricht University have long-standing collaborations with Indian universities.
The number of Indian students has been growing over the years and more than 3500 Indian students are studying in the Netherlands presently.
PRACTICE QUESTION
Q. Indo-Dutch relations have been multi-faceted and encompass close cooperation in various areas including political, economic, academics, and culture. In light of this give an overview of the relations between these two countries.