INDIA-CHINA TRADE RELATIONSHIP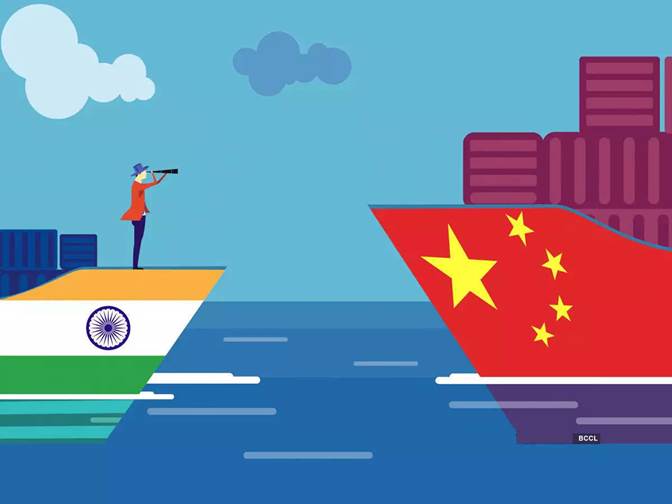 Disclaimer: Copyright infringement not intended.
Context: India's bilateral trade with China reached a record $135.98 billion in 2022, Chinese Customs data showed driven by surging Indian imports of Chinese goods that were up by more than 21% last year.
Details:
Bilateral Trade Stats:
India's exports to China, however, fell in 2022, driving an already significant trade deficit beyond the $100 billion-mark for the first time.

Figures released by the General Administration of Customs (GAC) in Beijing showed two-way trade was up by 8.4% last year to $135.98 billion, with India's imports accounting for $118.5 billion, up from $97.5 billion.

India's exports to China fell from $28.1 billion to $17.48 billion. The trade deficit reached $101.02 billion, up by 45%, from $69.4 billion in 2021.
Total Trade Stats:
China's total foreign trade in 2022 hit a record high, up 7.7% to $6.25 trillion. Exports were up 10.5%. Trade with ASEAN, China's biggest trading partner, increased 11.2% to $975.34 billion. The EU ranked second among China's trading partners, with trade up 2.4% to $847.32 billion, followed by the U.S., with trade up 0.6% to $759.42 billion.

For India, trade last year has surpassed what was a record year in 2021, on account of a recovery in demand in India, increasing imports of intermediate goods, and imports of new categories of goods such as medical supplies.
Background:
Commercial and Economic Relations:
The rapid expansion of India-China bilateral trade since the beginning of this century propelled China to emerge as our largest goods trading partner by 2008, a position which China continues to hold today.

Since beginning of the current decade, bilateral trade between the two countries recorded exponential growth. In 2017 and 2018, the bilateral trade has registered robust two digit growth.

In the year 2019, India was the 12th largest trade partner of China.

The total bilateral trade registered a reduction of 2.93% year on year to reach US $ 92.89 billion.

India's exports to China decreased by 4.55% y-o-y to US $17.97 billion, and India's imports from China also witnessed a drop by 2.54% to US $ 74.92 billion.

Our trade deficit concerns are two pronged.

One is the actual size of the deficit.

Two is the fact that the imbalance has continuously been widening year after year to reach US $58.04 billion in 2018. In 2019, India's trade deficit with China stood at US $ 56.95 billion, a minor y-o-y decline of 1.88%, with trade deficit declining for the first time since 2005.

The growth of trade deficit with China could be attributed to two factors:

Narrow basket of commodities, mostly primary, that we export to China and

Market access impediments for most of our agricultural products and the sectors where we are competitive in, such as pharmaceuticals, IT/IteS, etc

While both countries have emerged as top investment destinations for the rest of the world, mutual investment flows are yet to catch up.

The India-China Economic and Commercial Relations are shaped through various dialogue mechanism

such as Joint Economic Group (JEG) led by the Commerce Ministers of both sides, Strategic Economic Dialogue (SED) led by the Vice Chairman of NITI Aayog and the Chairman of National Development and Reform Commission (NDRC) of China, the NITI Aayog - Development Research Center (DRC) Dialogue and the Financial Dialogue
https://www.thehindu.com/news/international/indias-imports-from-china-reach-record-high-in-2022-trade-deficit-surges-beyond-100-billion/article66372861.ece