INDIA-FRANCE BILATERAL RELATIONS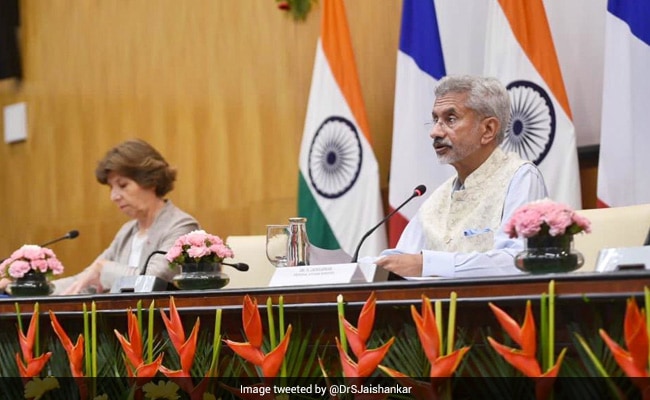 Copyright infringement not intended
Context: Ms. Catherine Colonna, Minister for Europe and Foreign Affairs of France, who is on an official visit to India from September 13-15, 2022, called on Prime Minister Modi. Besides discussion on bilateral and other issues of mutual interest, the Minister conveyed President Macron's message of friendship and cooperation to the Prime Minister. PM Modi fondly recalled his recent meetings with President Macron in Paris and Schloss Elmau, Germany, and conveyed his desire to welcome the President in India at an early opportunity. She also met the Minister of External Affairs.
Details:
India and France agreed to set up an Indo-Pacific trilateral framework to roll out development projects, decided to expand strategic cooperation and vowed to work closely to deal with pressing global challenges such as food crisis triggered by the Ukraine war.

After wide-ranging talks with her Indian counterpart S Jaishankar, French Foreign Minister Catherine Colonna described Russian attacks on Ukraine as waging a "devastating war of aggression" on the territory of a sovereign state and that France is determined to work with India addressing the "terrible consequences" of the war.

Referring to the Indo-Pacific, she said many challenges have emerged because of China and both France and India share the same concerns "because we know the role that the Chinese are playing and we want to make sure there is no imbalance" in the region.

India and France also decided to expand cooperation in the Indo-Pacific under separate trilaterals with Australia and the United Arab Emirates.

Ms Colonna said France and India have always supported each other such a level of solidarity and trust is "rare and precious" in today's world.

On dealing with the global food crisis, she indicated that an initiative could be proposed at the upcoming G20 summit in Indonesia to ensure that the most vulnerable countries "don't remain too exposed to these food security issues."

She said what applies to Europe and the Indo-Pacific applies everywhere, adding France and India reject a world where "might makes right".

"This is the significance of our cooperation at the United Nations Security Council, where France will continue to continue to push for a permanent seat for India," she added.

A French readout listed "Partnership for the Indo-Pacific and a rules-based international order" as one of the three key initiatives agreed by the two ministers.

It said the two sides agreed to work towards the establishment of an Indo-Pacific Trilateral Development Cooperation Fund that will support sustainable innovative solutions for countries in the region.

The two ministers decided to resume cooperation under the India-France-Australia Trilateral mechanism.

The other two initiatives are: partnership for the planet and sustainable development, and cultural and people-to-people ties.

India will be the first "country of honour" at the Sea Tech Week

in Brest, France, a major international event bringing together blue economy stakeholders.

The ministers also welcomed the inaugural meeting of the Focal Points of the India-France-UAE trilateral framework and urged the officials to prepare an agreed roadmap for cooperation.

Both Ministers also expressed their interest in resuming cooperation under the India-France-Australia Trilateral mechanism.

On the Ukraine conflict MEA said there should be a return to dialogue and diplomacy.

Asked about China's aggressive behaviour in the Indo-Pacific, Colonna said: "we want to make sure that there is a balance of powers so that we can continue to support each other so that each of us can develop our own strategic autonomy but we also like to develop it on behalf of peace and stability in the Indo-Pacific as well as elsewhere."

Ms Colonna said there is a difference in the way France and India look at the Ukraine crisis, and noted that Paris know the history of New Delhi's relationship with Moscow.

On energy cooperation, Ms Colonna said the Jaitapur civil nuclear project is progressing well.

Dr Jaishankar said both sides agreed to work towards the establishment of an Indo-Pacific trilateral development cooperation that would facilitate development projects, especially in the framework of the International Solar Alliance

In their talks, both the ministers welcomed the launch of India's Unified Payment Interface (UPI) in France.

On defence industry cooperation, the ministers welcomed the Safran Group's decision to set up their largest and first aircraft engine MRO (maintenance, repair, and overhaul) facility in Hyderabad.
Background:
India and France have traditionally close and friendly relations.

In 1998, the two countries entered into a Strategic Partnership which is emblematic of their convergence of views on a range of international issues apart from a close and growing bilateral relationship.

The areas of defence & security cooperation, space cooperation and civil nuclear cooperation constitute the principal pillars of the Strategic Partnership.

India and France also have a robust economic partnership. Apart from these, India and France are increasingly engaged in new areas of cooperation such as maritime security in the Indo Pacific region, counter terrorism, climate change, renewable energy and sustainable growth and development among others.

India and France share a close degree of convergence on a range of regional and global issues. France has continued to support India's claim for permanent membership of the United Nations Security Council and the reforms of the United Nations. France's support was vital in India's accession to the Missile Technology Control Regime (MTCR), Wassenaar Arrangement (WA) and Australia Group (AG). France continues to support India's bid for accession to the Nuclear Suppliers Group (NSG).

India and France have consistently condemned terrorism and have resolved to work together for adoption of the Comprehensive Convention on International Terrorism (CCIT) in the UN.

The two countries have a burgeoning economic relationship. French businesses and industry have forged linkages with the Indian economy and contribute significantly to our goal to become an Atmanirbhar Bharat. There are over a 1000 French businesses in India in variegated sectors such as defense, ITES, consulting, engineering services, heavy industry et al. France is the 7th largest foreign investor in India with a cumulative FDI stock of USD 9 billion from April 2000 to December 2020, which represents 2 % of the total FDI inflows into India.

Although India has a trade surplus, India France bilateral trade remains far below potential. In the period April 2018-March 2019, India-France bilateral trade stood at 11.59 billion Euro, India's exports to France were valued at 6.23 billion Euro meanwhile, French exports to India stood at 5.35 billion Euro.

The 18th Joint Economic Committee meeting, held virtually between the two countries on 27 November 2020, led to the signing of a bilateral 'Fast Track Mechanism' for investors.

India and France closely cooperated at the peak of the pandemic in both countries. India supplied France with nearly 2 million hydroxychloroquine tablets and 36 MT of paracetamol (API) after having lifted export restrictions on these lifesaving drugs.

Both India and France have important bilateral investments and trade and commercial cooperation, particularly in sectors involving IT corridors, smart-cities, railways, capital and trade exchanges ,skill development etc.

France is the 11th largest foreign investor in India with a cumulative FDI stock of USD 9.83 billion from April 2000 to March 2021, which represents 2 % of the total FDI inflows into India.

There are more than 150 Indian companies operating in France (including sub-subsidiaries), employing more than 7,000 persons.

A Joint Economic Committee (JEC/JCM) exists at the level of Ministers of Commerce and Foreign Trade from both sides.

Joint Working Groups exist in various fields such as (i) IT & Telecommunications; (ii) Roads; (iii) Sustainable Urban Development; (iv) Agriculture and Food Processing; (v) Mineral Exploration and Development; (vi) Energy; (viii) Environment and (ix) Post.

An India-France CEOs' Forum exists at the level of top CEOs from both sides meeting annually and presenting their reports to the Prime Minister of India and President of France.

French side has been actively cooperating with various programmes in especially three Smart Cities, viz. Chandigarh, Nagpur and Puducherry.

The Bilateral Investment and Protection Agreement between India and France expired in 2010, ten years after coming into force. GoI intends to replace it with a revised Bilateral Investment Treaty. A model text of the agreement was proposed by the Indian side in 2015.

AFD, the French Agency for Development has, since 2008, committed close to 2 billion Euros

in the form of loans to the State and State-owned companies, as well as technical assistance programs.

Cooperation in defence is the cornerstone of the India France strategic partnership. The two countries have a Ministerial level Defence dialogue, which has been held annually since 2018. The three services also have regular defence exercises; viz. Exercise Shakti (Army), Exercise Varuna (Navy), Exercise Garuda (Air Force).

The Inter-governmental agreement for purchase of 36 Rafale fighter aircrafts (30 fighter aircrafts and 6 trainers) by India in flyaway condition was signed in New Delhi on 23 September 2016.

The contract for six Scorpene submarines from DCNS (Naval Group) was signed in October 2006.

India and France have a rich history of cooperation in the field of space, since the 1960s with the construction of Sriharikota launch-pad with French technical assistance. Building on the historical linkages in the arena of civilian space, both India and France issued a "Joint Vision for Space Cooperation" during the visit of President Macron to India in March 2018.

An agreement on civil nuclear cooperation was signed between India and France on 30 September 2008

France is a founding member of the International Solar Alliance (ISA), announced by PM Modi in 2015 at UN Climate Change CoP21.

India and France also work together on climate and biodiversity. In this context, India joined the French-led initiative called the High Ambition Coalition for Nature and People in 2021.

Several other bilateral cooperation programmes exist including an Indo-French Ministerial-level Joint Committee on Science and Technology, established in 2016,

During EAM's visit to France in February 2022, the two sides adopted the India France Roadmap on Blue Economy and Ocean Governance. The roadmap rests on four pillars:
Institutional Pillar

Economic Pillar

Infrastructure Pillar

Scientific and Academic Pillar
The two countries have several convergences in their respective positions on digital sovereignty, privacy and data protection. The Indo French Roadmap on Cybersecurity and Digital Technology was signed between the two countries during PM Modi's visit to France in 2019.

Indian culture enjoys wide following amongst the people of France. An Indian Cultural Centre, named Vivekananda Cultural Centre, is being opened in Paris.

The Indian diaspora in France is estimated to be around 5,00,000, majority being French citizens based in the French overseas territories.

Bilateral consular relations are guided by the following four agreements:

India-France Extradition Treaty (August 2005)

India-France Mutual Legal Assistance Treaty (MLAT) in Criminal Matters (10 October 2005)

India-France Agreement on the Transfer of Sentenced Persons (January 2008)

India-France agreement on exemption of visa requirements for diplomats (October 2013)
https://www.pib.gov.in/PressReleasePage.aspx?PRID=1859271