India-OPEC Energy Dialogue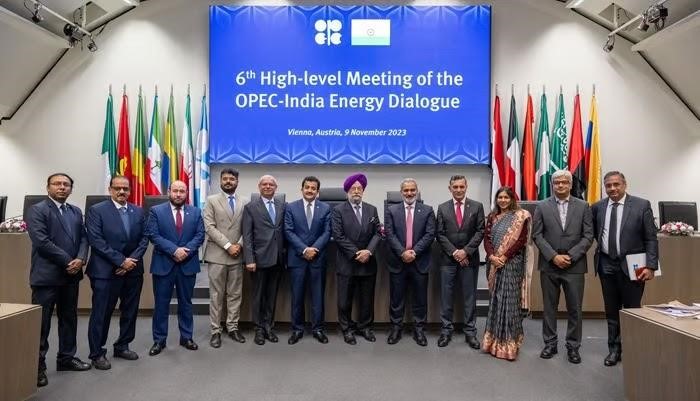 Disclaimer: Copyright infringement not intended.
Context
The 6th High-Level Meeting of the India-OPEC Energy Dialogue took place on 9 November 2023, at the OPEC Secretariat in Vienna, Austria.
READ ALL ABOUT OPEC:
https://www.iasgyan.in/daily-current-affairs/opec-31
https://www.iasgyan.in/daily-current-affairs/opec-9
Meeting Discussions
The open and candid discussions at the Meeting focused on key issues related to oil and energy markets with a specific emphasis on ensuring availability, affordability and sustainability, which are necessary in ensuring the stability of energy markets.
The two sides discussed the short, medium and long-term outlooks for the industry and recognized the important role of India in global economic growth and energy demand.
The sides noted the World Oil Outlook 2023, which forecasted that India would be the fastest-growing major developing economy, averaging long-term growth of 6.1% between 2022-2045 and to account for over 28% of incremental global energy demand during the same period.
The sides also noted the need for continued cooperation and dialogue in the interest of both producers and consumers while also exploring further areas for future cooperation.
PRACTICE QUESTION
Q. What is OPEC and how does OPEC influence global oil prices? What are OPEC's geopolitical challenges?