INDIA-RUSSIA TRADE RELATIONS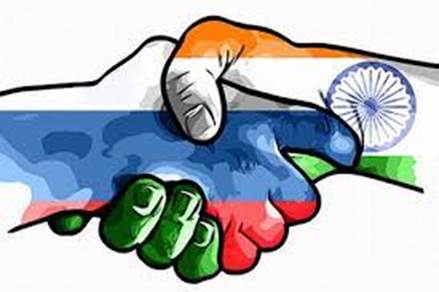 Copyright infringement is not intended
Context: As Russia's access to its traditional markets of exports and imports are hugely limited following its Ukraine invasion and the subsequent sanctions, Moscow is looking to develop new trade and investment relations with partners in Asia, including India, China and Southeast Asian countries, said Russian aluminium tycoon Oleg Deripaska.
More on the news:
Speaking on the sidelines of 25th St. Petersburg International Economic Forum (SPIEF), also known as the 'Russian Davos', Mr. Deripaska, founder of RUSAL, one of the world's largest aluminium producers, said there's an understanding that "the new normal" would fundamentally change Russia's economic reality in the coming years.

To facilitate such a shift, he said, Russia needed to create the same kind of infrastructure as it had built over the 12 years, from 1991 to 2003, with Europe.

This includes setting up new logistics routes and related infrastructure, customs procedures, trade agreements, infrastructure for settlements, gaining access to capital markets and creating an ecosystem for various modes of trade financing.

There is a need to build transport corridors through the Bosphorus via Turkey to North Africa and the Middle East; through the Caspian Sea via Iran to India; and from the [Russian] Far East to Southeast Asia.

The funding should come from both the government and the corporate sector, as well as the countries that would benefit from those new routes, including India, as this would reduce the price of key commodities, including oil and gas, in the long term.

It is important for both Russia and India to have direct trade agreements and bilateral investment treaties.

Solving the payment issues by creating a full-fledged settlement ecosystem that is supported by currency swaps as well as new-age mechanisms like digital currency and cryptocurrency is another critical factor to enable Russia's 'Turn to the East'.

Moscow and New Delhi have been attempting to finalise negotiations of the Bilateral Investment Treaty for several years now

, while talks on a trade agreement between India and the Eurasian Economic Union, comprising Russia, Armenia, Belarus, Kazakhstan and Kyrgyzstan, have been under way since 2017.

The bilateral trade between India and Russia stood at around $13 billion by the end of 2021, and the countries have set a target of $30 billion by 2025.

India as a dynamically growing economy would require raw materials and energy resources, machinery, components, and technologies that Russia could supply.

India has increased its imports of Russian hydrocarbons many-fold over the past few months.
Overview of India-Russia Economic Cooperation:
Enhancing trade and economic cooperation between India and Russia is a key priority for the political leadership of both the countries.

It is clear by the revised targets of increasing bilateral investment to US $ 50 billion and bilateral trade to US $ 30 billion by 2025.

India-Russia trade and connectivity lag behind those between China and Russia.

Bilateral trade during April 2020-March 2021 amounted USD 8.1 billion. Indian exports amounted USD 2.6 billion while imports from Russia amounted USD 5.48 billion.

A number of institutionalized mechanisms have been set up for the development of economic cooperation between the two countries.

India Russia Intergovernmental Commission for Trade, Economic, Scientific & Cultural Cooperation (IRIGC-TEC)

.

India-Russia Strategic Economic Dialogue (IRSED)

has been established for cooperation in the field of development of economic policy and to encourage regular interactions and cooperation between the two countries.

India is contemplating an FTA/ CECA with the Eurasian Economic Union. India is keen to engage more closely with Russia and the CIS countries to further intensify our trade and economic cooperation with this region.

Bilateral trade in services

: Bilateral trade in services has remained stable during the last 5 years with trade balance in Russia's favor. While in 2017, trade in services was USD 1095.4 million, it reduced slightly in 2018 to USD 999 million. The figure stands at USD 973.645 million for the year 2020.

Investment:

Russian investment in India in 2017 has reached 18bn USD and India's total investment in Russia so far is 13 bn USD. The overall investment target of 30 bn USD that was set for 2025 has been already crossed. Investment cooperation has been envisaged in some priority sectors such as hydrocarbons, power, coal, nuclear power, fertilizers, IT, mineral and metallurgy, steel, pharmaceuticals, infrastructure projects amongst others.
Institutional Framework for Bilateral Economic Cooperation
Government-to-Government:
IRIGC-TEC is the apex G2G forum for bilateral economic cooperation. It is chaired by the External Affairs Minister from the Indian side and Deputy Prime Minister of the Russian Federation.

India-Russia Strategic Economic Dialogue (IRSED)

is another G2G mechanism co-chaired by Vice Chairman, NITI Aayog on Indian side and Minister of Economic Development of the Russian Federation. There are six coordination committees under the IRSED in six areas– Transport, Agriculture, Digital transformation, SMEs, Trade and Banking and Tourism.
Business-to-Business
Conscious efforts are being made by both India and Russia to promote establishment of new contacts and wider cooperation between commercial and industrial circles and business associations of the two countries.

India and Russia have agreed to have enhanced Indian participation in the prestigious Petersburg International Economic Forum (SPIEF).

Eastern Economic Forum

is another important platform for engagement between businesses of both sides.

A business delegation of over 20 women entrepreneurs from FICCI visited Moscow and St Petersburg during September 20-24 to explore opportunities for Indian business in Russia, particularly for women entrepreneurs.
Regional Engagements
Collaboration between States of India and Regions of Russia in the trade and economic sphere is an important pillar of overall bilateral relations.

There exist many sister-city/state arrangements between the two countries which include economic cooperation.

For the Far East, in continuation of the Act-Far East focus, NITI Aayog and Ministry for Development of Russian Far East and Arctic of the Russian Federation are in the process of finalizing the five-year programme 2021-2025 of cooperation in the region.
Banking Links
Development of banking links between India and Russia has witnessed some concrete progress. Several Russian banks have opened their Representative Offices/Branches in India.

Commercial Bank of India LLC (JV of two major Indian banks: SBI & Canara Bank) is providing banking services in Russia.
https://epaper.thehindu.com/Home/ShareArticle?OrgId=GKA9V1DJL.1&imageview=0