INDIA SINGAPORE RELATIONS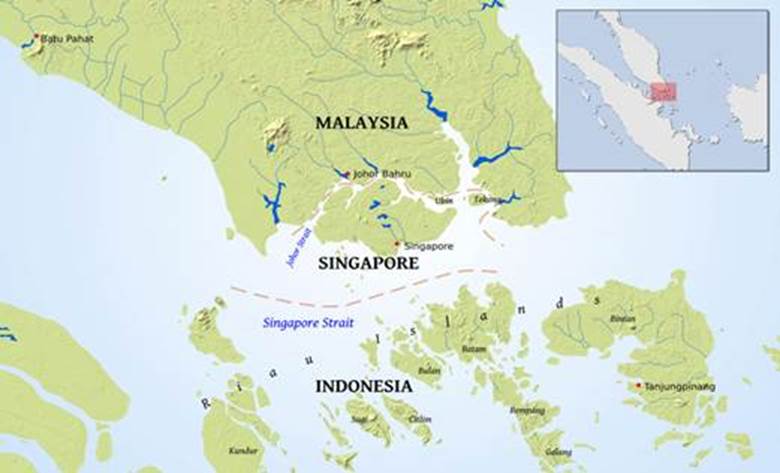 Copyright infringement not intended
Context:
A Joint India-Singapore Ministerial delegation, comprising Deputy Prime Minister and Finance Minister of Singapore Mr. Lawrence Wong, Minister for Trade and Industry of Singapore, Mr. Gan Kim Yong and Smt Nirmala Sitharaman, Finance Minister of India, called on the Prime Minister.

The Ministers briefed the Prime Minister about the outcomes of the inaugural session of the India-Singapore Ministerial Roundtable (ISMR), held in New Delhi.
Background:
The close ties between India and Singapore have a history rooted in strong commercial, cultural and people-to-people links across a millennium. The more modern relationship is attributed to Sir Stamford Raffles who, in 1819, established a trading station in Singapore on the route of the Straits of Malacca which later became a crown colony and governed from Kolkata till 1867.

The colonial connection is reflected in institutions and practices, usage of English and presence of a large Indian community.

India was one of the first countries to recognize Singapore in 1965.

Following the conclusion of Comprehensive Economic Cooperation Agreement (CECA) of 2005, this robust relationship was elevated to a Strategic Partnership in 2015 during the visit of PM Modi and on the occasion of the 50th anniversary of the establishment of diplomatic relations.

India and Singapore added new momentum and direction in their Strategic Partnership in 2018, anchored in the Official visit of PM Modi to Singapore. Prime Minister of Singapore Mr. Lee Hsien Loong also visited India in 2018 to participate in the Republic Day Celebrations in New Delhi and co-chair the 2018 ASEAN India Commemorative Summit (AICS).
Framework of the Bilateral Relationship
There are more than 20 regular bilateral mechanisms, dialogues and exercises.

There is great convergence on a broad range of international issues and both are members of a number of forums, including East Asia Summit, G20, Commonwealth, IORA (Indian Ocean Rim Association) and IONS (Indian Ocean Naval Symposium).

Key agreements include the Comprehensive Economic Cooperation Agreement (2005) and its Second Review (2018), Double Taxation Avoidance Agreement (1994, Protocols signed in 2011), Bilateral Air Services Agreement (1968, revised in 2013), Defence Cooperation Agreement (2003, enhanced Agreement signed in 2015), MOU on Foreign Office Consultations (1994), Mutual Legal Assistance Treaty (2005), Mutual Recognition Agreement on Nursing (2018) and cooperation in Fintech (2018), Agreement for Conduct of Joint Army Training and Exercises (renewed in 2019).

There is a Joint Ministerial Committee (JMC), chaired by EAM and Foreign Minister of Singapore and Foreign Office Consultations (FoC) at the Secretary level.
Defence and Security Cooperation
In the area of defence, India and Singapore have a longstanding and comprehensive partnership, which includes, Annual Ministerial and Secretary level dialogues; Staff level talks between three wings of Armed forces; training of Singapore Army and Air force in India (10th edition in 2019) every year; annual exercises including India's longest uninterrupted naval exercise with any other country (26th edition in 2019); ship visits from Navy and Coast Guard.

Singapore's participates in IONS and multilateral Exercise MILAN hosted by Indian Navy.

Singapore's membership of IORA and India's membership of ADDM+ (ASEAN Defence Ministers' Meeting - Plus) provides platform for both countries to coordinate positions on regional issues of mutual concern.

New developments include the inaugural Trilateral Maritime Exercise between India, Singapore and Thailand (SITMEX)
Science & Technology Cooperation
ISRO launched Singapore's first indigenously built micro-satellite in 2011; 2 more in 2014 and 6 in 2015.
Trade, Economic and Development Cooperation
Five areas of cooperation were agreed in 2014 at the beginning of the first term of PM Modi led Government - (i) Scale up Trade & Investment; (ii) Speed up Connectivity; (iii) Smart Cities & Urban Rejuvenation; (iv) Skill development; and (v) State focus.

In 2018, FinTech & Innovation was recognized as the new driver of bilateral relationship.

Scale up Trade & Investment:

Singapore is India's largest trade partner in ASEAN. It is the leading source of Foreign Direct Investment, among the largest sources of External Commercial Borrowings and Foreign Portfolio Investment. Bilateral trade expanded after the conclusion of CECA from USD 6.7 billion in FY 2004-05 to USD 27.85 billion in 2018-19. Our imports from Singapore in FY 18-19 were USD 16.28 billion and exports from India USD 11.57 billion. More than 80 % of listed offshore bonds by Indian issuers are listed on Singapore Stock Exchange (SGX).

Speed up connectivity:

The Air Services Agreement was revised in 2005 and MoU on bilateral air services arrangements was signed in 2013. In 2018, about 1.27 million Indian tourists visited Singapore, making India the third largest source in tourism for Singapore.

Smart cities:

While the contract to develop a part of the Amaravati Capital City Project by Singapore consortium stands cancelled, Singaporean companies continue to participate in a number of smart city, urban planning, logistics and infrastructure projects. Singapore is working with Rajasthan, Himachal Pradesh and Maharashtra in preparing Master Plans for townships.

Skill development:

Singapore is working with the Central and state Governments as well as Government organisations to establish skill development centres in various sectors.

State focus:

State governments are working with Singapore in the Smart Cities & Urban Rejuvenation as well as Skills Development initiatives. Singapore has established a Joint Committees with Maharashtra. There are regular visits of state delegations at various levels to Singapore. Ministers from Singapore also visit states.
FinTech & Innovation:
Cooperation in the areas of technology, innovation, fintech and startups have grown.

A Pilot demo of BHIM UPI QR based payments was launched in Singapore on 13 November during the 2019 Fintech Festival.

Commercial and technical arrangements have also been worked out for the acceptance of RuPay domestic card in Singapore, in addition to the RuPay International Card, launched in June 2018.
Cultural Cooperation:
Cultural exchanges include performing arts, theatre, museum exchanges, art, languages, and youth exchanges. Inter-governmental cooperation in culture is governed by a 1993 MoU and Executive Programmes for specified periods.
Indian Community:
Ethnic Indians constitute about 9.1 % or around 3.5 lakhs of the resident population of 3.9 million in Singapore.

In addition, among the 1.6 million foreigners residing in Singapore, about 21 % or around 3.5 lakhs are Indian expatriates holding Indian passports.
Singapore:
Singapore

is officially known as the Republic of Singapore.

It is a sovereign island country in Southeast Asia.

It lies about one degree of latitude north of the equator.

Borders:

The Malay Peninsula in the North.

Strait of Malacca in the West.

Singapore Strait in the South.

The South China Sea in the East.

The Straits of Johor in the North.

It has the 3rd highest population density in the world.

Singapore is the only country in Asia with an AAA sovereign credit rating from all major rating agencies.

It is major a

viation

, financial and maritime shipping hub.

It has been consistently been ranked as one of the most expensive cities to live in.

It ranks high in key social indicators:education, healthcare, quality of life, personal safety, infrastructure and housing.