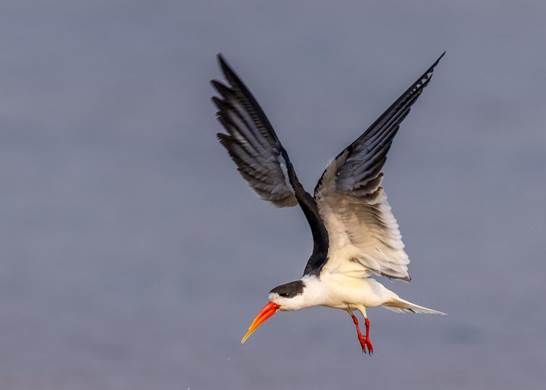 Copyright infringement not intended
Context: Indian skimmer is seen in huge flocks during winter in Coringa wildlife sanctuary (Kakinada).
Details:
A thick, orange-yellow bill with a slightly longer lower mandible (jaw) is one of the most striking features of the Indian skimmer (Rynchops albicollis).

The Indian skimmer grows to a length of 40-43 cm.

More widespread in winter, the Indian skimmer is found in the coastal estuaries of western and eastern India.

It occurs primarily on larger, sandy, lowland rivers, around lakes and adjacent marshes and, in the non-breeding season, in estuaries and coasts.

About 20% of the total population of fewer than 2,500 birds nest along river Chambal.

Its population is declining primarily because of the degradation of wetland and riverine habitats.

IUCN: Endangered

In 2020, Bombay Natural History Society (BNHS) have initiated a 'Guardians of the Skimmer' programme, which is a community-based conservation initiative.

BNHS in collaboration with Bird Count India have also initiated 'Indian Skimmer Count'-a citizen science initiative.
https://www.thehindu.com/sci-tech/energy-and-environment/the-strange-case-of-the-indian-skimmer/article66128392.ece