INDIA'S AVIATION INDUSTRY
Disclaimer: Copyright infringement not intended.
Context
GoFirst Airlines has filed for bankruptcy, which could have ripples across the domestic aviation sector.
The unprecedented distress call by the airline raises concerns about the health of the Indian aviation industry already reeling from pandemic losses.
Introduction to the Aviation Industry:
India is the world's fastest-growing aviation market, with passenger numbers near quadrupling in over a decade.
The country's aviation capabilities have expanded massively over the past few decades, with a period of rapid growth in aircraft sales, both domestically and internationally. The country saw many airports coming up between 1990 to 2022, and more are there in the pipeline.
In addition to India's domestic demand, the market is also driven by rising Indian consumption of international air travel.
With increased air connectivity across multiple countries, the demand for international air travel is also growing faster than domestic air travel.
Trends in the Aviation Industry
Asia's largest aviation industry
India has Asia's largest aviation industry. In recent decades, civil aviation has risen quickly. Growth reasons are not limited to:

Aviation infrastructure development
Deregulation of rates and liberalization of air services
Code-share agreements
Aggressive pricing
Low-cost airlines (LCCs)

The domestic sector has thrived due to rising per capita income and increasing penetration of air traveling facilities to ordinary people, and rapid expansion of destinations, airports, and operational airports.
Air Traffic
India is the world's third-largest air passenger market, after China and the United States.
In FY 22, India's passenger traffic stood at nearly 189 million, out of which domestic passenger traffic accounted for over 166 million, a 58% YOY rise from 105 million in FY 21.
On the other hand, international passenger traffic saw a 118% YoY rise to 22 million from 10 million in FY 21.
The Indian aviation sector is expected to touch 400 million passengers annually in 7-10 years.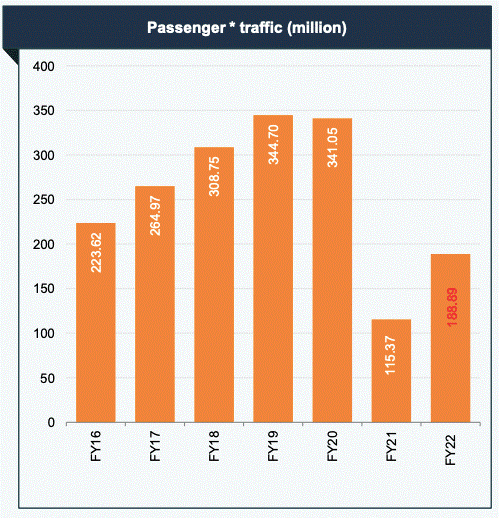 Airplane Fleet
Despite the pandemic, domestic airlines have continued to add new aircraft to their fleets.
The civil aviation ministry conjectures that the overall fleet size will almost double to 1,200 in 5 years from the current size of over 700 planes.
Number of Airports
To be able to cater to the increasing air traffic, the government has been taking measures to increase the number of its operational airports.
The government has envisaged increasing the number of operational airports to 220 by 2030, from the current size of 129.
Airport Infrastructure
The Indian civil aviation sector has been witnessing the increasing use of airports on domestic and international routes, fewer delays due to bad weather conditions, and better planning of ramp-up flights at airports during peak hours.
The International Civil Aviation Organization forecasts demand for 730 new airports by 2030, catering to the expected 6.5 billion airline passenger growth.
Freight Traffic
India is the sixth-largest air freight market globally with over 3.33 million metric tons of loading as of 2021.
The share of India in the global air freight market has increased from around 2% in 2000 to more than 7% as of 2021, with growth rates in the range of 3–7% per annum during recent years.
India has developed as a pioneer in cargo logistics by building substantial port infrastructure, a well-performing national government (financing) program, and working closely with private sector industry groups.
In a nutshell,
The Indian aircraft industry is growing at 8-10% per annum.
In terms of value, aviation projects under construction planned a natural growth will account for around 6.5 billion dollars by 2030.
The growth was led by Indian carriers like SpiceJet, Air Asia, and Jet Airways, which have expanded their routes to destinations in India. It also includes the national capital, New Delhi and New York, and other Asian cities like Singapore, Bangkok Suvarnabhumi, etc.
The CAPA-Centre for Aviation projects India to handle over 1.3 billion passengers annually in the next 20 years. There are currently 148 airports in the country and it is the third-largest domestic market in the world in terms of seat capacity. As of March 2023, IndiGo remained the domestic market leader with 56.8% of the market share, followed by Vistara (8.9%) and Air India (8.8%).
Challenges Facing the Aviation Industry
Despite being touted as the 'fastest growing aviation sector' in the world, airlines in the country have struggled to survive in the highly competitive and unforgiving aviation industry.
Aviation Turbine Fuel (ATF) Prices
ATF accounts for almost 45% of the operational cost of an Indian airline.
ATF prices rose over 50% in 2022. As per Boeing, fuel costs for Indian airlines are 90% higher compared to their global peers. Additionally, ATF fuel is subjected to VAT which can range from anywhere between 15-30%, depending on the states' taxation rules. The civil aviation ministry plans to bring down this tax to 1-4%.
Additionally, the ATF pricing is not transparent enough. Currently, it is fixed based on the International Import Parity Prices, which does not capture the true cost of producing ATF.
Other Operating Expenses
Almost 35-50% of Indian airlines' operating expenses are dominated by US dollars. This means depreciation in the rupee adversely impacts an airline's bottom-line growth.
Indian airlines, furthermore, face issues in passing on these costs to the passengers as they are highly price-sensitive, therefore earning low yields on air tickets.
Another large component of an airline's expense is the salaries that are paid to pilots.
Elevated Debt Levels and Losses
Due to a temporary halt in all airline operations at the peak of the pandemic and the subsequent rise in ATF pricing, the finances of Indian airline companies have been in disarray.
Losses to the tune of Rs. 23,000 crores were recorded in 2021. Investment Information and Credit Rating Agency (ICRA) projects these losses to be in the range of Rs 15,000-17,000 crore this fiscal, despite the opening up of the economy.
IndiGo and SpiceJet posted losses of Rs 1,064 crores and Rs 789 crores, respectively, in Q1FY23.
Besides, the aviation industry is reeling from mounting debt levels. These are expected to reach around Rs 1 lakh crore in FY 2023. The matters have been made worse as airlines continue to be saddled with immense losses, which makes getting loans a pricier exercise.
Stiff Competition
There are over 15 airlines operational in India, with a heady mix of low-cost, charter, and cargo airlines.
Indeed, the airfares have been slashed for the routes where these airlines have launched their flights.
Financial Trouble
While travel restrictions during the pandemic badly hit the coffers of all carriers, their financials were in the red earlier as well.
While India's airlines cumulatively suffered huge losses (₹15,000 crore) in the financial year 2020-2021 owing to the pandemic, losses are not a post-Covid phenomenon.
In 2019-20, IndiGo was the only airline to make a profit, while all other players posted losses led by then state-run Air India at ₹4,600 crore.
Financial trouble has led to the folding of major airlines in the past few decades — seventeen airlines, domestic and regional, have exited the market.
Indian aviation policy
Some Indian States impose provincial taxes of as much as 30% on jet fuel.
Indian aviation policy has also posed barriers to entry and growth while also not affecting players uniformly.
From 2004 to 2016, new airlines in the country had to be in operation for at least five years and have a fleet of at least 20 aircraft to be able to fly internationally, which stabilizes the operations and viability of carriers.
This changed with the National Civil Aviation Policy (NCAP) in 2016, which removed the five-year domestic experience rule but kept in place the 20 aircraft fleet requirement — mandating domestic airlines to have at least 20 aircraft (or 20% of its entire fleet size whichever is higher) for domestic operations.
While newer entrants to the industry, like Vistara and AirAsia India lobbied the government to remove the 5/20 rule, legacy carriers who had to meet the earlier requirements to go international opposed the change as being bad for competition.
Expensive Lease Rents
Most Indian airlines do not own entire fleets as their financials do not allow them to shell out huge one-time payments to buy planes but lease them from companies based out of India instead. About 80% of India's total commercial fleet is leased, according to PwC.
However, leasing ends up adding high costs to operations as these leases of about six months each are denominated in U.S. dollars.
Airlines have to pay annual lease rents of about ₹10,000 crore to lessors, making up nearly 15% of the revenues of Indian Airlines.
The costs of these leases go up further when the Indian rupee depreciates during short and long-term global financial developments, for instance, an oil price shock, which simultaneously increases the cost of ATF, compounding the carrier's expenses.
Till the government's plan to get leasing companies to set up shop in India and make it a leasing hub takes off fully, the expensive lease rents for airlines and repayment feuds with lessors are here to stay.
Airport Fees
Airlines also have to bear costs in terms of airport fees for the use of airport facilities including aircraft landing, freight, and other charges related to the use of airport infrastructure such as runways and passenger terminals.
Internationally, airlines pass on the bulk of these charges to passengers, however, carriers in India must remain competitive have to offer lower ticket fares to increase reach.
For State-run airports, these charges are regulated by the Airports Economic Regulatory Authority (AERA) but the recent privatisation of airport operations, has raised concerns about further fee hikes.
There are also high costs associated with the training of airline crew.
Others
Other factors that could impact the companies in the airlines industry include regulatory changes, RBI approvals (for foreign investments), rupee appreciation/depreciation against US dollars, delay in setting up of airport infrastructure facilities and aircraft bans and other related issues (like the case Boeing 727).
Silver Lining: Key Drivers
Some of the key factors which will drive the growth of the aviation sector are mentioned below:
Higher Household Income
As the GDP of India grew 8.7% in FY 2022 after a contraction of 6.6% during the previous fiscal year, there has been more business travel by professionals and greater leisure travel by individuals due to increasing income groups which drive the consumption pattern in India and primarily based out of urban areas, contributing more to the aviation industry.
Entry of Low-cost Carriers (LCC)
This is the model which has made air travel affordable for the common man and has been operating in the domestic market since 2004. The market suggests that this model is driving domestic traffic and thus, has shown strong operational performance over the years.
Increased FDI Inflows
The inflow of FDI contributes to the better development of the infrastructure of the aviation industry.

Up to 100% FDI in civil aviation in India is permitted in Non-scheduled air transport services under the automatic route
Up to 100% FDI is permitted in helicopter services and seaplanes under the automatic route
Up to 100% FDI is permitted in MRO for maintenance and repair organizations; flying training institutes; and technical training institutes under the automatic route
Up to 100% FDI in the aviation sector is permitted in Ground Handling Services subject to sectoral regulations & security clearance under the automatic route
Increased Tourist Inflows
With the increase in the tourism industry, air travel growth has also increased over the years. For Foreign Tourist Arrivals (FTA), air travel is the most chosen mode of transportation.
In 2021, out of 1.52 million FTAs in India, 87.5% of individuals entered via air routes, 11.8% via land routes, and 0.7% via sea routes.
Around 53.6% of FTAs arrived in India through the Delhi and Mumbai airports. In 2021, tourism's foreign exchange earnings (FEE) were US$ 8.7 billion compared to US$ 6.958 billion in 2020, registering a growth of 26.4%.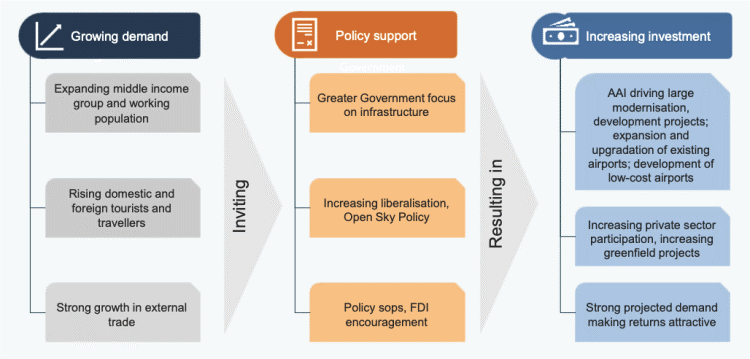 Development of Modern Airports with New Technologies
Modern airports come up with developed infrastructure in terms of speed, capacity, sustainability goals, etc, and hence contribute more to the aviation industry. One of the examples is the newly opened greenfield international airport at Mopa in the state of Goa.
It has been developed with an investment of US$ 348 million, the first phase of Mopa International Airport will handle around 4.4 million passengers per annum which can be extended to a saturation capacity of 33 million passengers per annum.
This airport has been developed with several sustainable infrastructure plans, including a solar power plant, green buildings, LED lights on the runway, rainwater harvesting, and a modern sewage treatment plant with recycling facilities.
Supporting Government Policies
Government interventions play a major role in the development of the aviation industry in India.
One of the schemes launched by the government in support of the growth of aviation was the UDAN (Ude Desh Ka Aam Nagrik) scheme which was released in June 2016 with the motive of offering half of the flights at subsidized fares and is expected to be in process for a period of 10 years (till 2026).
The Indian Government is proactively supporting the aviation sector by providing a stable policy environment and incentivising competition-led growth.
Northeast India
Over 30 airport development projects are under progress across various regions in Northeast India. AAI plans to develop over 20 airports in Tier-II and Tier-III cities in the next 5 years. AAI plans to develop Guwahati as an inter-regional hub and Agartala, Imphal and Dibrugarh as intra-regional hubs.
Airport Infrastructure
The Indian Government is planning to invest US$ 1.83 billion for the development of airport infrastructure along with aviation navigation services by 2026.
With the opening of the airport sector to private participation, six airports across major cities are being developed under PPP. Currently, 60% of airport traffic is handled under PPP, while the remaining 40% is managed by AAI. Increased traffic rights under bilateral agreements with foreign countries. India signed its 1st open skies agreement with Greece.
National Civil Aviation Policy, 2016
The policy covers 22 areas of the civil aviation sector. Regional Connectivity Scheme (RCS) has been launched under the policy. Airlines can commence international operations and will have to deploy 20 aircraft or 20% of their total capacity (whichever is higher) for domestic operations.
Encouragement to FDI
The Government has allowed 100% FDI under automatic routes for greenfield projects, whereas 74% FDI is allowed under automatic routes for brownfield projects. 100% FDI is allowed under automatic routes in scheduled air transport service, regional air transport service and domestic scheduled passenger airlines. FDI over 49% would require Government approval. Approval of 49% FDI in aviation for foreign carriers. FDI inflows in India's air transport sector (including air freight) reached US$ 3.54 billion between April 2000-March 2022.
'Revival of unserved and under-served airports' scheme
The Government has approved the 'Revival of unserved and under-served airports' scheme for the revival and development of 100 unserved and under-served airports, helipads, and water aerodromes by 2024.
KrishiUdan 2.0
KrishiUdan 2.0 is a scheme that focuses on transporting perishable food products from hilly areas, north-eastern states, tribal areas, and other areas. 58 airports have been identified under this scheme to incentivize movement of air cargo.
The Airports Authority of India (AAI) and other airport developers have taken up the development of new and existing airports with a projected capital expenditure of approximately INR 98,000 crore in the next five years.
Regional Connectivity Scheme (UDAN).
The Union Budget 2023-24 allocated an amount of INR 1,244.07 crore for Regional Connectivity Scheme (UDAN).
Recommendations that can Revitalize the Aviation Sector
Tightening the PPP (Public Private Partnership) procurement and concession framework
India has shown that PPPs in airports can work. We have successfully procured private sector talent and expertise in developing, operating and managing Greenfield and Brownfield airport assets under long-term concession contracts.
Our hub airports rank among the best in the world today despite historical concerns on gold-plating, persistent refrain on airport tariffs and over-bearing regulation.
The learning curve has been long but sharp and useful for all stakeholders.
With more private airport concessions on the anvil, there are three things that the government should look at prioritising as part of its reform agenda to enhance competition, attract more foreign investments and deliver better commercial and economic outcomes.
(i) Implement the recommendations of the Kelkar Committee report on revitalizing PPPs (2015), of which two key elements stand out
(a) defining triggers and commercial principles for renegotiation of contracts – a necessity in long-tenure concessions with volatile and uncertain market variables
(b) disallowing public-sector entities from participating in PPP projects – a good and effective approach to not vitiate the fundamental rationale of private sector procurement
(ii) Providing tariff certainty – an essential tenet in any private sector contract to give comfort to both investors and users.
(iii) Ensure tight procurement timelines – process from tender invitation to award of contracts not exceeding 9 months.
In addition, making airport connectivity or other mobility solutions an integral part of the concession and project agreements.
They also need to be co-terminus with airport commencement timelines, with clearly defined obligations and penalty provisions for delays or defaults by contracting parties – the economic costs of non-compliance can be significantly minimized or avoided if properly structured.
Redefining our regulatory philosophy
The airport economic regulatory philosophy has undergone material changes in form and substance to keep pace with costs of asset development, market risks and return expectations of investors.
A tightly controlled regulatory framework for airports sometimes does not necessarily result in the best investment and commercial outcomes.
It has increased the cost of regulation significantly and has adversely impacted interest from overseas investors.
It is apparent that a one-size-fits-all approach is neither efficient nor practical given the distinct nature of assets, markets they serve and relative competitive advantages.
With increasing digitisation and imminent digital transformation of the business, governance and independent oversight can naturally be made tighter without the trappings of an intrusive and prescriptive regulatory approach.
With tariff setting and commercial renegotiation mechanisms internalised in PPP contracts, regulators can focus more on monitoring and enforcing the efficient preferred outcomes on service quality, including security, safety and sustainability KPIs that are essential elements of the airport and aviation businesses.
Making Air Cargo Infrastructure a national priority
Air cargo has become a focal point of business in current times, connecting vital supply chains across the globe and keeping livelihoods alive, an unexpected positive spin-off from the pandemic.
With belly capacity likely to be severely constrained on many international routes in the foreseeable future, the scope for extracting value from cargo handling and increased freighter movements is real and sustainable.
There is a need to revisit the National Air Cargo Policy to address many of these newer developments with a redefined set of objectives to achieve our vision of creating a vibrant air cargo market and millions of new jobs in the next decade.
The burgeoning growth of e-commerce, the expanding portfolio of products within its ambit and the reorganization of supply chains in the emerging new global order, makes India a haven for local production besides being attractive as a huge consumption market.
A key focus of the policy should be on making our hub airports production, processing and transshipment centres, which is eminently possible with a renewed approach to Make In India, Atmanirbharta and acuity in monetizing scarce real estate assets.
Rationalizing taxes across the board
The cumulative impact of direct and indirect taxes in aviation is one of the highest in the world. Steps that need to be taken:
Rationalising GST on Aviation Turbine Fuel (ATF)
Relief for MRO (Maintenance, Repair, Overhaul)
A full waiver of royalty payments for the next five years – a prescription made in the National Civil Aviation Policy -NCAP 2016, but not enforced
Rationalization of lease rentals charged by airport operators, delinked from standard commercial rates, with its treatment as a priority sector by the government
A tax incentive for Indian and foreign carriers to procure services in India, which would require a differential tax rate for Indian and overseas service providers – consistent with the tax code in other countries which support the local industry
Option for renewal of leases for existing tenants to protect historical investments and benefit from the new discounted charges and tax levies.
Harmonization of manuals to reconcile applicable tax rates for common-use equipment, components and parts for both civil and military clients.
Roll out GAGAN with firm timelines
In 2012, India joined a small league of nations when it successfully configured, tested and commissioned the GPS Aided GEO Augmented Navigation (GAGAN) program, a satellite-based augmentation system (SBAS) developed to support India's ambition of maximizing air space utilization.
GAGAN was intended to make flying cheaper, faster and safer besides being an efficient alternative to ground-based navigation aids. It is interoperable with other satellite–based systems such as WAAS (US), EGNOS (Europe) and MSAS (Japan) giving it the ability to provide seamless services across global airspaces.
The advantages of GAGAN are many. For example, it would obviate the need to have instrument landing systems (ILS) at smaller airports with limited air-traffic movement, avoid flight diversions, save fuel for airlines and bring down air navigation charges by allowing ground infrastructure and manpower to be optimized.
Given the right set of wheels, it will help the industry come back stronger and more competitive in the post COVID world.
Unlocking value from Open Skies and Liberalized ASAs
India has open skies agreements with few countries including SAARC nations and more than hundred bilateral Air Service Agreements with other countries. Open skies have proven to be beneficial for the global aviation business, offering customers choices and competitive fares which help stimulate more demand, creating a virtuous cycle.
NCAP (2016) indicated the government's intent to expand open skies agreements with more nations by 2021.
The current trend on airlines preferences for more direct connections to UK, US, Europe from Indian airports is very encouraging and reflects changing passenger sentiment. But we cannot be short-sighted by just the long-haul business. We need a strategic approach to widen the market to include other growing air traffic corridors (within 5000 km) and profit from it.
Revamping the UDAN scheme
This can be done through a multi-pronged approach which goes beyond subsidies or Viability Gap Funding–
1) providing adequate long-term low-cost capital to support new ventures;
2) creating a strong local leasing market;
3) incentivizing use of the NSOP (non-scheduled operators) fleet through code shares; and
4) opening up the industry for air transport aggregators that can significantly multiply the number and frequency of users, much like the ride-hailing market in the urban transport ecosystem, which has transformed intra city travel globally.
Focusing on digital transformation
Technology-led transformation will redefine operating models, entail investments in new assets, need supporting policy, effective regulation and cutting-edge solutions to deliver real value in a safe, secure, seamless and sustainable manner, all key themes for the future.
This would also require harmonization of airport, airline and stakeholder SOPs globally on a suite of operating norms including data privacy, cyber security, data-sharing, digital contracts, travel documentation and border controls among others.
The government will do well to come out with a detailed roadmap on digital transformation of the aviation industry with specific policy and regulatory guidelines to support the transition.
Making India an aviation manufacturing hub
Indian companies have been preferred vendors for critical parts and components for the aerospace industry globally. Our design, engineering and manufacturing capabilities are second to none with many companies also leading R&D for major OEMs. A large Indian conglomerate has locally produced cabins for the S-92 Sikorsky choppers for over a decade now.
They are also gearing up to produce aerostructures for the flagship C-130 Hercules and C-130J Super Hercules in India through a JV with the OEM. A Bangalore-based private entity is today the global sole-supplier of flap-track-beam assemblies for another global aircraft manufacturer of single and twin-aisle jets. Many other Indian companies are now preferred partners for aerospace components and equipment manufacturing.
These projects collectively demonstrate the confidence that global OEMs have in the competence and capabilities of Indian firms and potential for scaling up the business in India.
Revitalizing India as a global tourist destination
The synergy between the aviation and tourism sectors is inescapable. They are cornerstones of wealth creation for many successful economies that have leveraged these symbiotic industries to the hilt.
We can triple our foreign tourist arrivals if we get our act together on three strategic elements that have proven to be critical success factors for other tourism economies
(i) High-quality tourism destinations with consistent best in-class infrastructure and state-of-the art mobility solutions
(ii) Unrestrained and reliable connectivity options by air and surface transport.
(iv) Business friendly fiscal and regulatory environment including friendly visa and immigration policies
It is time to have a joint action task force with representatives from the Aviation, Tourism, Transport, Finance and Commerce Ministries with a plan to make India the second largest tourism economy in the region after China. It will radically change the fortunes of both the aviation and tourism industries.
Conclusion
Looking ahead, the future of the Indian aviation industry is bright. The sector is expected to see significant growth in the coming years, particularly in the areas of international travel and cargo.
The government's continued efforts to boost air connectivity and infrastructure development are expected to further drive the growth of the sector.
Additionally, technological advancements, such as the use of artificial intelligence and automation, are expected to bring greater efficiency and cost savings to the industry.
While the Indian airport infrastructure creation and expansion programme is in the correct direction, execution of projects needs to be diligently monitored.
Mahatma Gandhi said "the future depends on what we do in the present", A bold, rational and consistent approach to reforms is required to help the industry cruise to a newer and higher altitude post COVID. The government's aspiration of flying a billion passengers and becoming a global aviation hub will receive fresh impetus if these recommendations are considered and implemented. We must act now and help create a bigger and better future for Indian aviation.
PRACTICE QUESTION
Q. Despite being touted as the 'fastest growing aviation sector' in the world, airlines in India have struggled to survive in the highly competitive and unforgiving aviation industry. What are the challenges facing the Aviation Industry? What steps are being taken by the Indian Government to support the aviation sector? Give recommendations that can revitalize the Aviation Sector.
https://www.reuters.com/business/aerospace-defense/india-decide-go-first-bankruptcy-lessors-seeking-planes-fear-impact-2023-05-10/