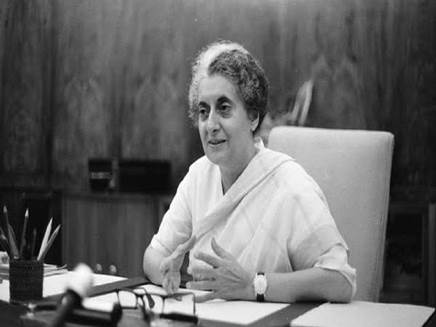 Copyright infringement not intended
Context: The Prime Minister, Shri Narendra Modi has paid tributes to Prime Minister, Indira Gandhi on her birth anniversary.
Details:
After her marriage in 1942, Indira Gandhi served her father and the first Prime Minister of India, Jawaharlal Nehru unofficially.

In the late 1950s, she serves as the President of the Indian National Congress.

In 1964, Jawaharlal Nehru died and she was appointed as a Rajya Sabha member.

She served as the Minister of Information and Broadcasting under the then Prime Minister Lal Bahadur Shastri.

In 1966, after the death of Lal Bahadur Shastri, she was elected as the leader by the Congress legislative party.

In January 1966, Indira Gandhi became the first and only female Prime Minister of India to date.

At the beginning of her first term as the Prime Minister, media and opposition parties criticised her as 'Goongi Gudiya'.

She nationalised 14 largest banks in India in 1969.

Congress President S. Nijalingappa expelled her from the INC citing indiscipline. This, in turn, angered Indira Gandhi and she formed her own Congress Party known as Congress (R) with most of the MP's from the party on her side. The other side was known as Congress (O). The Indira Gandhi faction lost its majority in the Parliament, but with the support of several regional parties remained in power.

In 1971, 'Garibi Hatao' was the slogan for Indira Gandhi's political bid in response to the opposition's slogan as 'Indira Hatao'.

Indira Gandhi after winning the 1971 elections, served as the PM again. In 1971, despite facing pressure from America, Indira Gandhi defeated Pakistan in the Indo-Pakistan War and led to the liberation of East Pakistan into independent Bangladesh.

After the Bangladesh liberation war in 1971, the then President, V. V. Giri awarded her with India's highest civilian honour, the Bharat Ratna. Opposition leader Atal Bihari Vajpayee hailed her as 'Goddess Durga'.

Despite the Indira wave, Congress Government faced several problems in this term due to high inflation (caused by wartime expenses), droughts in India and the 1973 oil crisis.

On June 12, 1975, the Allahabad High Court declared 1971 elections void on the grounds of electoral malpractice.

The court ordered her to strip off her parliamentary seat and banned her from running the office for the next six years.

On June 25, 1975, Indira Gandhi imposed a 21-month long emergency across India.

The Southernmost point of India 'Indira Point' is named after Indira Gandhi.

Indira Gandhi National Open University is named after her and is the largest university in the world.

In 2011, Bangladesh Swadhinata Sammanona, Bangladesh's highest civilian award was posthumously conferred on Indira Gandhi for her outstanding contributions in the Bangladesh liberation war in 1971.