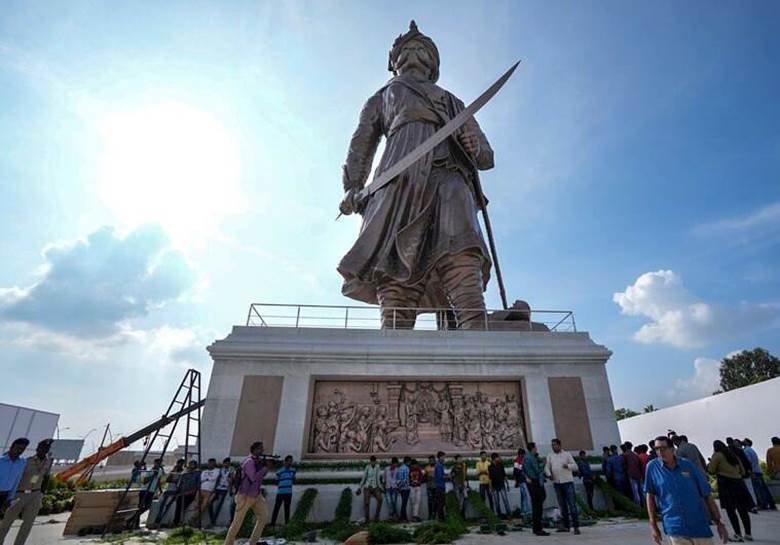 Copyright infringement not intended
Context: Prime Minister Narendra Modi arrived in Bengaluru and unveiled a 108-feet tall bronze statue of 'Nadaprabhu' Kempegowda, credited to be the city's founder.
Details:
Karnataka Chief Minister Basavaraj Bommai had announced in June this year that a Kempegowda statue will also be installed inside the Vidhana Soudha (legislative assembly) premises within a year.

Also termed the "Statue of Prosperity", Bommai tweeted that the structure has been termed the "first and tallest bronze statue of a founder of a city" by the World Book of Records.
Who was Nadaprabhu Kempegowda?
Nadaprabhu Kempegowda, a 16th century chieftain of the Vijayanagara empire, is credited as the founder of Bengaluru.

It is said that he conceived the idea of a new city while hunting with his minister, and later marked its territory by erecting towers in four corners of the proposed city.

Kempegowda is also known to have developed around 1,000 lakes in the city to cater to drinking and agricultural needs.

He was from the dominant agricultural Vokkaliga community in south Karnataka.

His name is everywhere in the city – the Kempegowda International Airport, the Kempegowda Bus Stand, and even the main metro station in the city is called Nadaprabhu Kempegowda metro station. An arterial road in the old city is called the K G Road or the Kempegowda Road.

Kempegowda is an iconic figure among Karnataka's second most dominant Vokkaliga community after Lingayats. The saffron party plans to woo the Vokkaliga community by honouring Kempegowda, according to the BJP sources.
https://indianexpress.com/article/explained/kempegowda-statue-unveiled-narendra-modi-bjp-karnataka-politics-8262245/