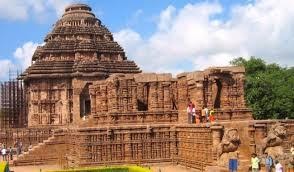 Disclaimer:Copyright infringement not intended.
Context
The Archaeological Survey of India insists that Konark is among the best looked after monuments; however, its conservation history is uneven to say the least.
About
It is a 13th-century CE (year 1250) Sun temple at Konark about 35 kilometres (22 mi) northeast from Puri on the coastline of Odisha, India.
The temple is attributed to king Narasimhadeva I of the Eastern Ganga Dynasty about 1250 CE.
Dedicated to the Hindu Sun God Surya, what remains of the temple complex has the appearance of a 100-foot (30 m) high chariot with immense wheels and horses, all carved from stone.
Also called the Surya Devalaya, it is a classic illustration of the Odisha style of Architecture or Kalinga Architecture.
This temple was called the "Black Pagoda" in European sailor accounts as early as 1676 because it looked a great tower which appeared black.
Similarly, the Jagannath Temple in Puri was called the "White Pagoda".
Declared a UNESCO world heritage site in 1984, it remains a major pilgrimage site for Hindus, who gather here every year for the Chandrabhaga Mela around the month of February.
Konark Sun Temple is depicted on the reverse side of the Indian currency note of Rs 10 to signify its importance to Indian cultural heritage.
https://indianexpress.com/article/opinion/columns/shifting-sands-creeping-shadows-on-sun-temple-7701717/