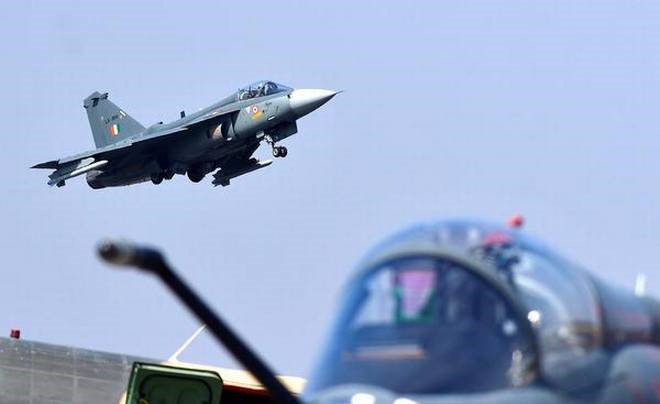 Disclaimer: Copyright infringement not intended.
Context:
LCA-Mk2 to roll out next year, first flight in 2023, says scientists.
The Aeronautical Development Agency (ADA) of the Defence Research and Development Organisation (DRDO) will unveil the Tejas Mark II with a heavier stand-off weapon capacity in the 75th year of India's independence, in 2022, and the long-awaited indigenous fighter, which will be manufactured by the state-owned Hindustan Aeronautics Ltd (HAL), will go into production by 2025-2026.
More information's:
Enhanced range: The aircraft features enhanced range and endurance including an onboard oxygen generation system, which is being integrated for the first time.
Heavy weapons of the class of Scalp, Crystal Maze and Spice-2000 will also be integrated on the Mk2.
The LCA-Mk2 will be a heavier and much more capable aircraft than the current LCA variants.
The Mk2 is 1,350 mm longer featuring canards and can carry a payload of 6,500 kg compared to 3,500 kg the LCA can carry.
Stealth aircraft: Stating that the initial design of the AMCA was started way back in 2009, it would be a twin engine stealth aircraft with an internal weapons bay and a diverterless supersonic intake, which has been developed for the first time for which the design is complete.
It will be a 25-tonne aircraft with internal carriage of 1,500 kg of payload and 5,500-kg external payload with 6,500 kg of internal fuel.
The AMCA will have stealth and non-stealth configuration and will be developed in two phases, AMCA Mk1 with existing GE414 engine and an AMCA Mk2 with an advanced, more powerful engine to be developed later along with a foreign partner.
The manufacturing and production of the aircraft will be through a special purpose vehicle, which will also have participation of private industry.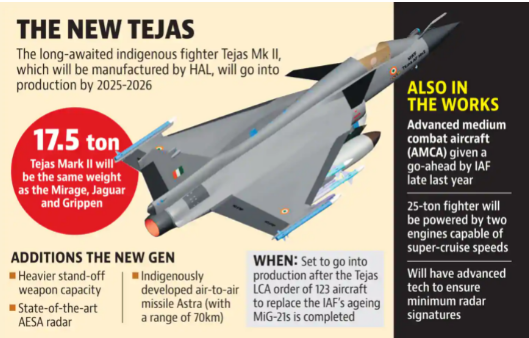 Simultaneously, the project for development of a twin-engine deck-based fighter jet meant to fly from the Navy's aircraft carriers is also making progress.
https://www.thehindu.com/news/national/lca-mk2-to-roll-out-next-year-first-flight-in-2023-says-scientist/article36419325.ece?homepage=true