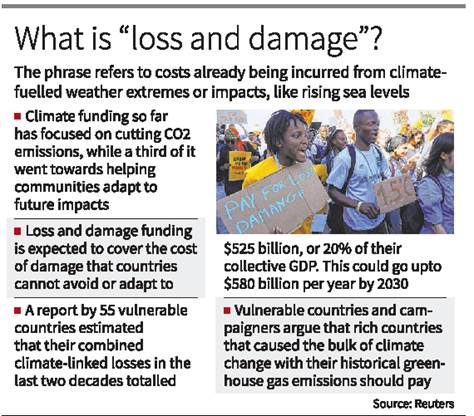 Copyright infringement not intended
Context: Delegates at the UN's climate conference in Sharm el-Sheikh, Egypt thrashed out an agreement to establish a loss and damage (L&D) fund to compensate the most vulnerable countries from climate-linked disasters, after 40 hours of negotiation beyond the Friday deadline.
Details:
Crucial questions — such as who will manage this fund, whether contributions are expected from large developing countries and what the fair share of contributors will be — have been left to a "transitional committee" that will make recommendations for the adoption of the fund at the next Conference of the Parties (COP) of the UN's Framework Convention for Climate Change, to be held in the UAE in 2023.

The announcement of the L&D fund was the highlight of the two-week process that saw little agreement among countries on other issues, such as a call to eliminate fossil fuel or delivering on climate finance to developing countries.

India described as historic the UN climate summit in Egypt for securing an agreement on establishing a fund to address the loss and damage caused due to climate change-induced disasters, saying "the world has waited far too long for this". The success of the talks hinged on the progress on this track.

The developed nations, particularly the U.S., have been opposing this new fund over fears that it would hold them legally liable for massive damages caused by climate change.
Other developments:
On the establishment of a four-year work programme on climate action in agriculture and food security at COP-27, India said agriculture, the mainstay of livelihoods of millions of smallholder farmers, would be hard hit due to climate change.

India welcomed the inclusion of "transition to sustainable lifestyles and sustainable patterns of consumption and production in our efforts to address climate change" in the cover decision of the deal struck in Sharm El-Sheikh.