Medical Devices: Regulations and Control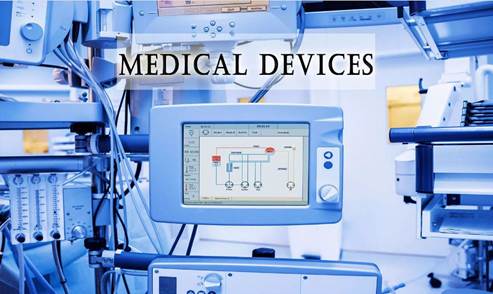 Disclaimer: Copyright infringement not intended.
Context
138th report on the subject "Medical devices: regulations and control" was presented in the Rajya Sabha.

The Central Drugs Standard Control Organisation (CDSCO) is falling short in effectively regulating the medical devices industry: Parliamentary Standing Committee on Health said in Rajya Sabha.
Medical Devices
Medical equipment are divided into five categories:
Needles and syringes, among other consumables and disposables

Diagnostic imaging includes MRI, X-rays, and ultrasounds, among other procedures.

Dentures, braces, and other dental products.

Orthopaedics and Prosthetics include knee implants and artificial joints

Hearing aids and pacemakers are examples of patient aids.
Medical Devices Sector: Scenario
India has only 18 certified medical device testing laboratories that have been approved by the CDSCO and that is grossly insufficient keeping in view the size of the country.

There is a huge gap in the current demand and supply of medical devices in India and this provides a significant opportunity for manufacturing devices in India.

Around 65 percent of Indian manufacturers are domestic operators in the consumables sector, catering mostly to domestic consumption with negligible exports. With vast service networks, large multinational corporations dominate the high-tech end of the Medical Devices industry in India.
Medical Devices Demand in India
Medical Device Demand in India
The various factors are driving the demand of medical device in India as mentioned below.

Growing Population

The growing population will drive the demand for healthcare services and this in turn will drive the demand for medical devices in India.
Ageing Population
The increasing aged population will drive the demand for better healthcare services and medical devices.
Increasing Disease Burden of Chronic Diseases
Non-communicable diseases like cardio vascular diseases, cancer, diabetes, and other,are expected to comprise more than 75% of India's disease burden by 2025, compared to 45% in 2018 .

The chronic diseases will drive the demand for healthcare services with basic and advanced medical devices and technology.
Increasing Health Insurance Penetration
The Indian health insurance penetration has increased in the last one decade.

About 20% of Indians are covered by health insurance. With increased affluence and urbanisation, this number is anticipated to rise.

The Indian health insurance market is expected to reach over USD 20 bn in FY 2025.

The increasing aged population will drive the demand for healthcare services and medical devices.
Growing Medical Tourism
Medical Tourism is on the rise in India, because to the relatively low cost of medical care. It contributes more than $2 billion to India's healthcare market.

India has been increasingly attracting medical tourist from across the globe with SAARC countries contributing to maximum inflow.

Medical tourism has increased demand for healthcare and medical devices. The increasing medical tourist flow will drive the demand for quality healthcare services, medical devices and technology.
Preferences Change:
Increasing health knowledge, a shift in attitudes toward preventative healthcare, and an increase in the occurrence of lifestyle disorders.
Growing Middle Class:
Over the next ten years, 73 million Indian households will enter the middle class, increasing their purchasing power, including in the area of medical devices.
Policy Support and Incentives:
100% FDI authorised

in Greenfield and brownfield projects, lower entry hurdles than other industries, and a varied and vibrant start-up ecosystem.
Market Size
The medical devices sector in India comprises large multinationals and small and midsized companies.

As of May 2021, the medical devices market is estimated to be at US$ 12 billion in India

.

India is the 4th largest Asian medical devices market after Japan, China, and South Korea, and among the top 20 medical devices markets globally.

Between 2020-25, diagnostic imaging market is likely to expand at a CAGR of 13.5%.

India's wearable market grew 93.8% YoY in the July–September 2021 quarter, shipping 23.8 million units. Noise maintained its lead for the sixth straight quarter with a 26% market share in the third quarter, followed by Boat (23.1%), Fire-Boltt (15.3%), Realme (7.3%) and Amazfit (4.8%).
Import- Export Scenario
India has a 75-80% import dependency on medical devices

. Export of medical devices from India stood at US$ 2.53 billion in FY21, and is expected to rise to US$ 10 billion by 2025.

To increase export of medical devices in the country, the Ministry of Health and Family Welfare (MOHFW) and Central Drugs Standard Control Organisation (CDSCO) implemented the following initiatives:
Re-examination and implementation of Schedule MIII (a draft guidance on good manufacturing practices and facility requirements)

System for export labelling

Clinical evaluation and adverse reporting clarification

State licencing authority to extend free sales certificate validity from 2 years to 5 years to allow exports

Create a list of manufacturers with export licencing for easy access to regulatory authorities worldwide.
The Medical Devices Virtual Expo 2021 showcased Indian products and enabled direct interaction between Indian suppliers and buyers/importers from participating countries; 300 foreign buyers from the healthcare sector participated in this event.
Government Initiatives
In October 2021, the government announced plan to Draft a new drugs, cosmetics and medical devices bill to increase the acceptability of Indian medical devices in the global market.

In October 2021, the government announced that 13 companies have been approved under the PLI scheme for medical devices, which is expected to boost domestic manufacturing in the country.
Read about PLI: https://www.iasgyan.in/daily-current-affairs/pli-scheme-1
https://www.iasgyan.in/blogs/the-pli-scheme-all-you-need-to-know
In 2021, the government sanctioned to build a medical devices park in Himachal Pradesh's industrial township, Nalagarh, in the Solan district.

In 2021, the government approved a medical devices park in Oragadam (Tamil Nadu).

In 2021, the government announced that they would build a medical park in Uttar Pradesh.

In 2021, the Quality Council of India (QCI) and the Association of Indian Manufacturers of Medical Devices (AiMeD) launched the Indian Certification of Medical Devices (ICMED) 13485 Plus scheme to undertake verification of the quality, safety and efficacy of medical devices

In 2021, the Department of Pharmaceuticals released a revised notice on the Public Procurement Order (PPO), incorporating 19 medical devices in the revised guidelines of the PPO, which is expected to improve domestic medical devices manufacturing (and strengthen 'Make in India') and reduce import bills.

In 2021, in order to expedite the clearance of medical devices such as nebulizers, oxygen concentrators and oxygen canisters, the government made it easier to import critical medical devices by easing the requirements for clearance under the Legal Metrology Act (Packaging Rules 2011).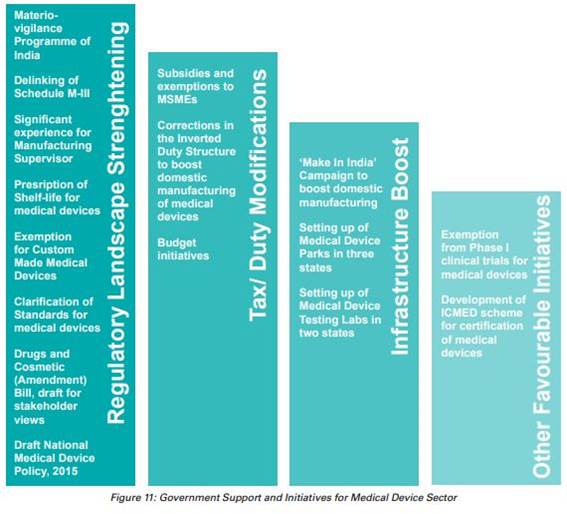 Way Ahead
Infrastructure
Having adequate common infrastructure including accredited laboratories in various regions of the country for standard testing will significantly encourage local manufacturers to get their products tested for standard.

Such measures undertaken will also help in reducing the cost of production which ultimately will improve the availability and affordability of medical devices in the market.
Surveillance System
There is a dire need for developing a robust IT-enabled feedback-driven post- market surveillance system for medical devices to evaluate their efficiency.
Synergy with State governments
Health Ministry needs to work in synergy with State governments and impart the necessary skills to the local medical device officers and also devise a mechanism to regularly designate State Medical personnel as Medical Device/Medical Device Testing Officers so that the mandate of the legislation can be implemented effectively.
Allow new Regulators
Health Ministry should allow the new regulator to involve institutions such as IISC, CSIR, DRDO and network of IITs to test medical devices for safety and efficacy.
Single Window Clearance
A single-window clearing platform for application of license for manufacturing, export, import shall integrate all these bodies involved in the regulation of medical devices.

A single-window clearance for all the departments/Ministries would boost investment and would also reduce the time required for obtaining approvals from different Departments/Ministries.
Accessibility, Affordability
Address the core objectives of accessibility, affordability, safety and quality, focusing on self-sustainability, innovation and growth in the medical devices sector.
Other
Promoting Research and Development

and Innovation.

Human Resource Development

to create manpower with required skills.

Awareness Creation and Brand Positioning

in creating awareness and positioning India as a hub for manufacturing of medical devices as part of the "Make in India, Make for the World" initiative.

Giving effect to 'Drug, Medical Devices, and Cosmetics Bill-2022'
Significance of the Medical Device Sector in India
The medical devices sector in India is an essential and integral constituent of the Indian healthcare sector, particularly for the prevention, diagnosis, treatment and management of all medical conditions, diseases, illnesses, and disabilities.

The Indian medical devices sector's contribution has become even more prominent as India supported the global battle against the COVID-19 pandemic through the production of medical devices and diagnostic kits, e.g., Ventilators, RT-PCR kits, IR Thermometers, PPE Kits & N-95 masks.
Policy makers in India will need to set out an action plan to reduce the country's dependency on medical devices/technology imports.
Medical device companies should develop India as a manufacturing hub for domestic and international markets, undertake India-based innovation in combination with indigenous manufacturing, collaborate across the Make in India and Innovate in India schemes, and produce low to medium technology products to cater to the underpenetrated domestic markets.
https://epaper.thehindu.com/Home/ShareArticle?OrgId=GT3A9CHA9.1&imageview=0