Copyright infringement not intended
In News
The

Union

Minister of Women and Child Development informed the Lok Sabha about the steps taken under 'Mission Vatsalya' to ensure women's empowerment.

The Union Ministry of Women and Child Development is implementing "Mission Vatsalya" for the welfare and rehabilitation of children.

It is a centrally Sponsored Scheme.

For the effective implementation of various schemes and programmes

, all major schemes under the Ministry of Women and Child Development, have been classified under 3 umbrella schemes;

Mission Poshan 2.0

Mission Vatsalya

Mission Shakti
Mission POSHAN 2.0
It is an Integrated Nutrition Support Programme.

It aims to address the challenges of malnutrition in children, adolescent girls, pregnant women and lactating mothers.

The objective is to optimize the quality and delivery of the Supplementary Nutrition Program

.

It also focuses on Maternal Nutrition, Infant and Young Child Feeding Norms, Wellness through AYUSH, etc.

The Mission will integrate several key strategies to fulfil its objectives;

Corrective strategies

Nutrition Awareness strategies

Communication strategies and Creation of green eco-systems.

Digital infrastructure under the "Poshan Tracker" will strengthen and bring about transparency in nutrition delivery support systems.

Schemes under Mission POSHAN 2.0

ICDS-Anganwadi Services

Poshan Abhiyan

Scheme for Adolescent Girls

National Crèche Scheme
Mission Vatsalya
The objective of Mission Vatsalya is to ensure a healthy and happy childhood for every child in India.

Focus under Mission Vatsalya;

Service delivery structures

Institutional care/services

Non-institutional community-based care

Emergency outreach services

Training and capacity building

Child Protection Services and Child Welfare Services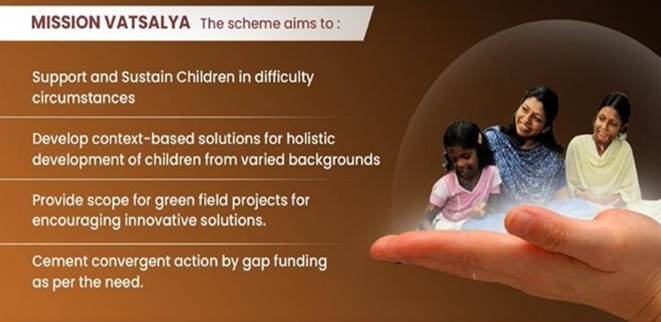 Copyright infringement not intended
Mission Shakti
Mission Shakti aims to ensure a lifecycle support system for women through integrated care, safety, protection, rehabilitation and empowerment.

Mission Shakti has two sub-schemes 'Sambal' and 'Samarthya'.

The "Sambal" is a sub-scheme for the safety and security of women.

The "Samarthya" is a sub-scheme for the empowerment of women.

Initiatives under SAMBAL;

One-Stop Centre (OSC)

to facilitate access to an integrated range of services including medical aid, police assistance, legal aid/ case management, psychosocial counselling and temporary support services to women affected by violence.

Beti Bachao Beti Padhao,

to address the declining Child Sex Ratio.

Mahila Police Volunteers,

to report the incidences of violence against women

Women's Helpline.

Nari Adalats to promote and facilitate alternative dispute resolution and gender justice within families and in society.

Initiatives under SAMARTHYA;

Gender Budgeting

is a tool for mainstreaming gender perspectives at various stages of planning, budgeting, implementation, impact assessment and revisiting of policy/programme objectives and allocations.

Swadhar Greh to provide relief and rehabilitation to destitute women and women in distress.

Working Women Hostels for ensuring safe accommodation for women working away from their place of residence.

National Creche Scheme to provide daycare facilities to children of the age group of 6 months to 6 years of working women who are employed.

Pradhan Mantri Matru Vandana Yojana (PMMVY) Provide Cash incentives for improved health and nutrition to pregnant and nursing mothers.

Umbrella ICDS Scheme is also subsumed in 'Samarthya'.
Present Status of these Schemes
Poshan Abhiyaan has a total financial cost of Rs 1,81,703 crore;

Total cost under Mission Poshan 2.0 has been calculated based on the cost-sharing ratio between the Central and States/UTs; 60:40 for States and UTs with the legislature.

90:10 for North East Region and the Himalayan States and UT of Jammu & Kashmir.

100% for Union Territories without legislature.

Mission Shakti has a total financial cost of Rs 20989 Crore.

The sub-scheme 'Sambal' will be implemented as a Centrally Sponsored scheme with 100% central funding from the Nirbhaya Fund/ MWCD budget

The sub-scheme 'Samarthya' will be implemented as a Centrally Sponsored Scheme with a funding ratio of 60:40 between Centre and State Governments / UTs with the legislature, except North East & Special Category States / UTs with legislature where the fund ratio will be 90:10. For UTs without legislature, 100% of funding will be provided by the Central Government.

Mission Vatsalya has a total financial cost of Rs 10916 Crore.
Way Forward
Women and Children constitute 67.7% of India's population as per the 2011 census, therefore the Empowerment and protection of women and children and ensuring their development are crucial for the sustainable and equitable development of the country

.

We need to create a safe and secure environment and empower women by providing them with an environment that is accessible, affordable, reliable and free from all forms of discrimination and violence.

There is a need to create an inclusive society where women and girls have equal access to resources and opportunities, enabling them to participate in the social, economic and political development of India

.

When we empower the women in a family, we empower the entire household. When we help with a woman's education, we ensure that the entire family is educated. When we facilitate her good health, we help keep the entire family healthy. When we secure her future, we secure the future of the entire home.
https://www.pib.gov.in/PressReleasePage.aspx?PRID=1848645
https://t.me/+hJqMV1O0se03Njk9