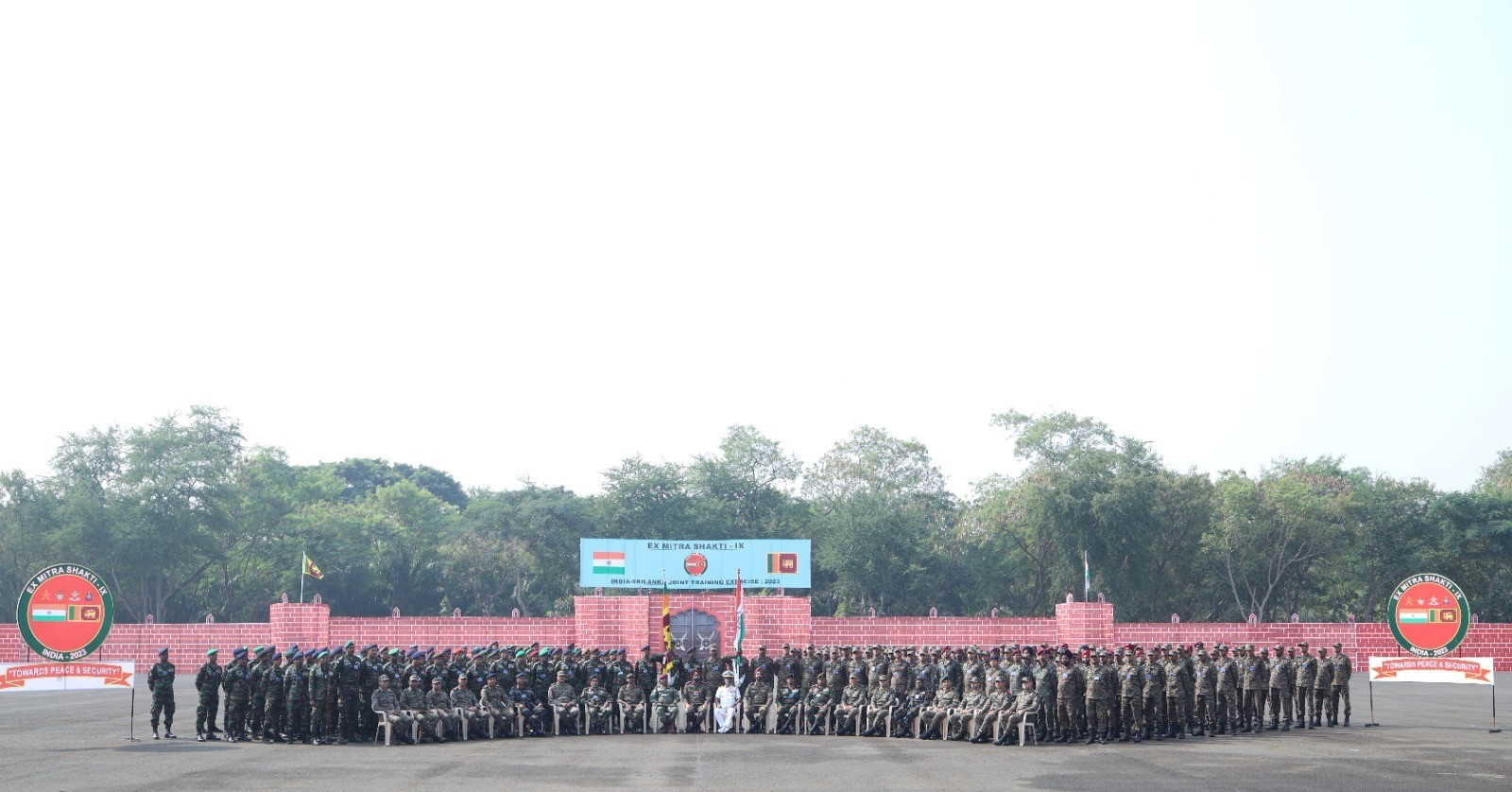 Disclaimer: Copyright infringement not intended.
Context
The ninth edition of the joint military exercise, "Exercise MITRA SHAKTI-2023," kickstarted in Aundh, Pune, aiming to foster cooperation and enhance operational readiness between the Indian and Sri Lankan armies.
Details
This exercise, conducted from November 16th to 29th, 2023, sees active participation from both nations' military contingents, primarily featuring the MARATHA LIGHT INFANTRY Regiment from India and personnel from the 53 Infantry Division of Sri Lanka.
Additionally, a contingent of 15 Indian Air Force personnel and five Sri Lankan Air Force personnel are also part of the exercise.
Objectives of Exercise MITRA SHAKTI-2023
Sub Conventional Operations: The primary objective is to jointly rehearse Sub Conventional operations under Chapter VII of the United Nations Charter, focusing on counter-terrorist operations.
Scope of Operations: The exercise encompasses various tactical actions such as raids, search and destroy missions, heliborne operations, etc., aimed at enhancing joint responses during counter-terrorist operations.
Training Elements: The curriculum includes the Army Martial Arts Routine (AMAR), combat reflex shooting, yoga, and the employment of drones and Counter Unmanned Aerial Systems (CUAS). Drills for securing helipads and undertaking casualty evacuations during counter-terrorist operations will be practiced.
Focus Areas and Dynamics
Interoperability: The exercise aims to achieve an elevated level of interoperability among troops from both armies, ensuring effective coordination during peacekeeping operations under the UN mandate.
Exchange of Practices: Participants will exchange views and practices across a wide spectrum of combat skills, facilitating mutual learning and sharing of best practices between the Indian and Sri Lankan armies.
Strengthening Bilateral Relations: Mitra Shakti-2023 serves as a platform to foster strong bilateral relations between India and Sri Lanka, promoting defense cooperation and positive engagements between the neighboring nations.
Historical Context and Significance
Annual Exercise: Mitra Shakti is an annual joint military exercise initiated in 2014 as part of India's diplomatic engagement and interaction with Sri Lanka.
Previous Editions: The latest edition marks the ninth iteration of the exercise, following the successful conduct of Mitra Shakti-VIII in 2021 and Mitra Shakti-VII in 2019.
UN Mandate Dynamics: The design of the exercise integrates UN peacekeeping operations' dynamics, enabling practical discussions and tactical exercises aligned with the mission to enhance operational capabilities of both armies' troops.
Conclusion
The Exercise MITRA SHAKTI-2023 underscores the commitment of both India and Sri Lanka to bolster defense cooperation, mutual learning, and collaborative efforts in fostering regional peace and security.
PRACTICE QUESTION
Q. What is the primary objective of Exercise MITRA SHAKTI-2023 conducted between India and Sri Lanka?
A) To enhance bilateral trade relations between the two countries
B) To jointly rehearse Sub Conventional operations under Chapter VII of the United Nations Charter, focusing on counter-terrorist operations
C) To promote cultural exchanges and tourism initiatives
D) To conduct joint naval exercises for maritime security in the Indian Ocean
Answer: B)