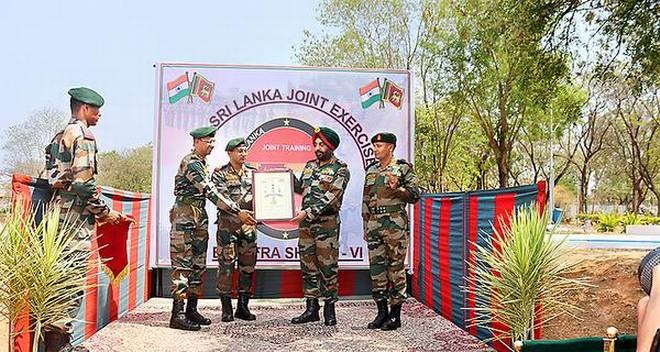 Copyright infringement is not intended
Context: India and Sri Lanka will carry out a 12-day mega military exercise with a focus on enhancing counter-terror cooperation.
The eighth edition of the 'Mitra Shakti' exercise will be conducted at Combat Training School in Sri Lanka's Ampara .
Aim of the exercise: To promote close relations between armies of both countries and enhance inter-operability and sharing best practices in counter-insurgency and counter-terrorism operations.
The exercise involves tactical level operations at sub-unit level in an international counter-insurgency and counter-terrorism environment.
The exercise will go a long way in further strengthening the relationship between both the South Asian nations and will act as a catalyst in bringing synergy and cooperation at the grassroot level between both armies.
The seventh edition of the Mitra Shakti exercise was conducted at Foreign Training Node (FTN) in Pune in 2019.
https://www.thehindu.com/news/national/india-sri-lanka-to-conduct-12-day-military-exercise-focus-on-counter-terror-cooperation/article36788645.ece?homepage=true